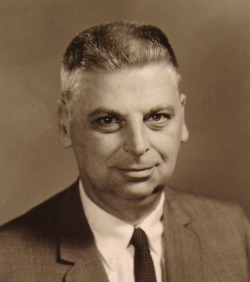 A noted rail equipment engineer who began a 40 year career with the Transit Research Corporation involved with troubleshooting the post-war PCC car, and application of that technology to rapid transit use. He went on to serve with the Institute for Rapid Transit and Washington Metropolitan Area Transit Authority.​​
Gaul began his transit career in 1946 as an engineer with the TRC, the successor to the Electric Railway President's Conference Committee which had introduced a new generation of streetcars in the 1930's. In this capacity, he was involved in the development of and specifications for the final PCC trucks and control equipment and their application to rapid transit service. His duties involved frequent visits to all PCC properties to conduct tests and resolve technical problems.
In 1961, Gaul directed the liquidation of the TRC and transfer of its assets to the IRT in Chicago, which he served as Executive Secretary from 1961 to 1970. The IRT later merged with the American Transit Association to form APTA.
During his years with the TRC and IRT, he cooperated with ATA on rail transit matters. In addition, he worked closely with Van Court Lucas, Walter S. Rainville, and Herbert Scheuer in the establishment of the APTA Rail Transit Group.
From 1970 until his retirement in 1983, Gaul served the Washington Metropolitan Area Transit Authority as Director, Office of Equipment Design. He had overall responsibility for the design and procurement of the original 300 subway cars, more than 1000 buses, and the automatic train control and fare control equipment.
Following his retirement, he continued to perform transit consulting work and remained closely involved in the transit industry. He died in 1998.​
​