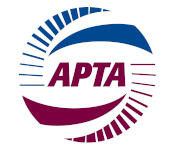 APTA chair Jeffrey A. Nelson, CEO/managing director, Rock Island County Metropolitan Mass Transit District (MetroLink), Moline, IL, last month established a taskforce for revising APTA's bylaws. The taskforce will work to identify bylaws provisions that are in need of clarification, deletion or refinement to better reflect how the association operates. This effort would be unlike the effort conducted in 2017, which focused on governance changes. This effort is focused solely on clarification of bylaws language. It is intended to be administrative or ministerial in nature, rather than substantive.
Nelson approached Doug Tisdale, CEO, Tisdale & Associates LLC; district H director and past board chair, Regional Transportation District, Denver, CO, and chair of APTA's Transit Board Members Committee, to serve as chair of the new bylaws taskforce. Tisdale is working with a diverse group of 16 APTA members who reflect the diversity of the association's membership, including a Diversity Council member; designated business member; designated transit system directors; designated committee chairs; board of directors members at-large and additional members in good standing to round out a balanced, representative group.
The taskforce is seeking suggestions from APTA members regarding revisions to the bylaws, keeping in mind this effort is focused on "clean-up" rather than governance. There are two ways for APTA members to suggest bylaws revisions. First: if a proposed amendment is submitted by a member that represents at least one percent of the total plural vote. ("Plural voting," as defined by the APTA bylaws, means "one vote for each one hundred dollars or major fraction thereof, of last annual dues paid to the association.") Second: if the proposed amendment is supported, in writing, by at least five active members of APTA.
APTA members can propose amendments to the bylaws by submitting proposals, meeting the criteria above, to APTA2022BylawsRevision@apta.com by close of business (Eastern) Sept. 21, 2022.