The 118th Congress is underway with both the U.S. House of Representatives and the U.S. Senate beginning to organize their leadership positions and committees. To meet today's demands and prepare for a new future, the public transportation industry depends on federal, state, and local funding. As a result, advocacy—promoting the industry's interests and securing necessary funding in Washington, DC—is APTA's most important priority.
Last Congress, we told compelling stories about the benefits that public transportation delivers to our communities and, as a result, earned once-in-a-generation federal investment in public transportation infrastructure. Today, all eyes are on us to see if we can deliver on the $210 billion of public transit and passenger rail funding that is provided over five years.
Now is the time to demonstrate to Members of Congress and Administration officials how this historic investment will change the lives of our citizens and better our communities, and why they should honor the promises of the Infrastructure Investment and Jobs Act (IIJA) and the Inflation Reduction Act with continued historic investment in public transportation and passenger rail.
Consider this your one-stop shop to help get you started!
New Congress, Now is the Time to Engage!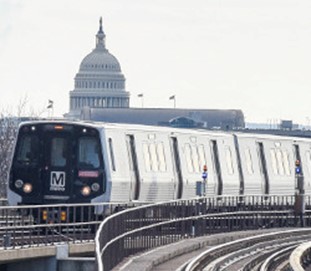 A new Congress is now in session, Capitol Hill has reopened, and it is the perfect time for the public transportation industry to make our presence felt and our voices heard in Washington, DC.
Register now for APTA's 2023 Legislative Conference, March 12-14, and be a part of 2023's best advocacy opportunity.
Legislative Conference attendees will benefit from:
The latest information on important federal legislation and policy initiatives;
An unparalleled opportunity to shape the industry's positions and federal advocacy agenda;
Excellent networking opportunities; and
APTA's Advocacy Afternoon, where we schedule meetings for you to meet with your Members of Congress and Congressional staff.
Come to Washington to meet with leaders and policymakers to tell them of the positive impact that new infrastructure investments have made in your communities and the need for continued federal investment in public transportation.
Register now for the early-bird rate and book your room now at APTA's official hotel, the Grand Hyatt Washington. Travel discounts are also available.
New Congress, New Tools!
As the 118th Congress begins, APTA members have several tools at their disposal to engage with their Members of Congress both on Capitol Hill and in their Congressional Districts. Below is a list of key resources:
APTA Advocacy Action Center
The APTA Advocacy Action Center will be used to notify you of active APTA advocacy campaigns and will make it easy for you to respond to APTA calls for action, such as emailing or otherwise reaching out to your Members of Congress, Administration officials, and the President.
Keep an eye out for future campaigns and instructions to sign up!
Industry Footprint
APTA's Industry Footprint is a powerful advocacy tool for the public transportation industry. APTA members and the broader industry can use the Industry Footprint to view important information on public transportation providers, businesses, and funding, organized by state, Congressional District, and state legislative districts. APTA members use the Industry Footprint to explain the importance of public transportation to elected officials during events like APTA's Legislative Conference, fly-ins, and their own individual meetings with legislators. The Footprint contains information on more than 3,000 APTA member locations and 2,600 public transportation industry suppliers and manufacturers. Nearly every Congressional District in the country has either an APTA member, or another public transportation industry supplier.
CIG Project Pipeline Dashboard
APTA's Capital Investment Grants (CIG) Project Pipeline Dashboard allows the industry to track the progress of projects in the Federal Transit Administration's (FTA) CIG pipeline. To date, the dashboard includes important information on 83 CIG projects with existing full funding grant agreements or seeking CIG funding. APTA's Dashboard also includes important information on the Members of Congress that represent the areas where each project is located.
My Economic Impact Tool
APTA's My Economic Impact Tool enables APTA transit agency members to use their budget data to calculate the economic impact of their transit service. The tool uses the same methodology as APTA's Economic Impact of Public Transportation report, and provides APTA members with valuable information to make the case for public transportation to elected officials, stakeholders, and the public. The analysis produces figures for jobs, wages, sales, and value-add supported by transit agency spending. The tool's reports also help users understand direct and indirect effects on the local economy, as well as the diverse occupational mix of jobs supported by public transit spending.
APTA Ridership Trends Dashboard Powered by Transit
APTA's Ridership Trends Dashboard helps the public transit industry track ridership trends in real time. This tool, built in partnership with Transit app, allows APTA members and the public to compare ridership between agencies, regions, and national trends. The Ridership Trends Dashboard combines APTA's ridership report data with app usage information from Transit to predict ridership levels each week, with new data posted each Monday. The Ridership Trends Dashboard has weekly predictions from January 2020 to today and includes ridership trends for 130 transit agencies.
APTA Smart Guide: Bipartisan Infrastructure Law and Inflation Reduction Act
To assist APTA members in tracking IIJA and Inflation Reduction Act funding, competitive grant opportunities, and policy actions, APTA has developed a Smart Guide to the Bipartisan Infrastructure Law and Inflation Reduction Act. The APTA Smart Guide includes funding and apportionment tables, section-by-section analyses, and U.S. Department of Transportation and other agencies' Notices of Funding Opportunities, guidance, and regulations. Finally, the Smart Guide includes advocacy talking points and tools to help APTA members tell their Bipartisan Infrastructure Law success stories.
APTA Regulatory Matrix
The APTA Regulatory Matrix enables you to track all 2022 and 2023 regulatory and other administrative action impacting public transportation. Using APTA's matrix, you may sort the regulatory actions by agency, date, and comment period. The Matrix provides links to the proposed requirements, summaries, APTA Comments, and the APTA Staff Advisor.
APTA Public Transportation Fact Book
The annual Public Transportation Fact Book contains national aggregate statistical data covering all aspects of the public transit industry in the United States and Canada. Major sections include an overview of U.S. transit systems; transit finances and operating statistics by modes of travel; transit vehicle characteristics and deliveries; private-sector expenditures; modal rankings; and statistical trends of Canadian transit operations.
APTA Government Affairs and Advocacy Team is Here to Assist!
APTA's Government Affairs and Advocacy (GAA) team leads the legislative strategy and implementation program regarding matters of legislative and policy interest to APTA's members. Did you know that APTA GAA staff is comprised of both legislative and policy and research experts? Feel free to contact us if you have any questions or need help with a legislative or policy issue:
Ward McCarragher
Vice President
wmccarragher@apta.com
202.496.4828