This page is an overview of the conference schedule.
The 2017 Annual Meeting & EXPO is scheduled for October 8-11, 2017, at the Georgia World Congress Center, 285 Andrew Young International Boulevard NW, Atlanta, GA 30313. The Atlanta Marriott Marquis and Hyatt Regency are co-headquarter hotels.
Hosted by the Metropolitan Atlanta Rapid Transit Authority (MARTA), APTA's major policy & management conference attracts public transportation leaders and managers from all sectors. Join the discussions with your colleagues to share best practices. Register early for this opportunity to network with colleagues and learn from one another.
 
Sessions that directly address APTA's 2015-2019 Strategic Goals have been identified throughout the program using the following icons: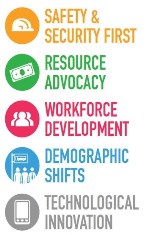 The APTA Strategic Plan can be found here
This schedule is preliminary and subject to change.
Go to:
Saturday, October 7   Sunday, October 8   Monday, October 9   Tuesday, October 10   Wednesday, October 11

Saturday, October 7

8 a.m. – 6 p.m.

Committee Meetings

8:30 a.m. – 5 p.m.

APTA Registration & Host Information – Convention Center

B Hall Registration, 4th Level, GWCC

APTA Registration & Host Information – Hotel

Lobby Foyer, Lobby Level, Marriott Marquis Atlanta
**Annual Meeting pre-registrants ONLY**

Sunday, October 8

7:30 a.m. – 6 p.m.

APTA Registration & Host Information – Convention Center

B Hall Registration, 4th Level, GWCC

APTA Registration & Host Information – Hotel

Lobby Foyer, Lobby Level, Marriott Marquis Atlanta
**Annual Meeting pre-registrants ONLY**

Moderators/Speakers & AV Preview Room

B 411, 4th Level, GWCC

8 a.m. – 6 p.m.

Committee Meetings

9:30 a.m. – 12 p.m.

TECHNICAL TOUR: Atlanta Streetcar/BeltLine System

(also on Sunday, 2 – 4:30 p.m. and Wednesday 2 – 4:30 p.m.)
(30 persons per tour)

10 a.m. – 12 p.m.

TECHNICAL TOUR: Atlanta Streetcar Economic Development

(also on Sunday 2 – 4 p.m. and Wednesday 2 – 4 p.m.)
(30 persons per tour)

1 – 2:15 p.m.

This is APTA

Marquis Ballroom C, Marquis Level, Marriott Marquis Atlanta
Getting involved, using APTA's resources

1 – 3 p.m.

TECHNICAL TOUR: MARTA Brady Mobility (Paratransit) Facility

(30 persons – 60 max. depending on interest)

1:30 – 5:30 p.m.

TECHNICAL TOUR: MARTA Integrated Operations Center & Emergency Operations Center

(30 persons)

2 – 4 p.m.

TECHNICAL TOUR: Atlanta Streetcar Economic Development

(also on Sunday, 10 a.m. – 12 p.m. and Wednesday 2 – 4 p.m.)
(30 persons per tour)

2 – 4:30 p.m.

TECHNICAL TOUR: Atlanta Streetcar/BeltLine System

(also on Sunday, 9:30 – 12 p.m. and Wednesday 2 – 4:30 p.m.)
(30 persons per tour)

2 – 5 p.m.

TECHNICAL TOUR: Integrating Bicycle Infrastructure & Transit (Relay Bikes)

(20 persons)

6 – 7:30 p.m.

Welcome to Atlanta Reception

Atrium Ballroom, Atrium Level, Marriott Marquis Atlanta
(tickets required)

Reception sponsored by WSP USA

8 – 11 p.m.

American Public Transportation Foundation (APTF) Fundraiser and Scholarship Reception

Location: Ventanas: 275 Baker Street, Atlanta GA

Reception sponsored by Genfare, WSP USA, Parsons Corporation, Alstom, Fran Hooper Consulting LLC, Clever Devices Ltd., HNTB Corporation, Motor Coach Industries, New Flyer of America, Michael Baker International, Iconic Consulting Group, Inc., Legacy Resource Group, KAI Texas, Inc., Kiewit, 360 Total Concept, Inc., and Pond & Company, Inc.

Monday, October 9

7 – 8:15 a.m.

Commitee Meetings

7:30 – 8:30 a.m.

Coffee Service

Thomas B. Murphy Ballroom, 5th Level, GWCC

7:30 a.m. – 5 p.m.

APTA Registration – Convention Center

B Hall Registration, 4th Level, GWCC

Host Information – Convention Center

B Hall Registration, 4th Level, GWCC

Moderators/Speakers & AV Preview Room

B 411, 4th Level, GWCC

8:30 – 10 a.m.

OPENING GENERAL SESSION: Transformational Times for Transportation

Thomas B. Murphy Ballroom, 5th Level, GWCC


Remarks: Hon. Jane Williams, Acting Administrator, Federal Transit Administration, Washington, DC

Opening General Session sponsored by AECOM

10:30 a.m. – 5 p.m.

EXPO 2017 OPEN

1:30 – 3 p.m.

GENERAL SESSION: Opportunity Is Knocking: Forward Looking Solutions for Challenging Times

Thomas B. Murphy Ballroom, 5th Level, GWCC
Prominent leaders speak out on the power of partnerships

Guest Speaker: Joseph F. Coughlin, Ph.D., Founder and Director, AgeLab, Massachusetts Institute of Technology, Cambridge, MA

3:30 – 5 p.m.

Educational Sessions

AdWheel Awards Ceremony

Thomas B. Murphy Ballroom, 5th Level, GWCC
Honoring top marketing and communications campaigns where you will also learn from some of the best communicators in the industry, as they detail their successful campaigns and the strategic importance of marketing and communications in public transportation.

Applying APTA's 2017 International Study Mission on Safety Culture, State of Good Repair, and Innovative Operations

B 401, 4th Level, GWCC
Insights, perspectives and observations from Hong Kong, Singapore, and Tokyo
Executive Roundtable: Creating World Class Organizations – Leadership, Culture, Trust, Empowerment

B 406, 4th Level, GWCC
Learn how today's visionary leaders are transforming the cultures of their organizations

Session sponsored by Lytx Inc.

Federal Legislative Overview with U.S. Congress Staff

B 402, 4th Level, GWCC
Important transit legislative issues that may be debated in Congress during the year ahead
Host Forum: Georgia on My Mind

B 403, 4th Level, GWCC
Attend this forward-looking host forum to learn more about MARTA's pivotal role in transforming transportation in Atlanta, a city with deep ties to the industry dating to the 19th century.

Integrated and Innovative Mobility Management

B 309, 3rd Level, GWCC
Transitioning from transit provider to mobility provider?

The Procurement Super Session

B 313, 3rd Level, GWCC
One hundred years of procurement industry experience!

7:30 – 9:30 p.m.

APTA LGBT Task Force Reception

Location: Alma Cocina, 191 Peachtree Street NE, Atlanta, GA

Tuesday, October 10

7 – 8:15 a.m.

Committee Meetings

7:30 a.m. – 4:30 p.m.

APTA Registration – Convention Center

B Hall Registration, 4th Level, GWCC

Host Information – Convention Center

B Hall Registration, 4th Level, GWCC

Moderators/Speakers & AV Preview Room

B 411, 4th Level, GWCC

8:30 – 10:30 a.m.

APTA AWARDS CEREMONY & BREAKFAST

Thomas B. Murphy Ballroom, 5th Level, GWCC
(tickets required)

 Awards Breakfast co-sponsored by Genfare and APTA

Awards program book sponsored by Genfare

9 a.m. – 4:30 p.m.

EXPO 2017 OPEN

1 – 2:30 p.m.

Your Chamber of Commerce Can Be Your Biggest Advocate

B 403, 4th Level, GWCC
Local business leaders speak out on the value of public transportation

1 – 3 p.m.

Capital Programs – Major Projects

B 402, 4th Level, GWCC
Major projects inspire us

Session sponsored by Parsons Corporation

1:15 – 3 p.m.

American Public Transportation Foundation (APTF) Scholarship Awards – Generation Next: Building Leaders for the Future

Thomas B. Murphy Ballroom, 5th Level, GWCC
Learn how the industry is helping to pave the way for tomorrow's leaders by investing in today's scholars and public transit professionals

1:30 – 3 p.m.

Educational Sessions

Leading the Way: Small Operations Best Practices and Innovative Solutions

B 313, 3rd Level, GWCC
Learn more about the "how to" in developing and managing your diverse initiatives

Session sponsored by Lytx Inc.

Procurement Integrity

B 406, 4th Level, GWCC
This session will help keep you and your organization out of procurement trouble.

Technological Innovation

B 309, 3rd Level, GWCC
Technological innovation is coming toward us at an increasing rate.

Session sponsored by Parsons Corporation

Transit Agency, Federal, and Research Perspectives on How to Reduce Fatalities & Injuries: An SMS Outlook

B 401, 4th Level, GWCC
An important overview of Safety Management Systems-related initiatives taking place throughout the transit industry

Session sponsored by Lytx Inc.

3:30 – 5 p.m.

Educational Sessions

Innovations in Planning and Implementing TOD

B 309, 3rd Level, GWCC
How transit hubs are attracting investment and increasing ridership

Innovative Funding, Finance and P3s

B 313, 3rd Level, GWCC
New ways to address transit operation and investment needs

New Developments in High-Speed and Intercity Passenger Rail Corridors

B 403, 4th Level, GWCC
Finding the way forward amidst challenges and opportunities

Resilience in a Time of Uncertainty, Managing Emergencies

B 401, 4th Level, GWCC
Inclement weather, natural disasters, and security concerns

Session sponsored by BAE SYSTEMS  

Zero-Emission Buses: Lessons Learned and Where to Get the Funding Needed to Put them in Service

B 402, 4th Level, GWCC
Deployment of ZEBs …Are you ready?

3:30 – 5:15 p.m.

Leadership APTA: Celebrating its 20th Year

Thomas B. Murphy Ballroom, 5th Level, GWCC
Class of 2017 leadership project presentations and graduation + welcoming the Class of 2018

3:30 – 5:30 p.m.

COMTO/APTA FORUM

B 406, 4th Level, GWCC
The award-winning documentary film "Free to Ride" is a lasting memory that you will want to take away from this conference!

5:30 – 6:30 p.m.

Leadership APTA Reception

B 404, 4th Level, GWCC

Wednesday, October 11

7:30 – 9:15 a.m.

WEDNESDAY WAKE UP BREAKFAST: Climbing the Ladder, Building the Pipeline

Thomas B. Murphy Ballroom, 5th Level, GWCC
(tickets required)

In conjunction with WTS


Breakfast sponsored by Atkins

7:30 a.m. – 12 p.m.

APTA Registration – Convention Center

B Hall Registration, 4th Level, GWCC

Host Information – Convention Center

B Hall Registration, 4th Level, GWCC

Moderators/Speakers & AV Preview Room

B 411, 4th Level, GWCC

8 a.m. – 5 p.m.

FTA Buy America Transit Supply Chain Connectivity Forum

C 205/206, 2nd Level, GWCC

9 a.m. – 3 p.m.

EXPO 2017 OPEN

9:30 – 11 a.m.

Educational Sessions

Advancing Performance Based Planning and Programming

B 313, 3rd Level, GWCC
Making the case for transit in regional decision making

FTA State Safety Oversight Agency (SSOA) Certification and Best Practices

B 309, 3rd Level, GWCC
Become SSO certified from FTA and learn from best practices at peer agencies

Procurement – What Happened to the Good Old Ways? They Are No Longer Good!

B 401, 4th Level, GWCC
New fare systems is a case in point

Transit System Overhauls

B 402, 4th Level, GWCC
Best practices and lessons learned to meet the demands of commuters today

Session sponsored by Parsons Corporation

9:30 – 11:15 a.m.

Capital Programs – Managing Risks & Lessons Learned

B 406, 4th Level, GWCC
These are lessons we can all learn

11:15 – 11:45 a.m.

CLOSING GENERAL SESSION: A Conversation with USDOT Secretary Elaine L. Chao

Thomas B. Murphy Ballroom, 5th Level, GWCC

1 – 3:15 p.m.

TECHNICAL TOUR: State Road and Tollway Authority Xpress South Operations & Maintenance Facility

(also on Wednesday at 2 – 4:15 p.m.)
(50 persons per tour)

1 – 4 p.m.

TECHNICAL TOUR: Transit Oriented Development Projects

(20 persons)

1 – 5:30 p.m.

Mobility on Demand Workshop

B 313, 3rd Level, GWCC
How to Deploy MOD: Lessons from Leading Cities

1:15 – 4:30 p.m.

TECHNICAL TOUR: TrackSafe and Autonomous Track Inspection Demonstration|

(60 persons)

2 – 4 p.m.

TECHNICAL TOUR: Atlanta Streetcar Economic Development

(also on Sunday, 10 a.m. – 12 p.m. and 2 – 4 p.m.)
(30 persons per tour)

2 – 4:15 p.m.

TECHNICAL TOUR: State Road and Tollway Authority Xpress South Operations & Maintenance Facility

(also on Wednesday 1 – 3:15 p.m.)
(50 persons per tour)

2 – 4:30 p.m.

TECHNICAL TOUR: Atlanta Streetcar/BeltLine System

(also on Sunday, 9:30 – 12 p.m. and 2 – 4:30 p.m.)
(30 persons per tour)