The 2017 Annual Meeting & EXPO will take place October 8-11, 2017 at the Georgia World Congress Center, 285 Andrew Young International Boulevard NW, Atlanta, GA. Hosted by the Metropolitan Atlanta Rapid Transit Authority, APTA's major policy & management conference attracts public transportation leaders and managers from all sectors. Join the discussions with your colleagues to share best practices. Register early for this opportunity to network with colleagues and learn from one another.
Sessions that directly address APTA's 2015-2019 Strategic Goals have been identified throughout the program using the following icons: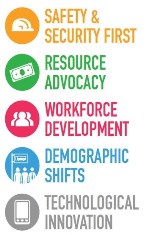 The APTA Strategic Plan can be found here
This schedule is preliminary and subject to change.
Chair, David Couch, Sr.
Chair, Michael J. Loehr, P.E.
Chair, Marlene B. Connor
Co-Chairs, Samuel E. Smith & Karen J. Hedlund
Chair, Aida B. Douglas
Chair, Todd Horsley
Chair, Albrecht P. Engel, P.E.
Chair, Christina Belmont
Co-Chairs, Louis Cripps & Andrea Burnside & Laura Zale
Chair, Jerry Guaracino
Chair, Nathaniel P. Ford, Sr.
Chair, LaShanda Dawkins, Esq.
Chair, Hugh A. Mose, P.E.
Chair, Tony Kellen
Chair, Lynn Brumfield
Chair, Lenord (Albert) Oliver & James Ross
Chair, William F. Durham
Chair, Jose R. Bustamante, P.E.
Chair, Thomas Parker
Chair, Roberta Boomer
Chair, Diana C. Mendes, AICP
Chair, Brendon Hemily, Ph.D.
Chair, Dottie L. Watkins
Chair, Prof. Jesus (Jess) Guerra, Jr.
Chair, Francis "Buddy" Coleman
Chair, Brenda R. Nnambi
Chair, Jonathan H. McDonald, P.E.
Chair, Dee Brookshire, MBA, CGFM
Chair, Nuria I. Fernandez
Chair, Allan Pollock
Chair, Kristen Joyner
Chair, Dr. Barbara K. Gannon
Chair, JC Vannatta
Chair, Allen C. Smith, III
Chair, Douglas Lecato
Chair, Huelon A. Harrison
Chair, Sharon Greene
Chair, Manjit Kaur Sooch
Chair, Louis J. Brown, Jr., P.E.
Chair, Bacarra Sanderson Mauldin
Chair, Karen H. King
Chair, Don Chartock
Chair, Ron L. Brooks
Chair, Mike Finnern
Chair, Nuria I. Fernandez
Chair, Ferdinand L. Risco, Jr.
Chair, Carol Herrera
Chair, Larry G. Wallis, CPA, CIA
Chair, Jeffrey D. Knueppel, P.E.
Chair, Mike Nabhan
Co-Chairs, J. Barry Barker, Celia Kupersmith & Paul Larrousse
Chair, Kimberly Slaughter
Chair, Jeffrey D. Knueppel, P.E.
Co-Chairs, Jack Martinson & John O. Adler, CPPO
Chair, Anthony A. Anderson
Chair, Jameson T. Auten
Chair, Janet R. Gonzalez Tudor, LEED AP BD+C, ENV SP, STP
Co-Chairs, Stephen Salin, AICP & James D. Parsons, AICP & Benjamin Limmer, AICP
Chair, Ann Derby, CTSM
Chair, Jason M. Minser