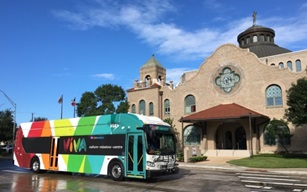 Welcome to San Antonio!
VIA Metropolitan Transit is delighted to welcome attendees of APTA's 2017 Fare Collection & Revenue Management and TransITech Conferences to San Antonio, Texas. We invite you to explore the vibrant culture, rich history and contemporary development of the city. You are encouraged to experience VIA's convenient and accessible transportation service during your visit.
Getting from the airport to the Marriott Rivercenter. Go to the Arrivals/Baggage Level in Terminal A and B, across the marked crosswalk to the outer curb. The VIA bus stop is located on the far west end of Terminal B. Catch VIA bus route 5, which operates daily from 5:30 AM to 10:00 PM. Exit downtown at the St. Mary's at Market bus stop and walk back to Market Street. Catch VIA Primo route 100 on E. Market Street and exit at the Convention Center bus stop. Take the crosswalk to cross Market and continue on the sidewalk to cross the river and cross Commerce Street then walk east (opposite direction of traffic) to the Marriott Rivercenter entrance.
Exploring the city. Downtown San Antonio has so much to offer! VIA offers several bus routes that travel through downtown from early in the morning to late at night.

VIVA is a new service line from VIA that takes you to the most-visited sites and attractions in the heart of San Antonio. Three distinct VIVA routes – VIVA culture, VIVA missions, and VIVA centro – connect riders with historic places, opportunities to learn and discover, classic and contemporary art, and popular dining and entertainment spots. There is something for everyone on VIVA, including stops at the San Antonio Missions World Heritage Site, The Alamo, King William Historic District, Southtown, Downtown, Market Square, the Riverwalk, Pearl, and the South Broadway corridor.

VIA's Primo bus rapid transit service line is also very convenient and runs from 4:00 a.m. to 1:00 a.m. every day. The Primo service line includes stops at The University of Texas at San Antonio, San Fernando Cathedral, Convention Center, Rivercenter Mall, and Centro Plaza.
Plan ahead and enjoy your visit!
There is no better way to explore the city than on VIA's downtown transit service. Be sure to visit
VIAinfo.net
to plan a trip on one of VIA's convenient and accessible services. VIA's services also can be accessed through several third-party apps that provide easy-to-use trip planning and schedule data. The apps providing real-time transit information for the San Antonio area include: Moovit; TripGo; Transit; IOS Maps; Google Maps; and Go VIA VIA.
​