Hear what past participants said about their APTA Youth Summit experience!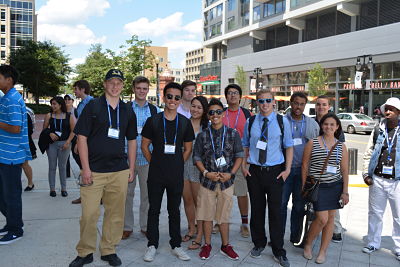 On what students gained from the summit:
"Some of my key takeaways were learning about the variety of careers that deal with transportation, and this was shown with visiting the transportation companies and WMATA. I was able to gain skills in public speaking with our group presentations… I never really thought deeply about Public Transportation, but now, every time I see a bus or a train, I remember about what I learned at APTA and the amount of people and effort it takes to run public transportation efficiently." –J.R., 2015 Youth Summit Alumni 
"I gained a high respect for operators of public transit and since I have been inclined to use public transit while traveling or within my own city when possible. I was motivated by the excitement and dedication of the other students I met there and the Youth Summit gave me hope for the tremendous positive impact my generation can have on the world. I learned how to collaborate with peers and interact with seasoned professionals like congresspeople, lobbyists, engineers and operators. I learned just how complex running a public transit system is and how necessary all levels of the system from the maintenance staff to the operators to the lobbyists that obtain funding are for the success of a transportation system." –C.J., 2015 Youth Summit Alumni   
 "The transportation industry has much more to it than you would expect. I came in not knowing much but I left realizing that I could find a job within the field. Learning about the logistics involved in urban planning and general public transportation events also piqued my interest into management." –S. Z., 2015 Youth Summit Alumni  ​
On the aspects of the summit they enjoyed the most:
"I enjoyed the variety of activities we participated in at APTA. My favorite part was the tour of the WMATA headquarters and the discussion at the USDOT. There, I especially found our pledge to never text and drive valuable. It is a pledge I keep to this day. The activity I enjoyed the most was the group time where we had the opportunity to think of a new innovation for the transit industry. I still remember my group's creation: a revolutionary ride optimization app called treVal!" –C. J.
"I found the group project to be very fun and useful because it helped me reflect on my time while at the summit and helped the group brainstorm and apply the knowledge that we learned. I also loved the presentations we had, but actually using the transportation systems, like the subway and different buses was very exciting. I had hardly any experience with buses and subways, being from Arizona, but from the summit I grew comfortable with using them and I actually use the bus around campus quite often. I loved all the friends that I made and I still am in contact with some of them today!" –J. B., 2013 Youth Summit alumni 
"The most useful parts were having speakers who gave us insight about their job in the industry and outlining their educational path and telling their story of how they ended up in their jobs. I enjoyed the monument tour and going around D.C. and the capital." –J. R., 2015 Youth Summit Alumni  
On their future plans:
"I am at the University of Cincinnati studying urban planning … I would like to become a transit planner. I am also an advocate for expanded transit in the Metro Atlanta area." –B. L., 2015 Youth Summit Alumni
"I plan on studying for industrial technology for my major.Then minoring in business administration and either aviation or transportation…With my major, I can have any job involved with manufacturing transportation related items such as: buses, trains, other parts. With my minor, I can take on some of the business involved in transportation. I may consider a job with the VTA or Bart here in San Jose." –J. R., 2015 Youth Summit Alumni