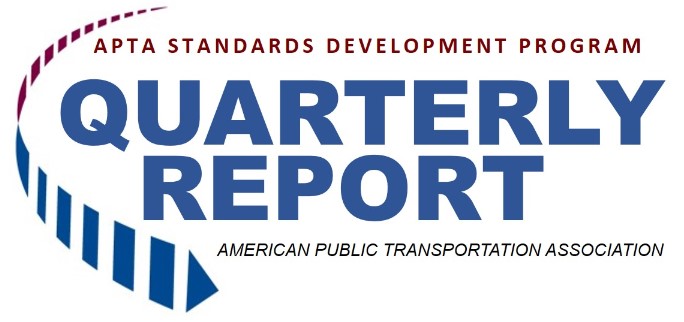 IN THE NEWS
NEW YEAR, NEW DEMANDS, NEW WAYS OF WORKING
Public transportation is one of the safest modes of travel. Over the next few years, the public transportation industry will have to strengthen its "safety and security first" culture. New threats require improved preventive measures against domestic terrorism, cybersecurity attacks, disaster and emergency preparedness, transit data and information sharing with customers to meet consumer requirements. To meet these challenges, APTA's Standards Development Program is focused on emphasizing the importance of safety and security in all documents in-development or under review in the upcoming months. This attention to the overall culture of public transit will greatly improve the industry's performance and quality assurance measures for years to come. These gains would not be possible without the continued support of APTA members, key industry stakeholders and the CEOs who continuously support their employees' participation in the program's activities. APTA has made significant investments to strengthen the program's governance, staffing and technology infrastructure to meet these new challenges. 
NEW QUARTERLY WEBINAR SERIES
APTA's Standards Development Program kicks off its new quarterly webinar series in January 2017. The first webinar, "Disc Brake Wheels-On Inspection," will focus on periodic inspection of disc brakes systems. It will provide an overview of inspection points, caliper testing, and brake pad and rotor inspections. Registration will open on Jan. 13, 2017.
POSITIVE TRAIN CONTROL
APTA continues to support the deployment of positive train control (PTC) on our commuter railroads. PTC is a system of predictive enforcement mandated by the Federal Railroad Administration for all passenger railroads and all other railroads experiencing heavy loads or transporting hazardous materials. PTC is enabled by an extensive nationwide radio network and is described by numerous industry standards to permit nationwide interoperability. Needless to say, PTC is an expensive and complex system to deploy, taxing the resources of our members. APTA has worked to promote system-wide solutions to common problems as a means of helping our members to cope with this massive task.
---
ABOUT THE PROGRAM
PLANNING FOR SUCCESS
As we kick off 2017, all active working groups have been asked to update their FY2017 work plans and budget assumptions to reflect the work they can accomplish by June 30, 2017. In conjunction with these activities, APTA staff advisors will engage their respective Standards Policy and Planning Committee (SPPC) chairs to start the FY2018 work plan and budget development process. APTA has nine SPPC chairs who are responsible for setting priorities, developing new standards, maintaining existing standards and managing working groups.
COLLABORATING: TOP 7 LESSONS LEARNED FROM APTA STANDARDS WORKING GROUPS
APTA has approximately 23 active working group collaboration websites out of 35 working groups that have been successful in maintaining volunteer engagement. The 12 remaining working groups will launch collaboration websites this year. Whether they are newly formed or reconstituted, these collaboration sites have the following characteristics in common:
The working group chair, vice chair and staff adviser have worked closely with participants to ensure adoption of the collaboration site. This simply involves maintaining an up-to-date participant roster with accurate email addresses and ensuring that each participant has a working web account on www.apta.com.

Working group participants participated in one or more brief orientation sessions and received instructional documentation.  

Working group participants opted in for activity alerts on announcements, forum posts and/or document changes.

Working group participants used the online balloting and voting tool to approve documents.

Working group participants used a tracking grid to monitor and track changes to each document in development. This helped to organize comments and suggested changes and provided a log of recent changes by participant and date.

Each working group eliminated the use of group email blasts and published informational updates directly to the collaboration site.

Participants bookmarked the URL (web address) of the collaboration page into their web browser's favorites and used Internet Explorer for an optimum experience.
Implementation of any or all of these activities will improve your working group or committee's adoption and usage of your collaboration website. For technical assistance, contact Eugene Reed at standards@apta.com or (202) 496-4827.
LEADING THE WAY
The Standards Development Oversight Council (SDOC) will meet at the Legislative Conference to establish strategic priorities for APTA's Standards Development Program. The focus of the meeting is to approve work plans and a budget for the 2018 fiscal year. Over the next few weeks, the chairs of APTA's Standards Policy and Planning Committees will reach out to their working group chairs to gain insight on upcoming priorities and budget requirements, and to evaluate progress on the update of existing standards. This open, transparent process should strengthen the quality of APTA's Standards Development Program, ensuring its ongoing relevance, quality and market value.​
STANDARDS DEVELOPMENT PROGRAM HIGHLIGHTS
BUS
BRAKE AND CHASSIS WORKING GROUP
The group is currently reviewing two documents: APTA BTS-BC-RP-001-05, "Transit Bus In-Service Brake System Performance," and APTA BTS-BC-RP-003-07, "Transit Bus Brake Shoe Rebuild." The group has meetings scheduled for Feb. 8-9 in Houston, Texas, and May 10-11 in Reno, Nevada. Over the next few months, the group will continue the development of brake and chassis documents, as detailed below, to conclude FY17. In addition to these documents, the group is preparing a series of webinars on disc brake maintenance, troubleshooting and brake reline. Brake and chassis documents currently in development are the following:
"Air System Troubleshooting"

"Air Management on Transit Vehicles"

"Rebuilding Remanufactured Brake System Components"

"Brake Performance Testing"
BUS MAINTENANCE TRAINING WORKING GROUP
The group is developing documents to address brake and electrical issues. The Brakes Courseware Development sub-work group will meet in Minneapolis on March 8-9. They are working on documents for an ABS/ATC module and foundation brakes module. The group is currently reviewing the "Brakes Auxiliary Circuits" document.
The Electrical Courseware Development sub-work group will meet in San Jose on Jan. 25-26. They are working on electrical lighting systems and multiplexing. They are also reviewing the electrical modules in capacitors/inductors/relays, electronic motors, and charging systems and batteries.
Other activities scheduled for midyear are a full committee meeting, piloting of the brakes courseware and curriculum, and the development of the electrical courseware.
RAIL
OPERATING PRACTICES WORKING GROUP
The following three documents are in process for working group ballot: "Rule Compliance," "Operating Personnel Requirements in New-Start Projects" and "Fatigue Management Program Requirements." The group will be pursuing the revision of the following four documents that are more than 5 years old: "Rule Introduction and Authority," "Rail Transit Accident/Incident Investigation," "Safe Operations in Yards" and "Operations Control Centers." The group will convene its next face-to-face meeting in March 2017.
ELEVATOR & ESCALATOR TECHNICAL FORUM
The group is reviewing two documents: "Heavy-Duty Transportation System Escalator Design Guidelines" and "Heavy-Duty Machine Room-Less Elevator Design Guidelines." The group will attempt to finish the review of the two referenced documents and prepare them for ballot at the next meeting, which is scheduled for January 2017.
FIXED STRUCTURES WORKING GROUP
Volunteers are following up on two documents that have recently been reviewed during the public comments period. These documents are "Transit Structure Inspection and Maintenance" and "Track Inspection and Maintenance." The group's next meeting will be in May 2017, and they will start work on another old document.
The Streetcar Subcommittee is following up on a document that has completed public comment: "Vintage and Heritage Trolley Vehicle Equipment." The next meeting is scheduled for March 2017.
GRADE CROSSING WORKING GROUP
Pending CEO approval, the following two documents will be advance to the Rail Standards Policy and Planning Committee for final approval: "Rail Transit System Highway Rail Grade Crossing Warning Device Inspection, Testing & Maintenance" and "Rail Transit Grade Crossing Public Education and Rail Trespass Prevention." The next meeting is tentatively scheduled for February 2017.
APTA VENTILATION AND FIRE LIFE SAFETY
In order to address concerns and to assist the rail transit industry, the APTA Ventilation and Fire Life Safety Technical Forum is considering the development of guidelines on three key areas of FLS. APTA is looking for individuals to identify, review and recommend guidelines in these areas:
Platform screen door retrofits affecting existing ventilation: While not common at rail transit systems in this country, some transit agencies have considered or are considering their implementation. There are some benefits for their use, such as potential downscaling of ventilation equipment and less hazard for passenger falls onto the trackway.
Risk assessment to determine FLS upgrades: Some transit agencies are upgrading their tunnel ventilation systems to improve fire life safety. Before taking these steps, agencies can use a risk assessment to determine the upgrades providing the most safety per dollar.
Guidelines for procedures on a mid-train fire: One of the more critical fire conditions in a subway is a fire located in the middle portion of a multicar train. This can result in a simultaneous evacuation in two different directions along the tunnel. Developing procedures on how best to handle such a situation with emergency ventilation is the objective of this effort. Passenger management also will be addressed.
If you are interested in participating in any of these working groups, please contact Charles Joseph at APTA (cjoseph@apta.com).
PRESS
The suite of PRESS standards are in the process of being triaged to prioritize updates. Several key initiatives within the industry are critical to our standards update process, including the Notice of Proposed Rule Making (NPRM) relating to Tier III standards, as well as ECP braking initiatives and various safety advisories. Several of the PRESS working groups are being re-energized to focus on priorities. Key PRESS work streams in the near term include the following:
review and comment on NPRM1 relating to Tier III (high-speed rail) train sets with some implications on Tier I

completion of testing and preparation of materials relating to ECP braking

standards update relating to various safety advisories

engagement through the Engineering Task Force relating to further revised equipment regulations, including NPRM2 relating to Tier III as well as Tier I

continued PRESS standards
SUSTAINABILITY AND URBAN DESIGN
The Sustainability Standards Working Group will continue to develop a Recommended Practice on social and economic sustainability at transit agencies. They are continuing to complete updates to the Recommended Practice on quantifying greenhouse gas emissions from transit and anticipate completion by the end of FY2017. For more information about these products, please contact Mark Teschauer at APTA (mteschauer@apta.com).
For the remainder of FY2017, the Urban Design Standards Working Group will continue to develop a Recommended Practice on bicycle accessibility to transit, as well as a Recommended Practice that focuses on passengers' experience in accessing transit. The Urban Design Standards working group will complete a new Recommended Practice on universal design guidelines to ensure that transit stations and stops accommodate all users. For more information on these products, please contact Zach Smith at APTA (zsmith@apta.com). 
​
NOW AVAILABLE FOR PUBLIC COMMENT
APTA RT-FS-S-002-02, Rev. 1, "Rail Transit Track Inspection & Maintenance"

APTA RT-FS-S-003-02, Rev. 1, "Rail Transit Station, Shop and Yard Inspection and Maintenance"

APTA RT-OP-S-011-10, Rev. 2, "Rule-Compliance Program Requirements"

APTA RT-OP-S-022-16, "Operations Personnel Requirements in New Rail Transit Projects"

APTA RT-OP-S-023-16, "Fatigue Management Program Requirements"

APTA RT-RGC-S-001-02, Rev. 2, "Rail Transit Grade Crossing Warning Device Inspection, Testing and Maintenance"

APTA RT-RGC-RP-002-02, Rev. 2, "Rail Transit Grade Crossing Public Education"

APTA RT- SCS-S-001-05, Rev. 1, "Vintage and Heritage Trolley Vehicle Equipment"

APTA SUDS-UD-RP -001-09, "Defining Transit Catchment Areas
The preceding documents are available for public review. Please review and submit any comments to: http://www.apta.com/resources/standards/public-comment/Pages/default.aspx
​​​​​