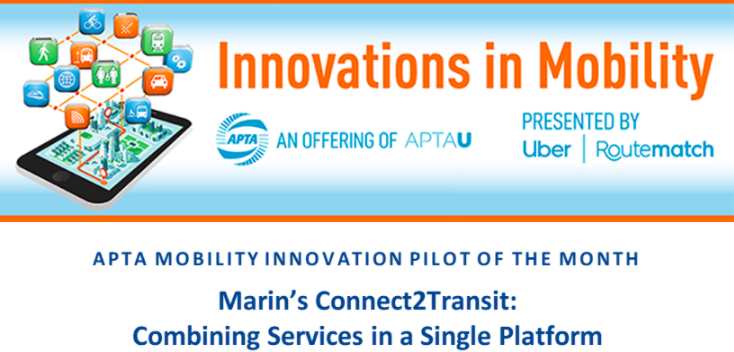 The Takeaway 
Marin Transit and the Transportation Authority of Marin (TAM) contracted with Uber to create Connect2Transit, a user-friendly platform combining multiple on-demand service and real-time transit information. Connect2Transit leverages Uber's routing software to optimize shuttle routes, with booking available on the Uber app (along with real time information for traditional fixed-route transit services). Through Connect2Transit, Marin Transit and TAM expect to reduce operational cost while providing a simplified passenger experience.  
Connect2Transit launched on July 1, 2020—in the midst of the COVID-19 pandemic. A pooled ride hail component of the program has temporarily been replaced with subsidies for private trips, and on-demand Marin Transit shuttle services have been capped at two passengers. Looking to the future, Marin Transit and TAM see Connect2Transit as a powerful platform to coordinate service expansions after the pandemic recedes.
The Setting 
Situated in the Bay Area just north of San Francisco, Marin County is home to 259,000 people. Marin Transit, the county's local public transportation provider, runs 30 fixed-route bus lines as well as a demand-responsive programs (including paratransit), moving a total of roughly 275,000 passengers per month prior to the COVID-19 pandemic.   
TAM is the county's congestion management agency and sales tax authority, funding various transportation projects. Golden Gate Transit operates regional buses in Marin County. 
The Sonoma Marin Area Rail Transit (SMART) runs through Marin County, making six stops in Novato, San Rafael and Larkspur. Seeking to encourage residents within a few miles of these stations to use public transportation, in 2017 TAM launched the GETSMART program, offering $5 vouchers to passengers taking shared Lyft Line trips to or from a station (passengers first had to pay a $2 charge). In 2019, 719 people used GETSMART in an average month.   
Separate from GETSMART, in 2018 Marin Transit launched Connect, a program providing on-demand microtransit trips within a four-square mile area of San Rafael. Connect trips were provided by four shuttles owned and operated under contract by Marin Transit, with routing software from Via. Trips cost $4 per mile for the general public and $3 for Marin Access riders and were booked through a white-label Marin Transit Connect app offered by Via (Marin Transit does not currently provide mobile ticketing).  An average of 1,267 passengers used Connect per month in 2019. 
Seeking to combine GETSMART and Connect into a single platform—and to offer alongside its information about traditional transit service—TAM and Marin Transit issued an RFP for Mobility on Demand Software in October 2019. Fifteen groups responded to the RFP, which was ultimately awarded to Uber in a contract not to exceed $80,000 over two years (a substantial discount to the $50,000 per year Marin Transit had paid Via solely for the Connect program's routing software).  
The Project 
While Marin Transit paid Uber for routing software, TAM entered into a separate voucher agreement with Uber for discounted trips. Marin Transit and TAM has now combined GETSMART and Connect into a new program, called Connect2Transit. Connect2Transit's pooled first mile/last mile ride hail trips—previously called GETSMART—would now be provided by UberPool. Now rides to major transit hubs that are not Marin SMART stations can also receive subsidies.  
The Connect2Transit program launched on July 1, 2020. The four Marin Transit on-demand Connect shuttles are now powered by Uber's routing software, with fares set at $3 for Marin Access passengers and $3/mile for everyone else. Marin Transit's Connect shuttles are available from 6 am to 7 PM on weekdays.  
Through a telephone hotline, Marin Transit uses Uber Central, a web-based tool, to provide customer service assistance including booking options for riders without smartphones. The coverage area for Connect expanded dramatically, from 4 square miles in San Rafael to 80 square miles (2.5 mile radii around Marin SMART stations).  
Most importantly, the contract with Uber allows Marin Transit and TAM to offer transit riders new information and functionality. "Program integration was the biggest reason we selected Uber as a firm," says Cody Lowe, a planning analyst with Marin Transit. In addition to on-demand shuttle and discounted UberPool trips, the Uber app also shows transit schedules for all public transportation agencies in Marin County (as well as traditional Uber services). The app also offers the ability to incorporate employer discounts for transit use. TAM has forged partnership agreements with the County of Marin and Kaiser Permanente (the two largest employers in the county) who subsidize employee trips to employment sites within the Connect2Transit service area. 
Outcomes  
Because it began amid the COVID-19 pandemic, ridership figures are not representative of "typical" passenger demand. Also, the pooled ride hail trips to and from SMART rail stations have been provided by UberX due to the pandemic. In July and August 2020 over 200 people used Connect2Transit to book on-demand trips.  
Looking to the future, Marin Transit and TAM hope to increase usage of Connect2Transit by expanding employer partnership, launching marketing initiatives as riders return to transit, and considering the incorporation of mobile ticketing functionality on the Uber app.  
Lessons Learned 
Marin Transit's Lowe says that repeatedly revising the county's on-demand service offerings has been essential: "If anything, perhaps we should have made adjustments to the on-demand service area even earlier, so we could experiment more."  
He also credits the close relationship between Marin Transit, which pays for Connect2Transit's software, and TAM, which pays for individual trip subsidies. "Without that partnership I don't think this program could have worked." 
Documents Available 
For Further Information Please Contact:  Art Guzzetti, APTA Vice President – Policy and Mobility at aguzzetti@apta.com.