APTA congratulates the graduates of the Leadership APTA Class of 2015!
During the year, class members discussed transit leadership key issues important to their system, resulting in the development and delivery of five leadership projects during the program year.
They presented highlights of their projects during the 2015 APTA Annual Meeting and EXPO in San Francisco, CA. Each team's presentations and papers are available below. We highly encourage you to download and read the results of their interviews, findings, and related research.
Team 1: Redefining Public Transit Benefits for Future Generations
Team members, pictured left to right: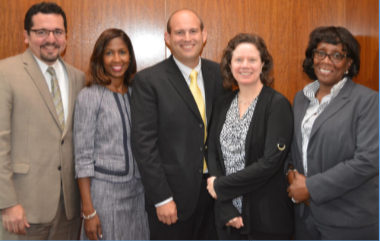 ​Ray Sosa


Associate Vice President, Transportation Planning and Project Man

agement


AECOM
LaShanda Dawkins


Se

nior

Director, Human Resources


Metropolitan Atlanta Rapid Transit Authority
​Adam Barth
Transportation Manager


Fairbanks North Star Borough
​Lisa Wolterink (Team Co-Coordinator)
Grants Division Manager


Sound Transit
Stephanie Bogerd (Team Co-Coordinator)


Deputy

 Gener

al Manager


MTA New York City Transit
What is the CEO's vision for transit in the future? What do they think are some of the best practices to achieve that vision? By 2035, population growth will greatly increase the number of people who rely on transit; congestion will continue to increase and climate change demands greener transportation choices. Using long-range plans and interviews from CEOs, this project explores strategies and recommendations that can maximize the benefits of tranist for future generations. The paper provides some examples of what we can do now to ensure a lasting, positive impact on the next generation of transit riders. It also envisions some scenarios of what life would be like with and without transit to show how essential transit is to achieving quality of life, economic, and environmental goals for the future.
​Team 2: Transformative Leadership
Team members, pictured left to right:
​Kenyatta Lee
Senior Manager, Technology and Innovation


Jacksonville Transportation Authority
Roland Cordero
Director of Maintenance and Vehicle Technology


Foothill Transit​ ​   
Travis Engstrom (Team Coordinator)


Manager of Infor

mation Technology


San Francisco Bay Area Rapid Transit      
Kimberly Williams
Deputy Chief of Procurement Officer


Metro Transit Authority of Harris County
Sidney Dimanche (not pictured)


M

anager of Systems Assurance


Bombardier – Airtran JFK
Behind each successful company lies a culture that inspires excellence. A major component that drives this success is the introduction of a transformative leadership style into an organization. Transformative leadership has the ability to alter the destiny of an organization. Through the years, we have seen new start entrepreneurs move their organizations from startups to billion dollar business enterprises. Advancements in computer technology have fueled innovation and created new models for moving and transporting people in ways we have never seen. Furthermore, this rapid and competitive evolution has encouraged organizations to promote not only, "think outside of the box", but "break the box." Drawing on comparative examples from some of the world's most transformative business leaders and unique business cultures – our research and subsequent analysis will produce a thought-provoking resource that will help transit CEOs and other industry professionals analyze their leadership methodologies to become an agent for change and build a focused result-driven team. In addition, readers will envision better ways to inspire willful efficiency through credibility, confidence, and collaboration.
Team 3: Discovering and Cultivating the New Champions of Transit
Team members, pictured left to right:
Ehren Bingaman
Director, Transportation Planning


HTNB
David Cangany
General Manager


South Bend Public Transportation Corporation (TRANSPO)
Kirstin Baer-Harding
Advertising and Marketing Manager


Des Moines Area Rapid Transit
Dino DiPietro (Team Coordinator)
Senior Manager of Systems Development


MTA – Long Island Rail Road
As an Executive in the Transit Industry, who do you want to uphold and advance your future strategies and goals? Given the increased focus on building and promoting Transit as an important cultural and economic necessity across all regions and demographics, it is important for Executives within the Transit industry to "Discover and Cultivate the New Champion of Transit." The future of transit, its growth, investment, preservation, and integration in thriving transportation networks requires the development of Champions both internal and external to your organizations. While this is not a new story, what is new are the evolving faces and roles of transit champions. As we look forward to the new trends of transit we can already see the sustainable results that are in progress of being achieved. Through interviews with industry leaders and an analysis of common traits of successful transit organizations and the innovative results that are now being produced, Leadership APTA 2015 looks forward to presenting a toolkit to support the Discovery and Cultivation of the next generation of Transit Champions.
Team 4: Collaborative Mobility
Team members, pictured left to right: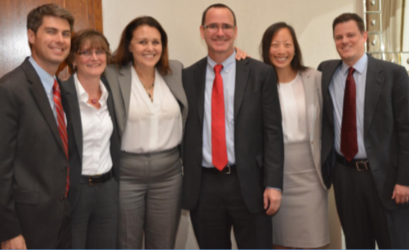 Nathan Macek
Principal Consultant


WSP – Parsons Brinckerhoff
Maureen  Lichtner
Director of City Schedules and Support Services


Southeastern Pennsylvania Transportation Authority (SEPTA)
Jaqueline Bruce
Assistant General Manager, Business Process Improvement, Department of Buses


MTA New York City Transit
Lloyd Sullivan (Team Co-Coordinator)
Section Manager, Project Management and Business Intelligence


Orange County Transportation Authority
Nadine Lee (Team Co-Coordinator)
Project Manager, FasTracks program


Regional Transportation District – Denver
Ryan Adams
Vice President, Strategy and Corporate Development


Keolis Transit America
The changing landscape of transportation, fueled by fast-paced innovations in the technology sector and the emergence of new mobility options, presents opportunities for transit executives to lead the expansion of mobility in ways that agencies have never before contemplated. The Collaborative Mobility project empowers transit executives to promote and pursue a new vision for maximizing mobility and accessibility through collaboration with other public agencies, non-traditional service providers, and technology companies. The project cites case studies exemplifying a variety of approaches to maximize system capacity, identifying common success factors and lessons learned. The study also recommends strategies to mitigate the challenges and obstacles that limit agencies' abilities to pursue partnership opportunities. Ultimately, the study advises public transportation executives to embrace and capitalize on emerging delivery models to create seamless network connectivity through partnerships with flexible, on-demand services.
Team 5: "People Ready" – Workforce Planning: Maximizing the New Reality of Revolving Workforce
Team members, pictured left to right, top then bottom: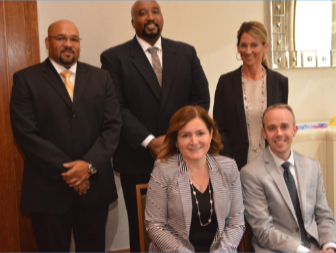 Maurice Bell
Assistant Vice President, Bus Operations


Dallas Area Rapid Transit
James Bradford (Team Co-Coordinator)
Chief Operating Officer


Pinellas Suncoast Transit Authority
Heather Stafford Smith


D

irector, Human Resources


Intercity Transit
Ana Rivas


Superintendent, 

Bus Transportation


San Mateo County Transit District
Jeffrey Flynn (Team Co-Coordinator)
Senior Operations Manager – Transit Management Division


San Francisco Municipal Transportation Agency – Muni
Team "People Ready" is sharing the industry's most successful strategies for executive managers everywhere for cutting edge onboarding of new employees, maximizing employee engagement, and optimizing employee retention. According to a study from the Transportation Learning Center, nearly half of the transit industry's current employees with be retiring over the next ten (10) years while the transit workforce is expected to expand by almost forty percent (40%) in the same period! This means we'll need to hire and train roughly ninety percent (90%) of today's total transit workforce in Public Transportation just to maintain and break even by 2025! Are you ready to embrace this reality? How well have you really stress-tested your organization to withstand this revolving workforce? As CEOs and GMs the success of your agency ultimately depends on the people you employ. Team "People Ready" surveyed many transit agencies who shared their challenges and the impact employee turnover has had to the agency's identity, growth, brand, and most of all, their customers. Our team will share our research, which will provide valuable resources for GMs and CEOs while revealing the current trends and best practices within the industry for effective strategies in talent acquisition, hiring and maximizing employee engagement.
​