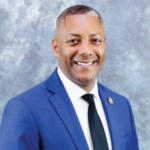 Washington, D.C. – The American Public Transportation Association (APTA) has announced the newest member of the senior leadership team. Effective today, John Henry will become APTA's chief financial officer. "We are pleased that John Henry will be joining APTA to lead our finance and information technology departments," said APTA President and CEO Paul P. Skoutelas. "His wide-ranging experience and expertise in finance in both the public and private sector will serve APTA and its members well and we are excited to have him join the APTA team."
Henry most recently served as the chief financial officer for the Jefferson County Commission in Jefferson County, Alabama. In that role, he was responsible for general accounting, budget management, purchasing, revenue and economic /workforce development. Henry was recently recognized as CFO of the Year by the Birmingham Business Journal.
Prior to joining Jefferson County, he served as Associate Treasurer for asset management in the Office of Finance and Treasury (OFT) for the District of Columbia managing the District's investment programs, including the general fund, the Districts 401(a) and 457(b) retirement programs, the 529 College Savings program and the District's Other Post Employment Benefit's Fund.
Henry is a certified public accountant and holds the Certified Treasury Professional designation. He earned, with honors, a master's in business administration, finance, from Howard University and a bachelor's with honors in accounting from Virginia State University.
Henry was a 1st Lieutenant in the United States Army with the 82nd Airborne Division and is a graduate of the United States Army Ranger and Airborne Schools.
# # #
The American Public Transportation Association (APTA) is a nonprofit international association of 1,500 public and private sector organizations which represent a $71 billion industry that directly employs 430,000 people and supports millions of private sector jobs. APTA members are engaged in the areas of bus, paratransit, light rail, commuter rail, subways, waterborne services, and intercity and high-speed passenger rail. This includes: transit systems; planning, design, construction, and finance firms; product and service providers; academic institutions; transit associations and state departments of transportation. APTA is the only association in North America that represents all modes of public transportation. APTA members serve the public interest by providing safe, efficient and economical transit services and products.