WASHINGTON (February 4, 2021) – "On behalf of our 1,500 public- and private-sector organizations, the American Public Transportation Association (APTA) congratulates U.S. Rep. Peter DeFazio (D-OR), Chair of the House Committee on Transportation and Infrastructure (T&I Committee), and U.S. Rep. Sam Graves (R-MO), Ranking Member of the T&I Committee, together with six subcommittee chairs and ranking members.
Both Chair DeFazio and Ranking Member Graves have worked closely together in a bipartisan manner to promote transportation investment and champion initiatives that advance public transportation.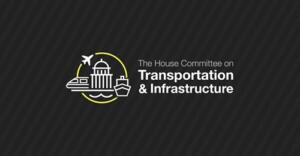 APTA looks forward to continuing to work with both Committee leaders to develop bipartisan surface transportation investment legislation that is critical to modernize aging and outdated public transportation infrastructure and to continue to grow the economy. As the nation's crumbling infrastructure ages, our public transportation systems are in dire need of investment. More than $100 billion is needed just to bring the nation's transit systems into a state of good repair. Those ongoing needs, together with COVID-19 emergency funding legislation, will be APTA's top priorities in the coming year.
APTA also congratulates the following subcommittee leaders:
Subcommittee on Aviation: Chair Rick Larsen (D-WA), Ranking Member Garret Graves (R-LA)
Subcommittee on Coast Guard and Maritime Transportation: Chair Salud O. Carbajal (D-CA), Ranking Member Bob Gibbs (R-OH)
Subcommittee on Economic Development, Public Buildings, and Emergency Management: Chair Dina Titus (D-NV), Ranking Member Daniel Webster (R-FL)
Subcommittee on Highways and Transit: Chair Eleanor Holmes Norton (D-DC), Ranking Member Rodney Davis (R-IL)
Subcommittee on Railroads, Pipelines, and Hazardous Materials: Chair Donald M. Payne, Jr. (D-NJ), Ranking Member Eric A. "Rick" Crawford (R-AR)
Subcommittee on Water Resources and Environment: Chair Grace F. Napolitano (D-CA), Ranking Member David Rouzer (R-NC)
Now is the time to invest more in our nation's public transportation infrastructure to support jobs, reconnect Americans, and build the necessary network to provide critical public transit services and economic opportunities for all."
###
The American Public Transportation Association (APTA) is a nonprofit international association of 1,500 public and private sector organizations which represent a $74 billion industry that directly employs 435,000 people and supports millions of private sector jobs. APTA members are engaged in the areas of bus, paratransit, light rail, commuter rail, subways, waterborne services, and intercity and high-speed passenger rail. This includes: transit systems; planning, design, construction, and finance firms; product and service providers; academic institutions; transit associations and state departments of transportation. APTA is the only association in North America that represents all modes of public transportation. APTA members serve the public interest by providing safe, efficient and economical transit services and products.