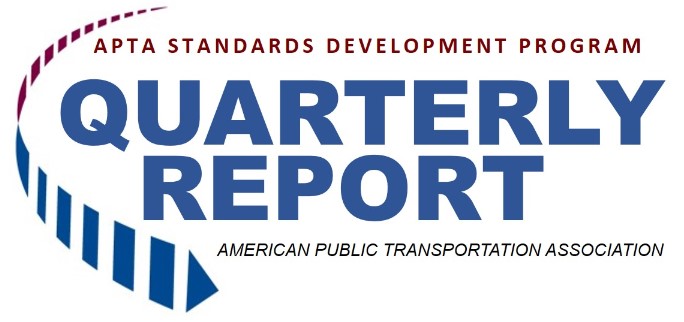 In the News

New Quarterly Electronic Newsletter

We are excited to begin a new way to inform the industry about what's going on in the APTA Standards program. Each quarter we will issue a new electronic "Quarterly Report" that will highlight something exciting and worthy of being shared. You may find a more in-depth piece on a​ newly published document or an article on the successful application of a newly developed document at an agency or within the industry. We may also highlight one of the great industry experts who volunteer their time and expertise to develop documents helpful to the industry.

Standards have become an important program activity at APTA and in the public transportation industry. APTA has played a major role in creating active working structures within the organization focused on the development of standards. Hundreds of industry volunteers, serving on numerous working groups, have developed more than 300 standards. These consensus-based standards are making a real difference to the management and operations in the transit industry. These standards are now being used to achieve safety improvements and operational efficiencies in services, facilities and vehicles.

APTA Standards cover all modes of public transit and many operational facets as well. Currently, the program includes rail transit, bus transit, commuter rail (PRESS), information technology, security, procurement, state of good repair, and sustainability and urban design. New programs are added as needed to reflect the dynamic needs of our industry.

Standards Development Program Highlights

Published Standards Library Updated

APTA has recently updated the Published Standards Library website to improve ease of use and access. First, the APTA Standards Program navigation button has been moved up to the first item under the main Resource Library navigation menu. Second, a new left navigation menu has been added to the APTA Published Standards web page for quick access to standards categorized by program. A new keyword search has been added to quickly identify and locate standards documents. Finally, the new Action Alert section informs visitors to the site about the status documents in development by the standards development program. Additional improvements, such as inserting short descriptions next to document numbers and titles, are scheduled for later this winter (January 2016).

New Collaboration Websites for Working Groups

APTA has recently developed collaboration websites for its standards development program working groups. The new websites will allow working group members to share files and hyperlinks, review and edit documents, vote, and comment or discuss their projects online on a secure, ​limited-access website. These sites are already in place for most APTA leadership committees. Utilizing Microsoft's SharePoint Server, working group members will be able to work collaboratively online outside of traditional face-to-face meetings, conference calls or webinars, share comments in real time, and receive email alerts to new content or any changes to existing content. 

Standards Development & Oversight Council Meeting

The goal of the Standards Development and Oversight Council meeting at this year's annual meeting is to set the overall direction for the development and maintenance of standards in the public transportation industry for the upcoming calendar year; establish priority programs among APTA's modal standards development committees; coordinate standards development activities among these modal groups, as well as other organizations outside APTA, including the federal government; develop and establish budget goals to support APTA's standards development activities; and promote the support for and use of standards in the public transportation industry.

Recently Published Standards

These documents are available online at www.apta.com/resources/standards.

Now Available for Public Comment

APTA BTS-BC, Recommended Practice, "Transit Bus Air Disc Brake Operation and Wheels-On Inspection"

APTA BTS-BC, Recommended Practice, "Transit Bus Air Disc Brake Wheel-Off Inspection and Reline"


These documents are available for public commenting and can be reviewed through October 31.

About the Program

The goal of the APTA Standards Development Program is to develop, implement and maintain Standards, Recommended Practices and Design Guidelines to achieve the highest level of performance, reliability, efficiency and safety in transit systems.

The use of standards in the public transportation industry has grown significantly in recent years. Since 2005, APTA has coordinated with transit systems, key suppliers and consultants, and the federal government to produce a significant number of documents.

Currently, more than 250 transit industry professionals are participating in nine major voluntary APTA standards development programs. Standards can improve safety and reduce costs through documenting the collective wisdom and best practices of the transit industry. This program cuts across all modes and is focused on key elements of transit operations and maintenance, including the design of bus and rail vehicles; operating practices; inspection and maintenance guidelines; the interoperability of component systems and parts; and the definitions for data structures for exchange information. 

Workgroup Updates

Work on the accommodation of rail operations in Transit Communications Interface Profiles continues. Extensive discussions were held with representatives of Utah Transit light rail responding to a battery of questions designed to document light rail operations as they apply to TCIP. Utah transit provided excellent insight into light rail operations. 

The APTA Urban Design Working Group recently met in August at the Sustainability and Public Transportation Workshop to develop new industry standards around universal design, art and access to transit systems. The universal design guidelines will explain the concept of universal design and how it relates to public transit. These guidelines will challenge agencies and designers to provide better "access" to transit for all users by improving practicality, comfort and feelings of inclusiveness. The working group expects to have the document ready for public comments in the third quarter of 2016.

Working group members also discussed a new document that will provide guidance on improving access to and from fixed-route stations and stops within a transit catchment area. The working group expects to have the document ready for public comments in the second quarter of 2017. Working group members also are working on a more in-depth guidebook due in the third quarter of 2016 to accompany the "Best Practices for Integrating Art in Capital Transit" booklet.
​​​​​