Congratulations 2017 Youth Summit Alumni!
Thank you to all the students who applied to, and were selected to participate in the 2017 APTA Biennial Youth Summit. Those of you who participated were selected in a competitive process from a wide field of high achieving students across North America.
Read what alumni say about their Youth Summit experiences
here
!
A YOUTH SUMMIT TO ADVANCE EDUCATION & PROMOTE CAREERS IN PUBLIC TRANSPORTATION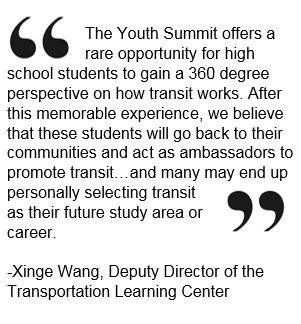 Public transportation plays a significant role in finding solutions to the numerous challenges facing America today. Whether it's more jobs, a cleaner environment, energy independence or a better quality of life; Where Public Transportation Goes, Communities Grow!
Students who participated in the 2017 APTA Youth Summit  had the unique opportunity to explore the educational and environmental benefits of public transportation. They learned how communities can prosper with increased services, studied the role local and federal policies play in public transit usage, and discovered the many educational and career opportunities available directly from leading public transportation industry professionals and emerging leaders. Students toured Capitol Hill, WMATA's Bus and Rail Control Centers, the DOT, and were able to choose sessions from a variety of career tracks aimed at their specific field of interest. Tracks included science, technology, engineering, and mathematics (STEM), business administration, planning, marketing & communication, operations, and sustainability
If you will be a high school junior or senior in the Fall of 2019, you are eligible to participate in the next APTA Youth Summit, and can join your peers from across the nation as they come together in Washington, D.C.
Take a look at the 2017 Youth Summit program-at-a-glance!

2017 APTA Youth Summit Program at a Glance.pdf
For Students:
With this all-expenses paid opportunity, students: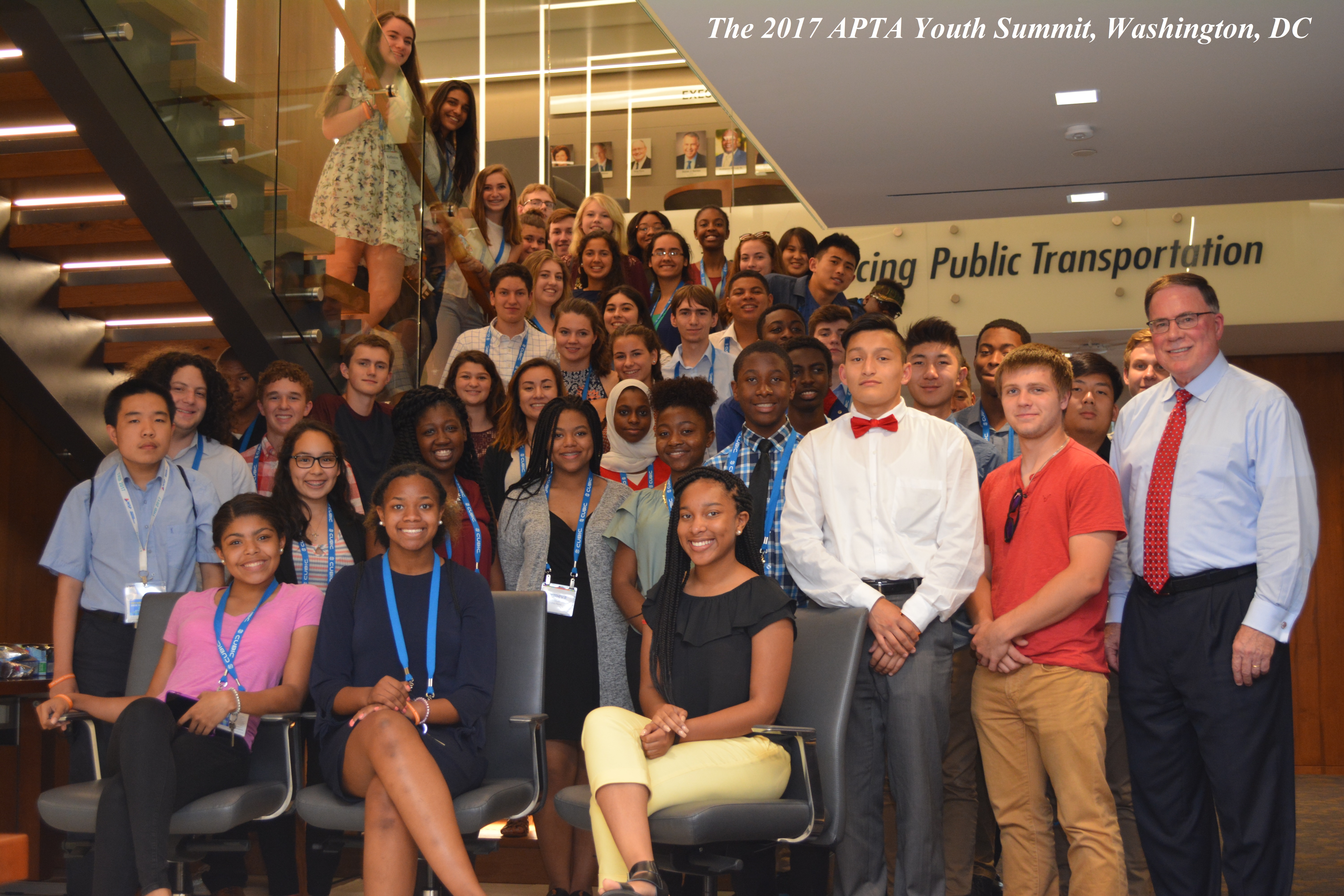 Experienced five days in the Nation's Capitol
Learned from top industry executives and emerging leaders
Met with lawmakers, lobbyists and congressional leaders
Participated in hands-on local transit tours
Discovered the wide range of exciting career paths within the transit industry
Learned how public transportation is helping shape a brighter future
Interacted with other students from across the country who have an interest in how public transportation can make an impact on their communities
Resided in George Washington University campus housing in the heart of Washington, DC
Members Joined the Effort:
Helping students to learn about the public transit industry:
Building the next generation is a key priority for APTA members, and they went above and beyond, opening the door for 50 young people to discover careers pathways and the benefits of public transportation​. Members played a key role in showing students the positive impact transportation plays in their communities. See how they got involved below:
Became a Sponsor

Developed skill building workshops
Provided innovative and career building presentations
Provided promotional items
Helped with meal functions
Other events & activities

Volunteered

Assisted in planning curricula
Coordinated session development
Presented at sessions
Chaperoned events
Served as a student mentors
For more information on how you can get involved in APTA's Biennial Youth Summit, please contact: Program Manager, Educational Services, Brandon Roccio at 202-496-4859 or broccio@apta.com.