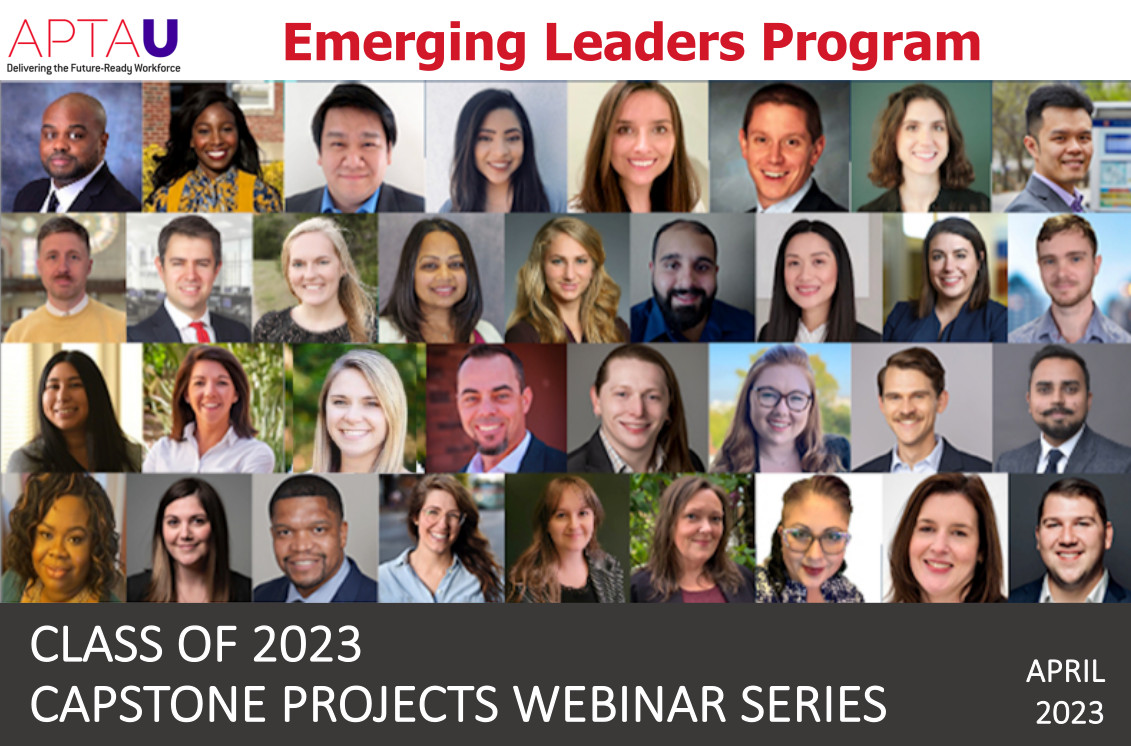 Throughout their program year, the ELP Class of 2023 explored key issues facing public transportation with industry leaders, who serve as program mentors and speakers, and their peers. Each group selected a topical transit issue or challenge to research and will share their findings with the industry through a series of Capstone Project Webinars.
Each ELP team collected data, interviewed industry leaders, and prepared presentations that explore the latest policies and practices that organizations are applying to current industry issues including employee engagement and retention, customer experience, and transitions to zero-emission fleets.
We invite you to join us for this informative webinar series where the members of the ELP Class of 2023 will present their recommendations and lessons learned for organizations working on these pressing topics, including an opportunity to answer your questions.
See below for links to complete your free registration for the ELP Class of 2023 Capstone Project Webinars.
If you are unable to attend the webinar dates below, recordings of the presentations will be posted to the APTAU Learning website.
Improving Workforce Retention through Safety, Culture, and Compensation
Monday, April 3, 2023 | 12:00 pm -12:50 pm ET
The growing need to retain and recruit our transit workforce continues to impact service delivery, quality, and industrial recovery. Previous research has primarily relied on data collected only from operators and thus has been unable to look at other aspects of the problem. Our team will use data from C-Suite, operational managers, and other administrative employees in addition to frontline workers to provide a different perspective in solving this crisis. Key indicators like upward mobility, work-life balance, workplace flexibility, physical and psychological safety, culture, and turnover rates will be analyzed through surveys to collect qualitative and quantitative data.
Presenters:
Larkesha Burr, Pinellas Suncoast Transit Authority
Paul Cohoon, INIT
Ashley Greaves, HATCH LTK
Yash Nagal, Palm Tran
---
National Lessons Learned in Mictrotransit Implementation: Challenges and Strategies Regarding Public Transportation's Newest Kid on the Block
Wednesday, April 5, 2023 | 12:00p – 12:50p ET
As more agencies have implemented microtransit what are the successes and limitations of this option? How cost effective is this compared to fixed-route service and what are the successes and limitations it offers to riders? In this project we will review existing case studies, interview rural and urban agency representatives, and consider microtransit as a solution for other agencies as they address post-COVID ridership recovery, staff shortages, and new technology.
Presenters:
Rebekka Bolt, Champaign Urbana Mass Transit District
Alroy Gibson, Greater Cleveland Regional Transit Authority
Kara Komp, HNTB
Liz Morice, Kimley-Horn
---
Shaping the Future of Transit Oriented Development
Thursday, April 6, 2023 | 11:00a – 11:50p ET
Our team sees great opportunity in the future of transit-oriented development (TOD). We believe TOD has the potential to promote thriving communities and transit use. TOD is largely dependent upon policy and developer partnerships, which require complex stakeholder collaboration. We plan to research TOD implementations, explore the factors that influenced their outcomes, and gain a better understanding of how the industry can facilitate TOD success. We define success as ridership growth and improved access to social and economic opportunities.
Presenters:
Kenneth Good, Maryland Transit Administration
Ted Graves, Optibus
Juliet Herndon, NJ TRANSIT
Devon McDonnell, WSP
---
The Race Towards a Zero Emission Bus Fleet: California Clean Air Policy Impacts on Transit Agencies and ZEB Manufacturers
Thursday, April 6, 2023 | 12:30p – 1:20p ET
In 2018, the California Air Resources Board (CARB) adopted the Innovative Clean Transit (ICT) Regulation, amending the California Code of Regulations to include requirements for evolving California transit bus fleets to zero-emission technologies by 2040. Zero Emission Bus (ZEB) Rollout plans for large agencies were submitted by June 2020, and small transit agencies are required to complete and submit their rollout plans by June 2023. As all agencies move further into the transition to meet purchase requirements, coordination and partnerships during this time are critical for making meaningful progress. For transit agencies across the state, meeting these goals requires a massive overhaul of their fleet, coordination with municipalities and utilities to implement the necessary supporting infrastructure en-route and at operations and maintenance (O&M) facilities, and identifying funding sources to implement the change. This is large enough of a challenge for any one agency on its own, but what about several agencies working toward this goal simultaneously? What is the expected surge in demand and do manufacturers have the capacity to meet the demand, especially considering existing supply chain issues?
Through surveys and interviews we explore the impacts of the ICT Regulation on ZEB manufacturers, their output capacities, and production challenges. In a case study of seven transit agencies across California, we also glean insights on expected demand through a review of fleet sizes, fleet replacement plans, and fleet replacement ratios for fixed-route bus only. Lastly, we review additional constraints and challenges agencies face transitioning to ZEB fleets. Combined, the analysis will help identify gaps in the support available for the transit industry, including bus manufacturers, to work towards meeting the ICT Regulation purchase requirements.
Presenters:
Giovanni DiDomenico, Kiewit
Paulina Ruiz, Foothill Transit
Rebecca Santiago, HDR
Denise Sifford, Orange County Transportation Authority
---
The Untapped Opportunity to Build on University Ridership
Monday, April 10, 2023 | 11:00a – 11:50p ET
Many higher education institutions around the country have partnerships with transit agencies or have their own transit systems that are free or heavily discounted for students. ELP Class of 2023 Group 5 surveyed college students and alumni to understand the impact of fare programs and rider trends on student and post-graduation transit use. Agency surveys and interviews provided supplemental information about current agency and university partnerships. Recommendations for improving communication with current students and targeting alumni to build ridership are provided.
Presenters:
Julia Gessner, First Transit
Jeremy Priddy, Transit Authority of River City
Kelsey Shannon, Pittsburgh Regional Transit
Hoki Tse, Ineo Systrans USA, Inc.
---
Employee Engagement Best Practices: How Organizations are Creating a Winning Culture
Monday, April 10, 2023 | 12:30p – 1:20p ET
How are transit organizations engaging their employees and measuring positive outcomes at their organizations? Previous research has shown that employee engagement can improve work culture, retain employees, increase productivity, and build better customer relationships. Through surveys and interviews of transit industry leaders, our capstone group will identify best practices in employee engagement from across the transit industry and how organizations are measuring the success of their programs. Attendees of this capstone presentation will learn demonstrated employee engagement strategies and best practices to support prioritizing employee engagement at their organization.
Presenters:
MiMi Bernal-Graves, TriMet
Melissa Kidd, Cherriots
Mariel Kirschen, HNTB
Karmjot Singh, Santa Clara Valley Transportation Authority
Patricia Spanjer, King County Metro Transit
---
How Transit Agencies Nationwide are Enhancing the Customer Experience
Wednesday, April 12, 2023 | 12:00p – 12:50p ET
Agencies, big and small, implement strategies to enhance the customer experience (CX). Although each community is unique, there are often elements that make up their CX strategy that are common among agencies. This project intends to gather information about how each transit agency approaches the customer experience at each touchpoint.
This project will seek out transit agencies around the country and inquire (via surveys and interviews) about what these agencies have done, do, or will do to engage with their communities. This project includes surveys and testimonials from transit agencies regarding their experiences and the strategies and programs that they have implemented.
After collecting survey data, general trends and lessons learned will be summarized, and a repository of information related to the surveyed agencies will be created. The overall goal of this project is to create a resource guide and knowledge hub for transit agencies around the country to access when developing their own customer experience strategy, procedures, and initiatives.
Presenters:
Seth Cooke, RK&K
Daniel Chung, Southeastern Pennsylvania Transportation Authority
Marcellous Grigsby, Washington Metropolitan Area Transit Authority
Hannah Katz, Moovit
Joe King, Gannett Fleming
---
Internal Change Management for Zero Emissions Transition
Thursday, April 13, 2023 | 12:00p – 12:50p ET
Investment is strong for Zero-Emissions Transition at U.S. Public Transit Agencies, but is the Zero-Emissions Transition planning and implementation process as robust? While there is a lot of energy going into the Zero-Emissions Transition, agencies across the country are at various stages in their Zero-Emissions journey. Some have experience and lessons learned from having a fleet of zero-emissions buses (ZEB), some have recently introduced their first round of zero-emissions vehicles, and others are still learning how to best begin the transition. The three categories that have been identified are listed below:
New to ZEB
ZEB transition has begun
On-track for all ZEB between 2030-2040
All agencies are planning for an uncertain future in this evolving space. Through an interview-based approach with individuals leading the charge for zero-emissions transition at agencies across the country, we will gather insights from agencies in all phases of the zero-emissions transition to better understand what is working well as well as where they are facing roadblocks. The interviews will be supplemented with a review of transition plans to identify solutions, ideas, and needs for agencies at various stages in the zero-emissions transition.
Presenters:
Siena Guerrazzi, Swiftly, Inc.
Roger Johnson, Regional Transportation Commission of Southern Nevada
Kate-Dysan Masinsin, San Francisco Bay Area Rapid Transit District
Megan Yuill, Salt Lake City
---