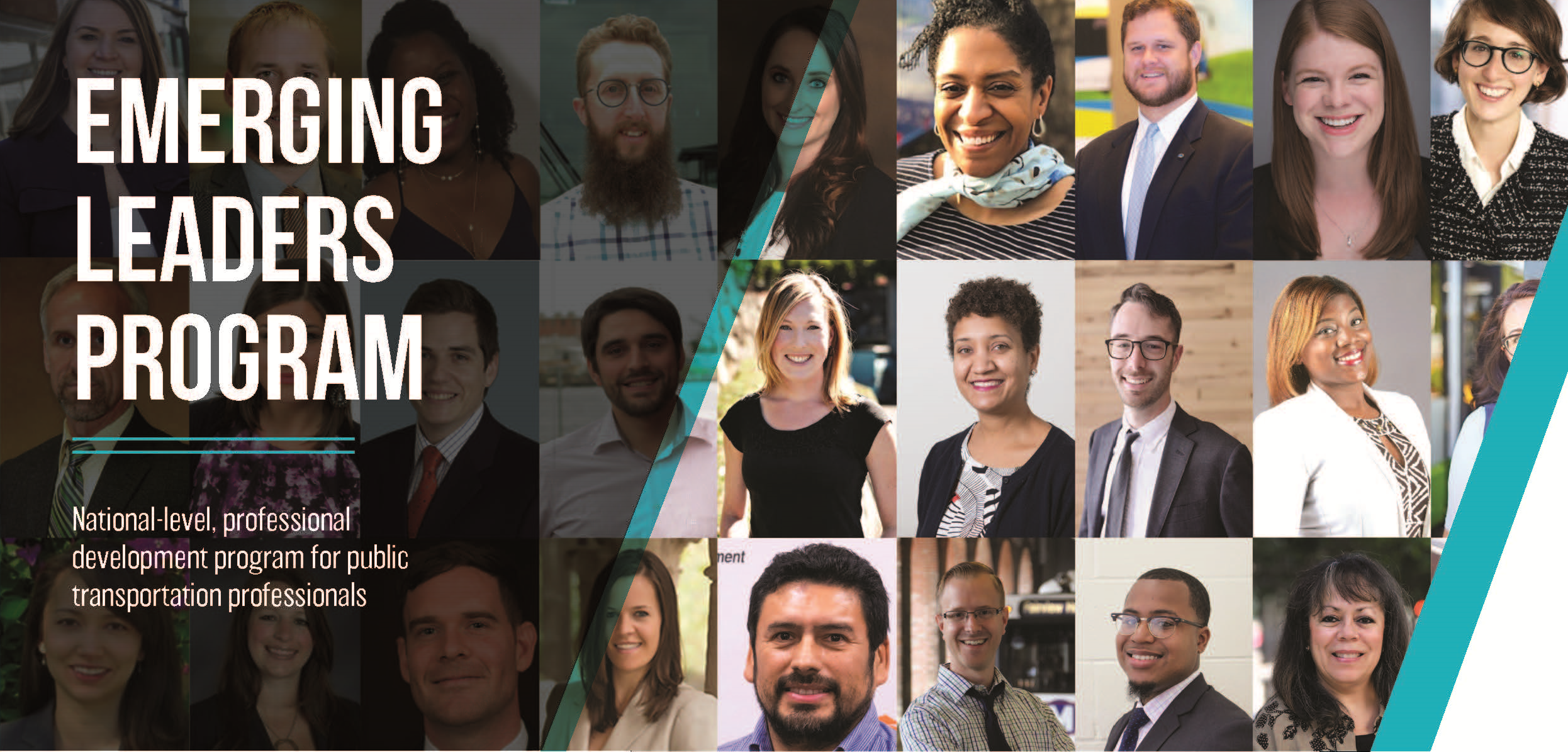 Are you an emerging professional in the public transportation industry and considering the next steps in your career (e.g. how you achieve your next promotion)? If so, consider APTA's Emerging Leaders Program (ELP) as your doorway to career advancement in the industry. The ELP is dedicated to providing public transportation professionals with the skills, knowledge, and networks needed for advancement. The intended audience for this program is ​professionals with approximately 3-5 years of industry work experience, including 1-3 years of managing tasks, projects, or staff.​
The Emerging Leaders Program Task Force will select 25 individuals who represent the rich diversity of the industry and are from among APTA member organizations to participate in a 12-month long program which includes a variety of skill building workshops, round table sessions, online collaboration and unique access to the industry's leaders through a national mentoring program.
APTA recognizes the challenges and decisions today's economy presents to individuals just beginning their careers. We are continuing to take unique steps to promote and retain a talented workforce that ensures the success of the public transportation industry.
Qualifications
ELP is meant as a predecessor to the Eno Transit Mid Manager Seminar and the Leadership APTA Program. If you have 6 or more years of transit experience AND 3 or more years of experience managing people, projects or tasks, please consider applying to the Eno Transit Mid-Level Managers Seminar.
The exception may be frontline employees who have 6 or more years of transit experience, but are new to management or administration. These individuals who have 1-3 years of experience managing people, projects, or tasks are candidates for ELP. ​
Program Benefits
Participate in a national professional development program specifically designed to meet your needs as you move forward in your career.
Deepen your knowledge of the public transportation industry outside your area of specialization.
Benefit from a local and national mentoring program.
Develop a strong network of transit professionals.
Build awareness of the breadth and range of transit career paths and opportunities.
Hone your talents and become the best of the next generation of industry specialists, managers, and leaders.
Insights from the Program Chairs
| | |
| --- | --- |
| Rich Andreski, Chair | Jill ​Stober, Vice Chair |
"We are incredibly excited to present APTA's Emerging Leaders Program! With a career in public transportation, you can make significant contributions that touch the lives of thousands each day. However, it's not always easy to know where to begin your own career journey. The Emerging Leaders Program aims to jumpstart that process for talented and motivated early-career transit professionals and those who have recently changed careers to public transportation. We want you to learn about the many opportunities in transit. You will also meet and develop relationships with industry leaders, who will mentor you, and with peers from across the country who will be both friends and resources throughout your career. You are the bright future of transit, and APTA wants to invest in you through the Emerging Leaders Program. Apply today!"​
Rich Andreski (Bureau Chief, Public Transportation​ – Connecticut Department of Transportation) and
​Jill ​Stober (Manager, Service Performance & Analysis – TriMet)