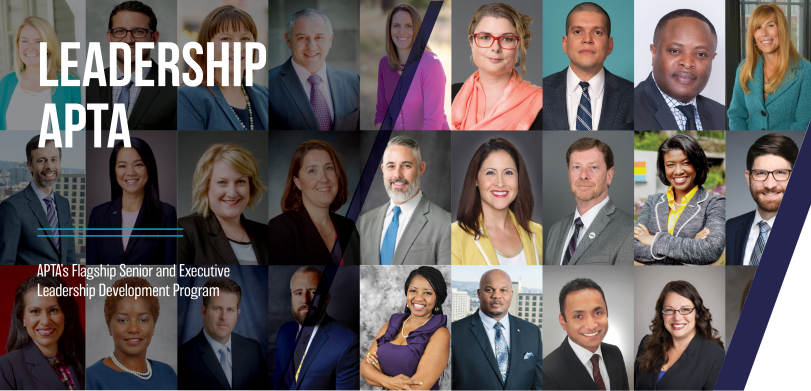 Applications for the Class of 2021 to be announced Spring 2020.
Leadership APTA is committed to identifying and selecting a diverse, broad-based group of dedicated and highly motivated industry professionals from among our membership to participate in the transit industry's premiere senior and executive leadership program. Leadership APTA has become the path to prepare you to join the next generation of visionary senior and executive leaders of APTA and the public transportation industry​.
The Leadership APTA Committee will select up to 35 individuals from among APTA member applicants to participate in an intensive year-long program that includes executive roundtables, skill-building workshops, conferences, team-driven capstone leadership projects, teleconferences, online meetings, and web-based events.
---
Why Join Leadership APTA?
ENVISION and create the future with a cohort of 35 top professionals.
GIVE BACK to your organizations, APTA, and the industry through active participation in APTA and industry initiatives.
CHANGE how you listen, think, respond and lead as senior executives.
LEARN as you participate in executive roundtable session, customized leadership workshops, industry capstone projects, site visits, and mentoring.
COMMIT to an intensive and rewarding year-long program. Meet and engage with APTA's executive and senior leadership, national and international public transportation industry leaders, leading university professors, and expert faculty.
BENEFIT from opportunities to be a featured speaker at APTA and industry conferences, committee meetings, workshops, and events.
DEEPEN your understanding emerging challenges being addressed by top industry leaders.
PROMOTE APTA's mission to strengthen and improve public transportation.