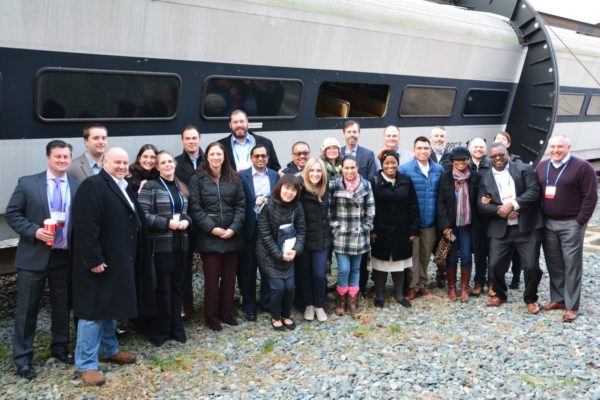 Program Curricula, Workshops, and Events:
Throughout the year-long program and events, participants will have numerous opportunities to talk with APTA's executives; private sector, federal, and transit agency senior and executive leaders; national, state, and local officials; labor leaders; and communications, media, workforce development, negotiations, safety and security, diversity, and leadership experts.
Over the course of the program year, APTA and industry executive leaders will direct workshops on the transformative role of today's executive leaders. Participants will benefit from highly customized and intensive workshop sessions on presentation and communication skills, developing and cultivating professional stakeholder relationships, community building, procurement models and practices, media relations, labor relations, cultural intelligence, negotiations and decision making, industry and workplace diversity, work-life balance, career development, security and safety, APTA and industry involvement, and much more. Class members will have frequent opportunities to learn about, discuss, and support the priority initiatives of the APTA Chair, the industry, and APTA.
Additional workshop discussion topics will include areas such as federal and local legislation, funding sources, labor/management relations, strategic planning, sustainable practices, building and developing local, national and international relationships and networks, workforce development, leadership development, and related challenges.
Project teams will finalize their executive leadership project topics and begin working on their project assignments, one of the aspects of the program, at the March 2021 Legislative Conference in Washington, D.C. They subsequently will conduct industry interviews, related research, and deliver their project team presentations at the Leadership APTA July/August 2021 capstone session and at the October 2021 APTA TRANSform Conference. Project teams will also produce a related industry paper that supports their presentations. Class member presentations and papers are promoted to our membership and the industry. They also are showcased on the Leadership APTA web site.
​​​​​​
Key Events and Activities
September online meeting prior to APTA's TRANSform Conference & Expo 2020 (highly recommended)

APTA's TRANSform Conference & Expo 2020, Anaheim, CA: Customized workshop sessions, orientation programs for Leadership APTA Class of 2021 including sessions with graduating class; participation in committee meetings, conference sessions; introduction of Leadership APTA Class of 2021, full participation in APTA's TRANSform Conference & Expo 2020. (highly recommended)

Four-day December 2020 workshop session in Washington, D.C. (required)

Full participation in APTA's March 2021 Legislative Conference in Washington, D.C. (required)

Leadership APTA workshops held in conjunction with APTA's March 2021 Legislative Conference. (required)

Six-day July/August 2021 Capstone session. Location to be announced. (required)

Full participation in team assignments, related work, and completion of team-based leadership projects on industry topics selected by class members. (required)

Online meetings and teleconference calls scheduled during the year. (required)

Delivery of class leadership project presentations and reports given in conjunction with APTA committee meetings, conference sessions, and class graduation program at the 2021 APTA TRANSform Conference in Philadelphia, PA. (required)

Committee participation: One of the goals of Leadership APTA is to develop future leaders of APTA. As a reminder, the Leadership APTA program requires that each sponsoring organization actively supports at least one additional year of APTA involvement from its Leadership APTA participant immediately upon graduation through work on APTA committees, task forces, or special projects. (required)