APTA has published the following sustainability and urban design recommended practices and related resources:
Sustainability
Quantifying and Reporting Transit Sustainability Metrics
Publication date: June 2012
Abstract: This Recommended Practice provides guidance for reporting and tracking key indicators of sustainability for transit agency signatories to the APTA Sustainability Commitment.
Pages: 38 (1.05 MB)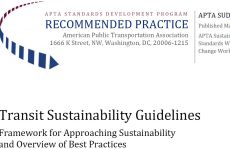 Transit Sustainability Guidelines
Publication date: March 2011
Abstract: This Recommended Practice introduces guidelines for designing and operating sustainable transit that both reduces a community's environmental footprint from transportation and enhances its quality of life by making travel more enjoyable, affordable and timely.
Pages: 33 (391 KB)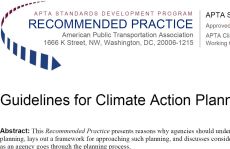 Guidelines for Climate Action Planning
Publication date: March 2011
Abstract: This Recommended Practice presents reasons why agencies should undertake climate action planning, lays out a framework for approaching such planning, and discusses considerations to keep in mind as an agency goes through the planning process.
Pages: 28 (728 KB)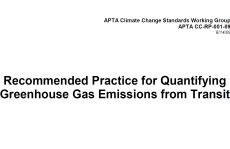 APTA Recommended Practices for Quantifying Greenhouse Gas Emissions from Transit
Publication date: August 2009
Abstract: This Recommended Practice provides guidance to transit agencies for quantifying their greenhouse gas emissions, including both emissions generated by transit and the potential reduction of emissions through efficiency and displacement by laying out a standard methodology for transit agencies to report their greenhouse gas emissions in a transparent, consistent and cost-effective manner.
Pages: 62 (976 KB)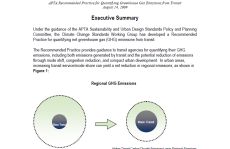 Recommended Practices Executive Summary
Publication date: August 2009
Abstract: Under the guidance of the APTA Sustainability and Urban Design Standards Policy and Planning Committee, the Climate Change Standards Working Group has developed a Recommended Practice for quantifying net greenhouse gas (GHG) emissions from transit.
Pages: 4 (227 KB)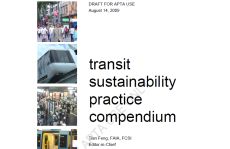 Transit Sustainability Practice Compendium
Publication date: August 2009
Abstract: Transit Sustainability within the context of this document – The sustainability practices by transit industry should aim at having broader impact through the following:
Improving mobility via improved and enjoyable transit services
Reducing per capita automobile vehicle mile traveled
Reducing passenger transportation-generated CO2 and other greenhouse gases
Creating livable communities through facilitating more environmental
friendly forms of mobility such as walking, biking, and public transit. Increasing the number of routine destinations that are accessible
safely and comfortably by walking, biking and public transit.
Reducing passenger transportation-caused ambient hazards such as
noise, particulates in the air, vibration, physical threats, and mental stress to the public in general and particularly to pedestrians.
Reducing stress, loss of productivity, and traffic deaths and injuries and related health care costs caused by automobile travel.
Pages: 186 (2.84 MB)
Urban Design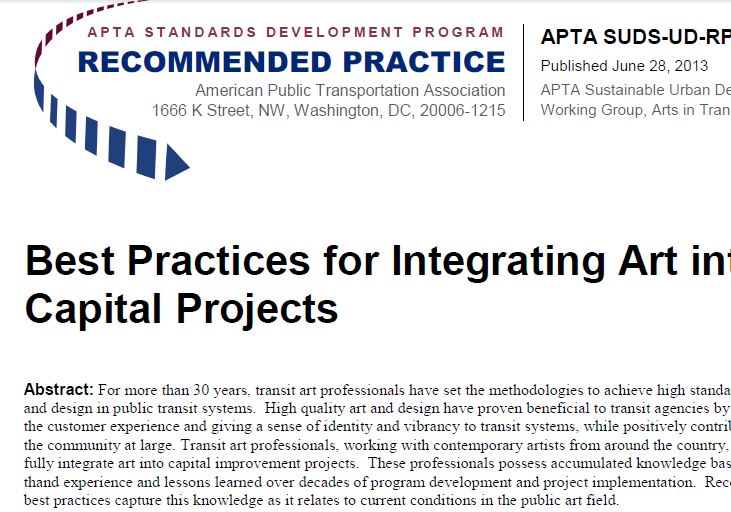 Best Practices for Integrating Art into Capital Projects
Publication date: June 2013
Abstract: The purpose of this Recommended Practice is to provide guidance in the development and implementation of transit art programs and incorporation of contemporary art into transit infrastructure projects.
Pages: 31 (1.87 MB)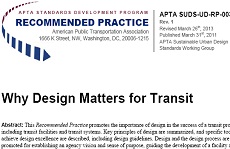 Why Design Matters for Transit
Update: March 2013 (Publication date: March 2011)
Abstract: This Recommended Practice promotes the importance of design in the success of a transit project, including transit facilities and transit systems. Key principles of design are summarized, and specific tools to achieve design excellence are described, including design guidelines. Design and the design process are promoted for establishing an agency vision and sense of purpose, guiding the development of a facility and clarifying the agency's core functions so the design decisions will support (rather than contradict) them.
Pages: 19 (533 KB)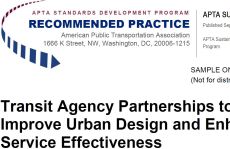 Transit Agencies Partnerships to Improve Urban Design and Enhance Service Effectiveness
Publication date: September 2012
Abstract: This Recommended Practice provides an overview of the importance of developing partnerships with other public and private sector entities to maximize the transportation planning process.
Pages: 25 (193 KB)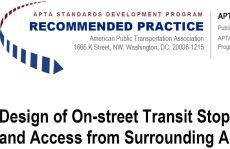 Design of On-street Transit Stops and Access from Surrounding Areas
Publication date: March 2012
Abstract: This Recommended Practice discusses ways to provide or improve connections to, from and at on-street transit stops, regardless of mode.
Pages: 37 (1.50 MB)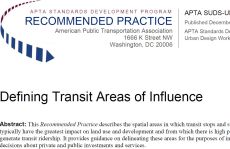 Defining Transit Areas of Influence
Publication date: December 2009
Abstract: This Recommended Practice describes the spatial areas in which transit stops and stations typically have the greatest impact on land use and development and from which there is high potential to generate transit ridership. It provides guidance on delineating these areas for the purposes of influencing decisions about private and public investments and services.
Pages: 13 (377 KB)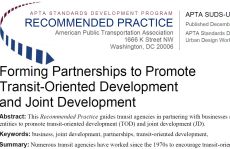 Forming Partnerships to Promote Transit-Oriented Development and Joint Development
Publication date: December 2009
Abstract: This Recommended Practice guides transit agencies in partnering with businesses and community entities to promote transit-oriented development (TOD) and joint development (JD).
Pages: 25 (216 KB)