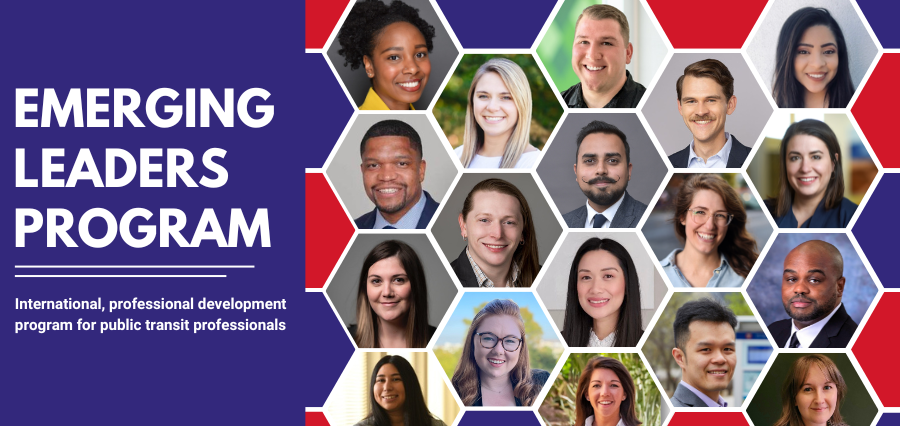 Program Overview
Are you an emerging professional in the public transportation industry and considering the next steps in your career (e.g., how you achieve your next promotion)? If so, consider APTA's Emerging Leaders Program (ELP) as a professional development opportunity that will help you grow as a leader and expand your understanding of the industry.
The ELP provides public transportation professionals with the skills, knowledge, and networks needed for advancement. Participants learn from industry leaders while participating in a program that provides opportunities to interact with areas of the industry beyond their specialization. Most importantly, participants learn from a talented cohort of professionals, their classmates, who will become life-long colleagues and friends.
The Emerging Leaders Program Committee will select 35 individuals from APTA member organizations who represent the industry's rich diversity to participate in the 10-month long program. The curriculum includes various skill-building workshops, round table sessions, online collaboration, and unique access to the industry's leaders through a national mentoring program.
Qualifications
This program's intended audience is ​professionals with approximately 3-5 years of industry work experience, including 1-3 years of managing tasks, projects, or staff.​ ELP is meant as a predecessor to the Eno Transportation Mid-Manager Accelerate program and the Leadership APTA program. If you have 6 or more years of transit experience AND 4 or more years of experience managing people, projects or tasks, please consider applying to the Eno Transportation Mid-Manager Accelerate program.
The exception may be frontline employees in operations, maintenance, or customer service who have 6 or more years of transit experience but are new to management or administration. These individuals who have 1-3 years of experience managing people, projects, or tasks are encouraged to apply.
Program Benefits
Participate in a national professional development program specifically designed to meet your needs as you move forward in your career.
Grow your leadership skills including emotional intelligence, feedback and coaching, and inclusive leadership.
Deepen your knowledge of the public transportation industry outside your area of specialization.
Benefit from a local and national mentoring program.
Develop a strong network of transit professionals.
Build awareness of the breadth and range of transit career paths and opportunities.
Hone your talents and become the best of the next generation of industry specialists, managers, and leaders.