The American Public Transportation Association (APTA) is North America's foremost organization dedicated to the advancement of public transit. APTA is a nonprofit international association of over 1,500 member organizations which include transit systems, planning, design, construction and finance firms, product and service providers, academic institutions, and state associations and departments of transportation.
The American Public Transportation Association offers competitive salaries and excellent benefits. We are on the orange/blue and red Metro lines. To apply for any of the positions listed below, please send cover letter and resume to aptajobs@apta.com.
American Public Transportation Association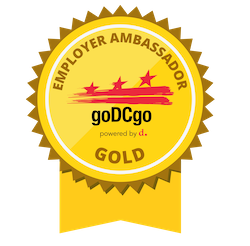 ATTN: Human Resources Department
1300 I Street NW
Suite 1200 East
Washington, DC 20005
Director – Workforce Development
The American Public Transportation Association (APTA) seeks a Director-Workforce Development to take a leadership role in the implementation of the workforce development strategic goal included in APTA's Strategic Plan: Developing a Future-Ready, Inclusive, and Diverse Leadership and Workforce.  This individual will develop and execute a broad range of programs and services for APTA members and the industry such as developing best-in-class leadership programs as well as creating and curating industry resources, strategies, and best practices in a variety of relevant areas. The Director-Workforce Development will also interface with APTA members, partners, and other industry stakeholders.
Meetings Manager
Are you passionate about planning and first-rate meetings and events? The American Public Transportation Association (APTA) is seeking a highly motivated and detail-oriented Meetings Manager to join our dynamic team in Washington, D.C.  The Meetings Manager will join a team of meetings professionals responsible for the planning and execution of APTA's meetings through the implementation of strategy, delivery of objectives and execution of logistics. They will play a vital role in ensuring the successful execution of assigned events, creating meaningful experiences for our attendees, and advancing the goals of our organization. This is an excellent opportunity for a skilled professional with strong organizational abilities and a passion for event planning to make a significant impact in the public transportation industry.
Equal Opportunity Employment Statement
American Public Transportation Association is an equal employment opportunity employer. It is the Association's policy to ensure equal employment opportunity in all aspects of employment. The company strives to employ and promote the best qualified person for each job and in so doing will comply with all legal requirements.
It is the Association's policy to provide equal employment opportunity in full compliance with the Civil Rights Act of 1964 as amended, the Age Discrimination in Employment Act of 1967, the Americans with Disabilities Act of 1990, appropriate provisions of the Rehabilitation Act of 1973, the Veterans Readjustment Act of 1974, the federal Executive Orders in connection with, but not limited to, hiring, placement, upgrading, transfer or demotion, recruiting, advertising or solicitation, compensation, training, layoff or termination, participation in social and recreational functions, and use of employee facilities. Further, it is APTA's policy to maintain and promote nondiscrimination regarding race, color, creed, national origin or ancestry, marital status, gender, physical or mental handicap or other status protected by law unrelated to ability, sexual orientation, religion, political philosophy, unfavorable discharge from military service or age in all phases of employment practices in accordance with all applicable laws and Executive Orders.
It is also the Association's policy to provide equal employment opportunity in compliance with the DC Human Rights Act of 1977.
Periodic analyses of all personnel actions will be conducted to ensure fair employment practices are followed. Breach of these policies by any employee will be grounds for disciplinary actions.
A Diversity Plan has been adopted to reaffirm the Association's longstanding and continuing commitment to diversity goals that result in diversity being encouraged, promoted and celebrated throughout all levels of the Association during the normal course of the Association's business and programs.
Benefits available to all full-time employees
Bereavement Leave
Education Assistance
Fitness Center
Family Medical Leave
Flexible Spending Accounts
Medical and Dental Insurance
Holidays
Jury Duty
Legal Resources
Life Insurance
Long Term Care Insurance
Long-Term Disability Insurance
Military Leave
Paid Time Off
Short-Term Disability Insurance
Tax Deferred Savings 401(k) Plan
Training and Professional Development
Transportation Assistance
Travel and Accident Insurance
Unpaid Leave of Absence
Worker's Compensation
Zipcar
​​​​​​​​​​​​​​​​​​​​​​​​​​​​​​​​​​​​​