Passenger Transport is APTA's flagship publication, available in both print and electronic editions, providing the latest, most up-to-date news of the public transit industry for almost 80 years. On non-publication weeks, Passenger Transport Express, an e-newsletter, presents breaking news, features and other timely reporting.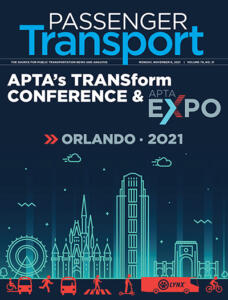 These APTA publications offer information you don't want to miss, such as:
Case studies focusing on what public transit agencies and businesses are doing, lessons learned and how other organizations can benefit;
Best practices for public transportation professionals;
Technical innovation;
Analysis and commentary by industry leaders; and
Issues devoted to specific topics such as technology; safety and security; and APTA's Legislative, Mobility (Bus & Paratransit) and Rail conferences and TRANSform, APTA's reimagined annual meeting.