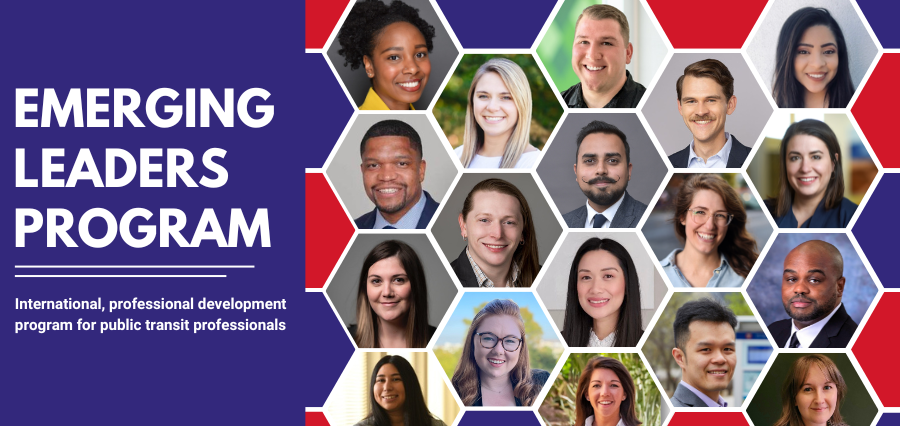 The application period for the Emerging Leaders Program Class of 2024 will open December 4. Please review the instructions below to prepare your application. Please submit the Emerging Leaders Program Interest List form. Completed applications for the Class of 2025 must be submitted online by Friday, February 2, 2024 by 11:59 PM (ET).
How to Apply
Before applying, please ensure you have read through each page of the Emerging Leaders Program website and that you are familiar with the program requirements and fees​.
Please note:  Each APTA member organization may nominate only one applicant per year.
Individuals interested in applying for the program must provide the following information:
Online Application:
All applications must be submitted online. Paper applications will not be accepted.
You may edit and update your application packet information until the deadline. You will not be able to make any further edits to your packet after this deadline and unsubmitted or incomplete applications will not be considered.
Application Questions:
Your responses to the application questions represent the written "formal conversation" between you and the ELP Committee members who will select the Class of 2025. The clarity and quality of your responses are the primary way the committee members will learn about your qualifications and aspirations. It is recommended that you have 1-2 trusted individuals review your responses and provide feedback before submitting.
Please provide concise responses (150-250 words) to each of the following prompts:
​Why are you applying and how do you plan to benefit from the ELP?
Describe three specific career goals for the next three years. Please list goals clearly and concisely in bullet form -Career Goal #1, Career Goal #2 and Career Goal #3.
Share your perspective on one major challenge or opportunity facing public transportation today.
Where do you see yourself in APTA and the public transportation industry in the near future?
Please provide any additional information you would like the selection committee to consider (e.g., participation in professional or community organizations, volunteering, recognition, certificates, etc.) in reviewing your application.  
Note: Do not simply repeat the program goals and benefits from the website. Be thoughtful and specific in your written responses to help the ELP Committee understand your motivations and why you are a great fit for the program.
Current Resume:
Your resume should include current and relevant past positions with dates. Job descriptions or equivalent documents are not acceptable resume submissions. Your resume must not exceed 2 pages in length.
Note: The ELP Committee recommends private sector applicants submit a personal resume that holistically describes your relevant experience instead of a corporate resume.
Two letters of recommendation from within the industry:
The letters of recommendation impact the ELP Committee's review and decision on each application. Those writing the recommendations should be clear and specific about why the applicant is a great fit for the program.
CEO/GM Recommendation: Letter must come from the highest ranking official (chief executive officer/general manager/executive director) of the transit agency, company, or related organization that is sponsoring you as an applicant for the program. The letter must be from the head of the organization, not the head of your branch or department.
Supervisor/Other Recommendation: Letter may come from your direct supervisor (preferred), a client, or a recent/former transit agency senior official. The letter should provide substantive examples of your performance and career growth potential and why they believe you should be highly considered for the Emerging Leaders Program. The letter of recommendation from your direct supervisor should address their continued support of your career development and participation in industry activities after graduating the program, as well as describe your strengths and potential areas to develop as an Emerging Leader.
CEO/GM/Supervisor Contact Information:  Applicants must submit the contact information for both the CEO/GM of their supporting organization and their direct supervisor.
Application Tips
Alumni Advisors: If you are interested in working with an ELP alumni advisor to review your draft application before submitting, please email Karen Donald to be paired with an alumni advisor. Your draft materials must be ready for review by COB on Friday, January 12, 2024 to participate.
After completing each section of the online application, you will have the opportunity to edit, add, or modify your application materials before submitting your application, up until the application deadline.
Once you confirm that your application packet is complete by clicking "Submit Your Application", you cannot make any further edits or additions. You must click the 'Submit Your Application' button in order for your application packet to be recognized as complete.
You will receive a confirmation email when you begin the application process and a second email upon final submission of your application materials.
Please review the step-by-step instructions for creating an account in the APTAU application management system and completing an application for the Emerging Leaders Program Class of 2025.
APTA Point of Contact:
If you have questions, please contact APTA's Emerging Leaders Program Manager, Karen Donald, at kdonald@apta.com.