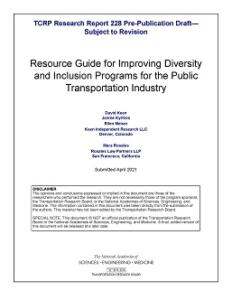 Resource Guide for Improving Diversity and Inclusion Programs for the Public Transportation Industry
Report Number: R-228
Publication Date: 01/02/2021
Attempts at transit agencies to ensure diversity and inclusion are not easy and many have proven unsuccessful. But despite challenges, agencies appear undeterred, and continue to initiate and sustain programs and develop more innovative strategies.
This report builds on the snapshot of transit agency diversity initiatives provided nearly 20 years ago in TCRP Synthesis 46: Diversity Training Initiatives to understand how diversity programs at transit agencies have evolved, how inclusion has been incorporated, and what policies, plans, and practices have been successfully implemented within the industry.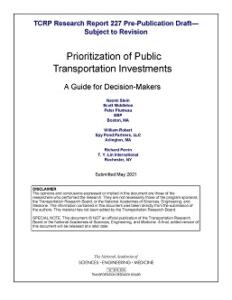 Prioritization of Public Transportation Investments: A Guide for Decision-Makers
Report Number: R-227
Publication Date: 06/21/2021
The demand for public transportation investments far exceeds the funds available. While states and communities seek additional revenue sources to maintain current transit assets and serve rapidly changing travel markets, they need methods to help decide where to allocate their limited resources.
This report is provides practical advice for transportation agencies looking to improve their prioritization practice for public transportation projects.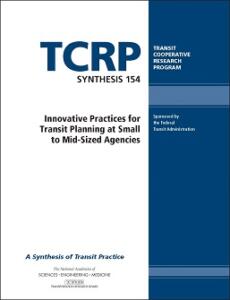 Innovative Practices for Transit Planning at Small to Mid-Sized Agencies
Report Number: S-154
Publication Date: 05/22/2021
Diverse small and mid-sized transit agencies are very interested in finding solutions for their transit planning challenges. They will benefit from seeing how similar agencies deal with their transit service issues. Large transit agencies could also apply what is learned to sub-areas in their transit service area that are comparable to the service area of a small or mid-sized transit agency.
This report documents innovative practices for solving transit planning challenges faced by small and mid-sized transit agencies. These challenges include but are not limited to concerns about ridership, demographic shifts, first- and last-mile transportation, changes in land use, changes in regulations, service design, funding challenges, service delivery, and technology changes. These challenges are applicable to fixed-route, flex-route, and demand-responsive transit services.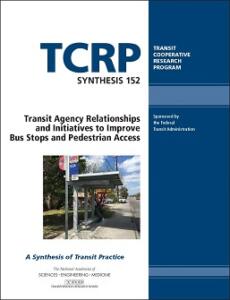 Transit Agency Relationships and Initiatives to Improve Bus Stops and Pedestrian Access
Report Number: S-152
Publication Date: 05/13/2021
In the United States, many transit stops are not adequate: bus stops that are just a signpost on a busy road, bus stops with broken sidewalks and/or pathway obstructions, bus stops with a lack of seating, and bus stops clearly not accessible to people with disabilities. For many bus riders, the journey to access and the wait at the bus stop are experiences that may inhibit their ability or desire to take the bus.
This report summarizes the current state of practice for bus stop and pedestrian infrastructure improvement programs and processes in place at transit agencies and other public organizations.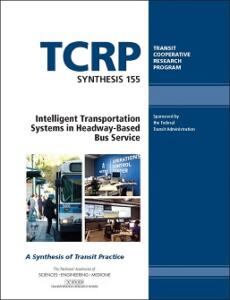 Intelligent Transportation Systems in Headway-Based Bus Service
Report Number: S-155
Publication Date: 04/30/2021
Intelligent transportation systems and, in particular, computer-aided dispatch and automatic vehicle location (CAD/AVL), have become quasi-universal in urban bus operations and support a variety of functions.
This report synthesizes the current state of the practice of headway-based service operations and focuses on the proactive use of intelligent transportation systems technologies to optimize these services.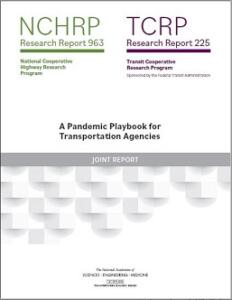 A Pandemic Playbook for Transportation Agencies
Report Number: R-225
Publication Date: 04/12/2021
Understanding pandemics, their impacts to transportation, and potential effective response has become more important, not only for the response to COVID-19, but also if, as the World Health Organization warns, we are now "living in a time of viruses."
This report was created to improve transportation agency responses to a pandemic. The Playbook concentrates on what needs to be done, when and by whom. It briefly addresses planning for a pandemic, a topic addressed in greater depth in NCHRP Report 769: A Guide for Public Transportation Pandemic Planning and Response. It summarizes effective practices currently used by transportation agencies based on interviews with state departments of transportation and transit agency leaders and operational personnel, supplemented with national and international research results.
An Update on Public Transportation's Impacts on Greenhouse Gas Emissions
Report Number: R-226
Publication Date: 03/17/2021
​Transportation is a major source of the greenhouse gas (GHG) emissions that are causing climate change. As communities work to cut emissions and become more resilient, they are including public transportation advances as a significant part of their climate action strategies.
This report provides updated national analysis of public transportation's role as a climate solution by documenting its 2018 GHG impacts. Supplemental materials to the report include three factsheets (Fact Sheet 1, Fact Sheet 2, and Fact Sheet 3); various key findings regarding transit as a climate solution; a PowerPoint presentation summarizing the findings and research and a template for transit agencies to add their own data for climate communications; and a simple spreadsheet tool that provides this study's 2018 GHG impact findings by transit agency and allows the user to apply several of the future scenarios to see how their transit agency's GHG impacts change with electrification, clean power, and ridership increases.