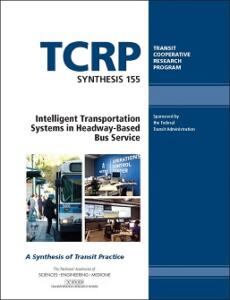 Intelligent Transportation Systems in Headway-Based Bus Service
Report Number: S-155
Publication Date: 04/30/2021
Intelligent transportation systems and, in particular, computer-aided dispatch and automatic vehicle location (CAD/AVL), have become quasi-universal in urban bus operations and support a variety of functions.
This report synthesizes the current state of the practice of headway-based service operations and focuses on the proactive use of intelligent transportation systems technologies to optimize these services.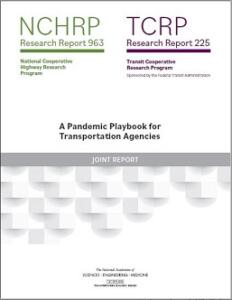 A Pandemic Playbook for Transportation Agencies
Report Number: R-225
Publication Date: 04/12/2021
Understanding pandemics, their impacts to transportation, and potential effective response has become more important, not only for the response to COVID-19, but also if, as the World Health Organization warns, we are now "living in a time of viruses."
This report was created to improve transportation agency responses to a pandemic. The Playbook concentrates on what needs to be done, when and by whom. It briefly addresses planning for a pandemic, a topic addressed in greater depth in NCHRP Report 769: A Guide for Public Transportation Pandemic Planning and Response. It summarizes effective practices currently used by transportation agencies based on interviews with state departments of transportation and transit agency leaders and operational personnel, supplemented with national and international research results.
An Update on Public Transportation's Impacts on Greenhouse Gas Emissions
Report Number: R-226
Publication Date: 03/17/2021
​Transportation is a major source of the greenhouse gas (GHG) emissions that are causing climate change. As communities work to cut emissions and become more resilient, they are including public transportation advances as a significant part of their climate action strategies.
This report provides updated national analysis of public transportation's role as a climate solution by documenting its 2018 GHG impacts. Supplemental materials to the report include three factsheets (Fact Sheet 1, Fact Sheet 2, and Fact Sheet 3); various key findings regarding transit as a climate solution; a PowerPoint presentation summarizing the findings and research and a template for transit agencies to add their own data for climate communications; and a simple spreadsheet tool that provides this study's 2018 GHG impact findings by transit agency and allows the user to apply several of the future scenarios to see how their transit agency's GHG impacts change with electrification, clean power, and ridership increases.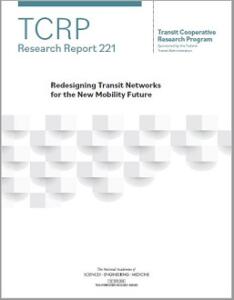 Redesigning Transit Networks for the New Mobility Future
Report Number: R-221
Publication Date: 01/26/2021
Urban travel patterns are affected by many factors including changes in demography, land use, economics, technology, and mobility options. Public transportation must evolve to remain responsive.
This report presents case studies and toolkits to plan and implement the redesign of bus networks in the United States.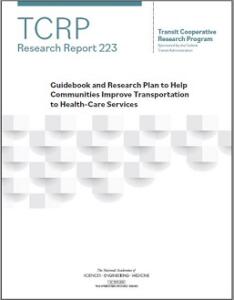 Guidebook and Research Plan to Help Communities Improve Transportation to Health Care Services
Report Number: R-223
Publication Date: 01/25/2021
The availability of transportation influences the ability of individuals to access health care, whether in urban, suburban or rural areas. Those lacking appropriate or available transportation miss health care appointments, resulting in delays in receiving medical interventions that can lead to poorer health outcomes. This in turn contributes to the rising cost of health care.
This report details how to initiate a dialogue between transportation and health care providers as well as subsequent actions and strategies for pursuing a partnership and implementing transportation solutions appropriate for patients.
Efforts to improve health in the United States increasingly recognize that it's not just the health care system that is responsible. It's a range of factors that collectively affect health and health outcomes. These factors are known as the "social determinants of health," and, significantly, they include transportation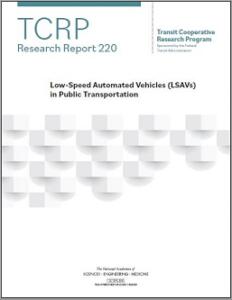 Low-Speed Automated Vehicles (LSAVs) in Public Transportation
Report Number: R-220
Publication Date: 01/21/2020
Interest in driverless vehicles, including low-speed automated vehicles (LSAVs), continues to expand globally and in the United States.
This repot presents current use cases for LSAVs and provides a practitioner guide for planning and implementing LSAV services as a new public transportation service.
Guide to Joint Development for Public Transportation Agencies
Report Number: R-224
Publication Date: 01/05/2021
Joint development is real estate development that occurs on transit agency property or through some other type of development transaction to which the transit agency is a party.
This report is designed to expand the successful use of joint development in North American transit systems—in the volume and variety of projects undertaken, the diversity of transit agencies participating, and the quality of outcomes achieved.
Supplemental to the report is a PowerPoint presentation titled "Guide to Joint Development for Public Transportation Agencies."