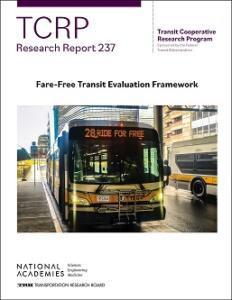 Fare-Free Transit Evaluation Framework
Report Number: R-237
Publication Date: 03/17/2023
Recognizing the strong recent interest throughout the United States to consider and implement fare-free transit, decision-making tools are needed to help public transit practitioners evaluate fare-free transit.
This report presents a framework that can be used by public transit practitioners to evaluate the potential benefits, costs, and trade-offs of implementing fare-free transit.
Supplemental to the report is an Infographic.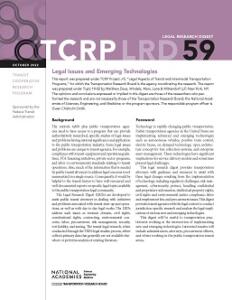 Transit Mega Projects: Legal Issues
Report Number: LRD-60
Publication Date: 02/24/2023
Transit mega projects are unique, expensive, and often funded by a mix of federal grants and state and local funding. Federal agencies have specific legal requirements, including specific legal provisions to include in contracts and intergovernmental agreements, and provide valuable advice for managing and coordinating such projects.
This report includes lessons learned (successful and unsuccessful) from transit agencies that have overseen federally funded complex mega projects, such as insights from reviewing third-party contracts and intergovernmental agreements, FTA guidance, pertinent legal decisions, and other valuable references.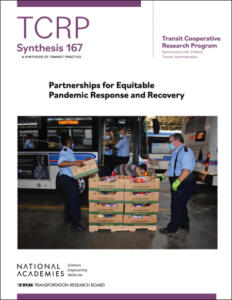 Partnerships for Equitable Pandemic Response and Recovery
Report Number: S-167
Publication Date: 02/07/2023
The COVID-19 pandemic had a disproportionate impact on historically marginalized communities—including Black, Latino, and low-income individuals, as well as older adults, and people with chronic health conditions or disabilities. As transit agencies build toward recovery and rethink or reimagine their operations, they might consider grounding their decision-making in equity principles.
This report identifies how transit agencies were able to quickly pivot during the pandemic to deploy resources for other temporary "incidental uses" and respond to the need for essential services. Through these incidental uses of vehicles and facilities, public transit agencies across the country kept workers actively employed while expanding equitable access in unprecedented ways.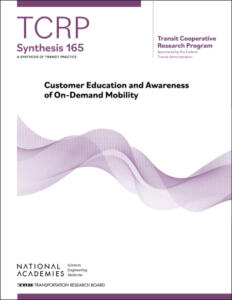 Customer Education and Awareness of On-Demand Mobility
Report Number: S-165
Publication Date: 12/16/2022
​For transit agencies launching new on-demand services that are different from typical fixed route or demand-responsive routes, there can be issues in customer awareness of the service or comfort level with using it for travel.
This report documents current practices in how on-demand services are marketed to various rider groups, including outreach to persons with disabilities, older adults, and marginalized populations.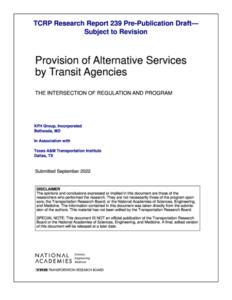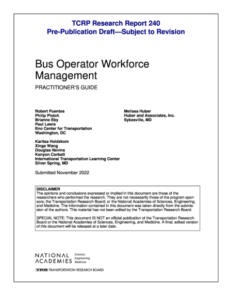 Bus Operator Workforce Management: Practitioner's Guide
Report Number: R-240
Publication Date: 01/04/2022
As of 2020, nearly 50 percent of the bus-operator workforce was over 55. Evidence indicates that many younger job seekers are often not aware of the potential career opportunities and employee benefits that are available at transit agencies.
This pre-publication report provides recommendations and resources enabling transit agencies to better assess, plan, and implement their operator workforce management programs.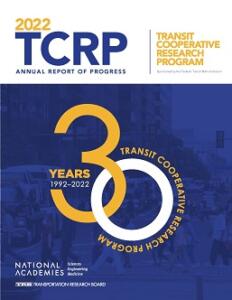 TCRP Annual Report of Progress 2022
Report Number: Annual Report
Publication Date: 12/21/2022
The TRB Transit Cooperative Research Program (TCRP) has released its annual report, which provides an overview of the program, status of each of TCRP's projects, and a summary of some of the program's accomplishments for the year.
TCRP focuses on issues significant to the public transportation industry, with emphasis on developing near-term research solutions to a variety of transit problems involving facilities, vehicles, equipment, service concepts, operations, policy, planning, human resources, maintenance, and administrative practices.