Since 2019, the average new car price rose by 30 percent while used cars surged by 40 percent due to supply chain challenges and inflation. Recent U.S. auto manufacturer strikes could worsen the situation.
In 2023, gasoline prices spiked by 25 percent due to oil supply constraints, China's economic rebound, and the Ukraine war.
Meanwhile, monthly public transit fares have remained relatively unchanged since 2020.
WASHINGTON, D.C. (September 28, 2023) – The American Public Transportation Association's (APTA) most recent Transit Savings report shows that individuals who ride on public transportation instead of driving can save more than $13,000 a year, or $1,100 a month, because of significant increases in auto costs and gasoline prices.
According to APTA's Fare Database, monthly public transit fare prices have not increased since 2020 while prices for new and used cars have increased significantly since the pandemic, and financing costs have increased dramatically due to interest rate hikes. Gasoline prices have also spiked due to constricted supply and added demand.
APTA and public transportation agencies nationwide are encouraging individuals to try public transit to avoid some of these higher costs while conserving energy and reducing carbon emissions. By eliminating one car and taking public transportation instead of driving, a saving of 30 percent of carbon dioxide emissions can be realized.
"As the rising cost of living continues to impact U.S. households, public transportation offers an economical and climate-friendly alternative to reduce daily expenses," said APTA President and CEO Paul P. Skoutelas. "By choosing to ride public transit, individuals can significantly cut down on their monthly transportation expenses. Whether it's commuting to work, running errands, or keeping appointments, public transit is a practical and budget-friendly choice."
Since 2019, the average transaction price of purchasing a new car has risen by more than $11,000, an increase of more than 30 percent. For used cars, the average price has risen over $8,000, or 40 percent.
Gasoline prices are also having an impact. In 2023, gas prices have risen 25 percent to $4.00 per gallon, as of September 18, 2023.
These savings calculations are predicated upon a comprehensive analysis comparing the costs associated with commuting via public transportation versus the expenses linked to vehicle ownership, vehicle operation, and parking costs. Factors considered include the national and state average gasoline price per gallon as reported by AAA.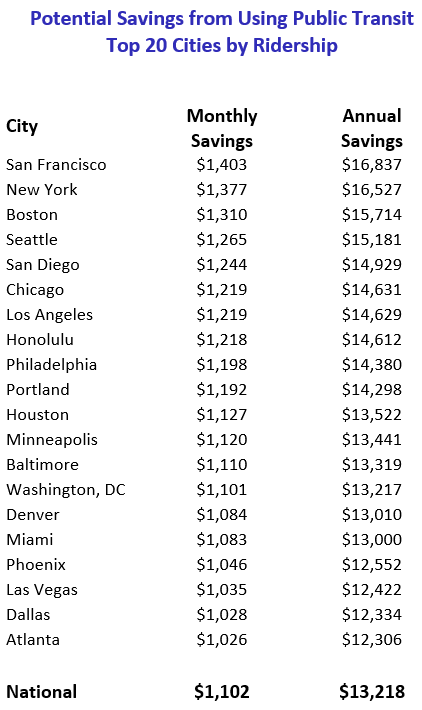 Media contact: Amy Thompson, athompson@apta.com. 202-285-2997