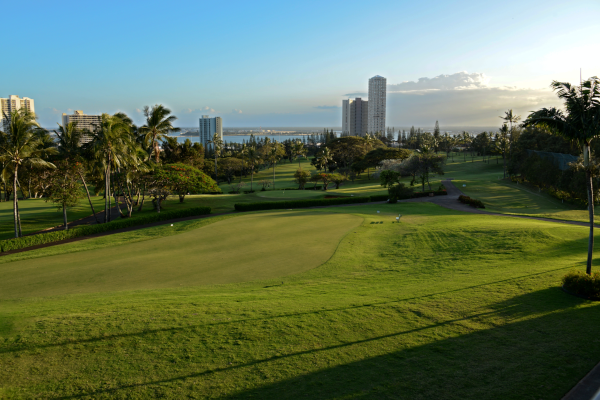 Join us on Thursday, January 26 for our annual Golf Tournament and APTF Fundraiser. The tournament will take place at the Pearl Country Club, a hidden gem on the island of Ohau with views of Pearl Harbor. Golfers will experience an afternoon of fun and camaraderie with warm breezes and brilliant sunshine, all while raising funds to support the American Public Transportation Foundation (APTF). Lunch is included and will be available for pick up at the club. First tee time is 11:29 am. We currently have room for 28 golfers, but can increase the number of tee times, if we have enough registration commitments by December 31, 2022.
Registration Information: Separate registration is required for this event. If you have an existing registration, email lhamlin@apta.com for assistance. If you have not registered for the meeting, you will have the opportunity to add it when you register for the conference. Registration is $75 per golfer and includes golf fees and lunch.
There will be a team competition.  If you would like to select your own email lhamlin@apta.com.  Otherwise, we will assign you to a team. Please understand that late requests may not be able to be accommodated. If your company would like to contribute merchandise suitable for prizes, please contact Jack Martinson at jack.martinson@stadlerrail.com
Club Rental: Pearl Country Club has a limited number of rental sets available.  The rental fee is $45 per set.  Please send Lorraine Hamlin, lhamlin@apta.com your request for rentals and indicate whether you need right or left-handed clubs by January 20, 2023.
Golfers are encouraged to make a donation to the APTF. Proceeds will benefit worthy students who are selected for APTF Scholarships. Suggested donation amount is $200 per golfer, but all donation amounts are welcome. Donate now.
Location: The Pearl Country Club is located at 98-535 Kaonohi St., Aiea, Hawaii 96701, approximately 25 minutes by car from the Waikiki Beach Marriott Resort & Spa.
Transportation to and from the golf course is not provided.