Friday, January 27 | 6:00 pm – 9:00 pm
Come together one last time to celebrate and raise funds for the American Public Transportation Foundation (APTF). The evening will include traditional Polynesian music, dance and food, set outdoors in the Marriott's beautiful Mohala Garden, all in the spirit of the Hawaiian lūʻau.
Attendees are encouraged to make a donation to the APTF. Proceeds will benefit worthy students who are selected for APTF Scholarships. Suggested donation amount is $200, but all donation amounts are welcome. Donate now or on site.
History of the Lūʻau (from gohawaii.com)
The first feast in Hawaiʻi resembling a modern-day lūʻau was probably held in 1819. Before then, the kapu system of restrictions, religion and resource management separated men and women at mealtimes, even in times of celebration. Other names for these feasts are ʻahaʻaina or pāʻina, but over the course of time, the nickname lūʻau – a reference to the taro leaves at the core of many popular dishes – stuck.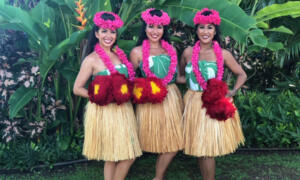 Two centuries later, lūʻau are still being celebrated. But it is important to note that despite the name and its Hawaiian roots, not all food or entertainment at a lūʻau today is Hawaiian. A contemporary lūʻau in Hawaiʻi reflects our multi-cultural society. Food at a family lūʻau is as diverse as the various branches of the family tree. Entertainment at a lūʻau often includes dances and music from other Polynesian cultures.