The Takeaway
The Kansas City Area Transportation Authority (KCATA) is now running its second pilot involving microtransit, shuttles whose schedules and routes can adjust based on changes in passenger demand. Microtransit's supporters say it can provide better experiences for riders who can request a trip specific to their origin and destination, as well as lower costs for transit agencies able to substitute shuttles for full-sized bus service.
KCATA's first microtransit pilot launched in March 2016 with a startup called Bridj. That pilot was terminated one year later at a cost of $1.3 million after providing 1,480 total rides. In January 2019, KCATA and Johnson County, KS launched a second pilot called RideKC Microtransit in partnership with TransLoc and Kansas City Taxi Group. Unlike the Bridj pilot, RIdeKC Microtransit offers off peak trips, door-to-door service, and reservations made via the web and phone. RideKC Microtransit's monthly ridership has been more than 15 times higher than Bridj's, and the project has been extended an additional six months with a new Saturday service. KCATA is currently determining the cost/rider compared with fixed-route service.
The Setting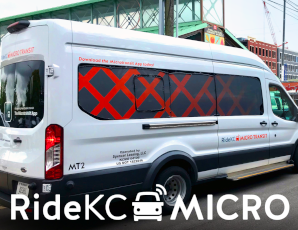 The Kansas City Area Transportation Authority (KCATA) manages public transportation in the Kansas City metropolitan region, including seven counties across Missouri and Kansas. The agency provides about 42,000 trips per day on its fleet of bus, streetcar, and paratransit vehicles. Johnson County currently contracts with KCATA to manage the day-to- day activities of its public transportation network. While KCATA manages contracted service, Johnson County both funds and makes policy decisions regarding service provision in Johnson County.
With an interest in innovative approaches to transit, in mid-2010, KCATA leaders grew curious about micotransit, a term used to describe on-demand shuttle services that transport passengers within a limited geographical area. Microtransit service usually has no fixed schedule or route; instead riders request a trip in real time, usually through an app. Microtransit's boosters argue that the service could provide a better customer experience while saving transit agencies money, compared with a fixed-route, full-sized bus. Skeptics have questioned whether the microtransit cost/rider can ultimately be competitive.
The Project
KCATA's startup called Bridj came to the attention of KCATA's then-CEO through an article in The Wall Street Journal. A cold email to the company's executives led to an in-person meeting a week later, followed soon by a contract to launch a microtransit service using $1.3 million in local funds. Bridj began operating in March 2016, serving several neighborhoods as well as downtown Kansas City. The service was available only during weekday morning and afternoon rush hours, and passengers were required to download an app in order to book a trip. Bridj used an algorithm to adjust routes in real time, with passengers often required to walk a few blocks to or from their origin and destination. The shuttles, which were purchased by KCATA, could accommodate up to 12 passengers, and drivers were more formally dressed than those on fixed route services.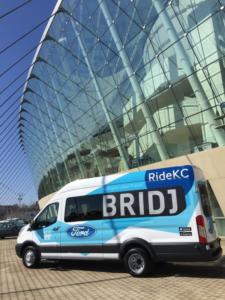 A total of 1,480 trips were provided during the year that the Bridj pilot was in operation at a cost of $1.3 million, equating to almost $1,000 per trip. Jameson Auten, KCATA's SVP for Operations and Innovation, said that the agency gained valuable information about the potential users of micromobility services; more than half of riders were between 19 and 35 and four out of five made more than the local median income of $46,000. Lisa Womack, KCATA's Director of Mobility Services, says that three of the primary reasons the Bridj pilot didn't attract more riders were that few commuters knew about it; some customers resisted using an app; and neighborhoods serviced by Bridj already had access to a number of fixed-route services. Bridj went out of business in 2017.
KCATA and Johnson County soon had a chance to apply what it learned from the Bridj pilot to another microtransit project. TransLoc, a company owned by Ford, approached KCATA in 2018 with an unsolicited proposal. KCATA invited Johnson County, KS to join the conversation, and the county ultimately provided $250,000 for a six-month pilot called RideKC Microtransit. KCATA would provide planning and day-to-day management activities, Johnson County would provide the vehicles and program funding, TransLoc would provide software, and Kansas City Taxi Group would offer drivers and dispatch services. KC Microtransit launched in January 2019.
RideKC Microtransit trips had to originate and end within a 50-square mile area of Johnson County south of downtown Kansas City that was lightly serviced by fixed route buses (the eligible area included a transit center offering no-cost transfers downtown). The fare would be $1.50, the same as riding a bus. KC Microtransit started with three shuttles and grew to seven shuttles as of July 2019, with four or five in service on a given day. Some of the vehicles were originally purchased for the Bridj pilot.
RideKC Microtransit drew lessons from the Bridj pilot to make several important changes to the service design. Instead of limiting service to peak hours, RideKC Microtransit would be available weekdays between 6 AM and 8 PM, and the service would provide door to door service so that passengers didn't have to walk to a stop. Rides could be requested through an app—but also through a web browser or with a phone call. RideKC and TransLoc also invested heavily in marketing the new service, with direct mail and in-person outreach at public spaces like malls.
Outcomes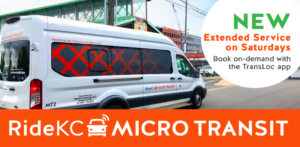 Ridership in RideKC Microtransit has been much higher than during the Bridj pilot. From January to July 2019 over 12,800 trips were taken at a subsidy of around $20/rider (as of August 2019).
The agency is currently calculating the relative cost savings or expenditures vis a vis fixed route service. The agency is also preparing to survey riders about their experiences with KC Microtransit.
In July, Johnson County extended the pilot an additional six months, to January 2020. The city of Overland Park, KS provided additional funds to extend service on Saturday, with a goal of providing access to the city's weekend farmer's market. The RideKC Microtransit program has been popular with local officials and riders, and KCATA expects to expand the service area in the future, both in Johnson County and across the state border into Missouri.
Lessons Learned
KCATA's Lisa Womack suggests that agencies considering microtransit decide up front what success measures they care most about, and then design their program to capture data to see if they are achieving targeted goals.
She says that the current service area of 50 square miles is a little too large to service with the current fleet, leading to occasional peak trip travel times of up to 60-90 minutes. She recommends agencies start with a smaller area at first, and make sure it is one that is lightly served by existing transit service that could negate the need for microtransit. She also recommends that agencies invest heavily in marketing; otherwise eligible riders may not learn of the offering.