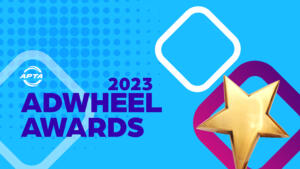 Washington, DC – Last week, the American Public Transportation Association (APTA) honored the First Place winners of its 2023 AdWheel Awards at the APTA Marketing & Communications Workshop in Las Vegas. The awards recognize APTA member public transportation systems and business members for outstanding marketing and communications efforts that contributed to strategic organizational goals.
"I am pleased to congratulate the 49 organizations that earned First Place Awards in the 2023 AdWheel Awards. Their exceptional communications and marketing leads to better customer experiences, better workforce recruitment, higher ridership, and improved mobility for everyone in North America," said APTA President and CEO Paul P. Skoutelas.
More than 100 industry experts evaluated 275 entries and First Place awards were presented in four categories:
Campaigns on workforce development,
Increasing ridership or sales,
Educational efforts, and
Projects to highlight transit needs and funding.
Top First Place winners will face a final round of judging to determine the Grand Awards, which will be presented at APTA's TRANSform Conference and APTA EXPO®, October 8-11, 2023, in Orlando, FL.
Photos from the 2023 First Place Awards Ceremony in Las Vegas can be found here. The First Place winners were honored in four groups, based on system size, and are listed below.
| Best Print Media on Workforce Development | Group |
| --- | --- |
| Livermore Amador Valley Transit Authority, Livermore, California | 1 |
| Suburban Mobility Authority for Regional Transportation, Detroit, Michigan | 2 |
| Best Electronic Media on Workforce Development | Group |
| --- | --- |
| C-TRAN, Vancouver, Washington | 1 |
| Community Transit, Everett, Washington | 2 |
| AC Transit, Oakland, California | 3 |
| Special Event on Workforce Development | Group |
| --- | --- |
| Corpus Christi Regional Transportation Authority, Corpus Christi, Texas | 1 |
| Pinellas Suncoast Transit Authority, St. Petersburg, Florida | 2 |
| Siemens Mobility, Inc., Sacramento, California | 4 |
| Best Social Media on Workforce Development | Group |
| --- | --- |
| Central Ohio Transit Authority, Columbus, Ohio | 2 |
| Metropolitan Transit Authority of Harris County, Houston, Texas | 3 |
| TransLoc Inc., Durham, North Carolina | 4 |
| Best Shoestring Tactic on Workforce Development | Group |
| --- | --- |
| Maryland Transit Administration, Baltimore, Maryland | 3 |
| Best Comprehensive Campaigns on Workforce Development | Group |
| --- | --- |
| Embark, Oklahoma City, Oklahoma | 1 |
| Milwaukee County Transit System, Milwaukee, Wisconsin | 2 |
| Capital Metropolitan Transportation Authority, Austin, Texas | 3 |
| First Transit, Inc., Cincinnati, Ohio | 4 |
| Best Print Media to Increase Ridership or Sales | Group |
| --- | --- |
| Corpus Christi Regional Transportation Authority, Corpus Christi, Texas | 1 |
| Pinellas Suncoast Transit Authority, St. Petersburg, Florida | 2 |
| AC Transit, Oakland, California | 3 |
| Complete Coach Works, Riverside, California | 4 |
| Electronic Media to Increase Ridership or Sales | Group |
| --- | --- |
| Hillsborough Transit Authority, Tampa, Florida | 2 |
| TriMet, Portland, Oregon | 3 |
| Transit app, Montreal, Quebec | 4 |
| Best Special Event to Increase Ridership | Group |
| --- | --- |
| Palmetto Breeze, Bluffton, South Carolina | 1 |
| Metrolink, Los Angeles, California | 2 |
| TriMet, Portland, Oregon | 3 |
| Best Social Media to Increase Ridership | Group |
| --- | --- |
| Virginia Department of Rail and Public Transportation, Richmond, Virginia | 1 |
| Central Ohio Transit Authority, Columbus, Ohio | 2 |
| AC Transit, Oakland, California | 3 |
| Best Partnership to Increase Ridership | Group |
| --- | --- |
| C-TRAN, Vancouver, Washington | 1 |
| Central Ohio Transit Authority, Columbus, Ohio | 2 |
| Santa Clara Valley Transportation Authority, San Jose, California | 3 |
| Best Shoestring Tactic to Increase Ridership | Group |
| --- | --- |
| Salem Area Mass Transit District, Salem, Oregon | 1 |
| Spokane Transit Authority, Spokane, Washington | 2 |
| LYNX – Central Florida Regional  Transportation Authority, Orlando, Florida | 3 |
| Best Comprehensive Campaign to Increase Ridership or Sales | Group |
| --- | --- |
| Des Moines Area Regional Transit Authority, Des Moines, Iowa | 1 |
| Trinity Metro, Fort Worth, Texas | 2 |
| Pace Suburban Bus, Arlington Heights, Illinois | 3 |
| TransLink, New Westminster, British Columbia | 3 |
| RideCo Inc., Torrance, California | 4 |
| Best Educational Print Media | Group |
| --- | --- |
| rabbittransit, Central Pennsylvania Transportation Authority, York, Pennsylvania | 1 |
| Palm Tran, West Palm Beach, Florida | 2 |
| Maryland Transit Administration, Baltimore, Maryland | 3 |
| Siemens Mobility, Inc., Sacramento, California | 4 |
| Best Educational Electronic Media | Group |
| --- | --- |
| Link Transit, Wenatchee, Washington | 1 |
| Spokane Transit Authority, Spokane, Washington | 2 |
| Metropolitan Atlanta Rapid Transit Authority, Atlanta, Georgia | 3 |
| Equans, Bethesda, Maryland | 4 |
| Best Educational Special Event | Group |
| --- | --- |
| Livermore Amador Valley Transit Authority, Livermore, California | 1 |
| Western Reserve Transit Authority, Youngstown, Ohio | 1 |
| Community Transit, Everett, Washington | 2 |
| San Francisco Bay Area Rapid Transit District, Oakland, California | 3 |
| Best Educational Social Media | Group |
| --- | --- |
| Ventura County Transportation Commission, Ventura, California | 1 |
| Foothill Transit, West Covina, California | 2 |
| Regional Transportation District, Denver, Colorado | 3 |
| Best Educational Comprehensive Campaign | Group |
| --- | --- |
| Mid-Region Council of Governments, Albuquerque, New Mexico | 1 |
| Hillsborough Transit Authority, Tampa, Florida | 2 |
| San Francisco Bay Area Rapid Transit District, Oakland, California | 3 |
| Best Educational Partnership | Group |
| --- | --- |
| Livermore Amador Valley Transit Authority, Livermore, California | 1 |
| Pinellas Suncoast Transit Authority, St. Petersburg, Florida | 2 |
| OC Transpo, Ottawa, Ontario | 3 |
| Best Educational Shoestring Tactic | Group |
| --- | --- |
| C-TRAN, Vancouver, Washington | 1 |
| Community Transit, Everett, Washington | 2 |
| Societe de transport de Montreal, Montreal, Quebec | 3 |
| Best Educational Comprehensive Campaign | Group |
| --- | --- |
| Mid-Region Council of Governments, Albuquerque, New Mexico | 1 |
| Hillsborough Transit Authority, Tampa, Florida | 2 |
| San Francisco Bay Area Rapid Transit District, Oakland, California | 3 |
| Best Special Event to Highlight Transit Needs and Funding | Group |
| --- | --- |
| Pinellas Suncoast Transit Authority, St. Petersburg, Florida | 2 |
| Best Partnership to Highlight Transit Needs and Funding | Group |
| --- | --- |
| Niagara Frontier Transportation Authority, Buffalo, New York | 2 |
| Best Shoestring Tactic to Highlight Transit Needs and Funding | Group |
| --- | --- |
| Sacramento Regional Transit District, Sacramento, California | 2 |
| Best Comprehensive Campaign to Highlight Transit Needs and Funding | Group |
| --- | --- |
| Greater Dayton Regional Transit Authority, Dayton, Ohio | 2 |
| Connecticut Department of Transportation, Newington, Connecticut | 3 |
| Siemens Mobility, Inc., Sacramento, California | 4 |
Group 1: Less than four million annual riders; Group 2: 4-20 million annual riders; Group 3: More than 20 million annual riders; and Group 4: Business members. (Based on 2021 ridership data)