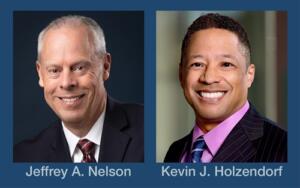 WASHINGTON, D.C. (September 17, 2021) – The American Public Transportation Association (APTA) Nominating Committee has selected Kevin J. Holzendorf, current chair of APTA's Transit Board Members Committee and immediate past chair of the Board of Directors for the Jacksonville Transportation Authority, as vice chair of APTA for 2021-2022. Jeffrey A. Nelson, general manager, Rock Island County Metropolitan Mass Transit District (MetroLINK), Moline, IL, continues as chair of APTA for 2021-2022.
David M. Stackrow Sr., board treasurer, Capital District Transportation Authority, Albany, NY, will continue to serve as immediate past chair. APTA members will vote on the 2021-2022 slate of nominees Nov. 6 during APTA's 2021 TRANSform Conference & EXPO in Orlando.
The 2021 Nominating Committee nominated members-at-large for both the APTA Executive Committee and the APTA Board of Directors at a Sept. 16 meeting in Chicago. Nominated to three-year terms as members-at-large of the 25-member APTA Executive Committee are:
Jeffrey Wharton, director, contracts and technical services, SYSTRA USA, business member-at-large.
Michael Goldman, chair, Washington Suburban Transit Commission, transit board member-at-large.
MJ Maynard, CEO, Regional Transportation Commission of Southern Nevada, executive committee member-at-large.
The committee also approved the following individuals to fill portfolio seats on the Executive Committee:
Allan Pollock, general manager, Salem Area Mass Transit District (Cherriots), OR.
Dawn Distler, CEO, Metro Regional Transportation Authority, Akron, OH.
James Derwinski, CEO and executive director, Metra, Chicago, IL.
Jeff Parker, general manager and CEO, Metropolitan Atlanta Rapid Transit Authority, GA
Leslie Richards, general manager and CEO, Southeastern Pennsylvania Transportation Authority, PA.
Nominations for three-year terms on the APTA Board of Directors are:
Transit system directors:
Jameson Auten, deputy CEO/chief operating officer, Kansas City Area Transportation Authority, MO.
Semia Hackett, associate director, Dept. of Public Works & Transportation, Prince George's County, MD.
Michael Heidkamp, chief operating officer, Port Authority of Allegheny County, PA.
Brad Miller, CEO, Pinellas Suncoast Transit Authority; FL.
Karen Elizabeth Philbrick, executive director, Mineta Transportation Institute, CA.
Julie White, deputy secretary for multi-modal transportation, NCDOT.
Business member directors:
Laura Mason, executive vice president, major program delivery, Amtrak.
Raquel Olivier, president, Olivier Inc.
Michael Allegra, president, KivAllegra Consulting.
Crissy Ditmore, head of public policy, North America, Optibus.
###
The American Public Transportation Association (APTA) is a nonprofit international association of 1,500 public- and private-sector organizations which represent a $80 billion industry that directly employs 448,000 people and supports millions of private sector jobs. APTA members are engaged in the areas of bus, paratransit, light rail, commuter rail, subways, waterborne services, and intercity and high-speed passenger rail. This includes: transit systems; planning, design, construction, and finance firms; product and service providers; academic institutions; transit associations and state departments of transportation. APTA is the only association in North America that represents all modes of public transportation. APTA members serve the public interest by providing safe, efficient and economical transit services and products.