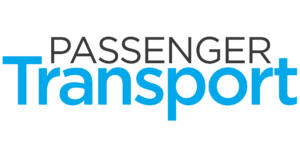 Public transportation agencies and organizations are helping people get to COVID-19 vaccination sites by providing free rides, and in some cases, transit facilities have become vaccination clinics. These efforts have been made possible because of federal emergency funding provided to the public transit industry.
The Santa Clara Valley Transportation Authority (VTA), San Jose, CA, is offering free rides on its buses and light rail to Levi's Stadium in Santa Clara, where a mass vaccination site has opened. VTA increased the frequency of seven bus routes to help relieve the impact of passenger pass-ups due to limited capacity necessitated by the requirements to social distance. The agency also reimplemented rear door boarding for buses and suspended the collection of fares systemwide for the time being.
The Orange County Transportation Authority (OCTA), CA, took nurses, medical technicians and volunteers organized by the Orange County
Health Care Agency to a senior center to help administer the vaccine in late January. OCTA is working with Orange County health officials and emergency operations personnel to help get medical workers from the Disneyland super site for vaccination distributions to smaller
sites throughout the county. Those targeted clinics are being set up to distribute the vaccine to vulnerable seniors age 65 years and older. "OCTA men and women always stand ready to assist our community in responding to emergencies, whether fires, floods or this public health
crisis," said OCTA CEO Darrell E. Johnson. "We thank our drivers and the health workers for safely delivering the COVID-19 vaccine to the
most vulnerable residents in the county."
The Alameda-Contra Costa Transit District (AC Transit) in Oakland, CA, is offering fare-free shuttles to the Oakland-Alameda County Coliseum. "East Oakland has been described as 'left behind in prioritization,'" said Elsa Ortiz, AC Transit board president. "However, service here has always been AC Transit's priority. Even in the face of shelter-in-place orders, we never stopped rolling. The board is hopeful the fare-free vaccine shuttles will give our communities the fighting chance to put the brakes on COVID-19."
The Southeastern Pennsylvania Transportation Authority (SEPTA) is offering its employees an incentive payment to get the coronavirus vaccine. The agency will pay employees $100 after they receive the complete dosage. All employees, except for members of the general manager team, are eligible.
In Bremerton, WA, a strip mall parking lot owned by Kitsap Transit has become the site of a COVID-19 vaccination clinic run by Peninsula Community Health Services (PCHS). The 105-stall parking lot, bought last year by Kitsap Transit, is primarily used as a park-and-ride for the agency's bus routes. But with bus ridership down because of the pandemic, the agency says it has more than enough room for the clinic and parking for bus riders, according to Executive Director John Clauson. The agency provided the space to PCHS free of charge after
Clauson said he heard about the lack of vaccination sites across Kitsap County. "It's space we're not using," he said. "It's a perfect situation for both of us."
North Carolina DOT and the North Carolina Department of Health and Human Services are working together to ensure residents have rides
to vaccination sites. "It's important that everyone have equal access to vaccinations," said Ryan Brumfield, interim director for the Integrated Mobility Division at NCDOT. He added that it is important that the rides are free of charge. In Orange County, NC, when someone schedules an appointment with the Health Department for a vaccine and needs a ride, Orange County Public Transportation reaches out to schedule the appointment. The agency offers door to door pick-ups. GoDurham recently began accepting reservations for free rides to vaccination sites. GoDurham ACCESS provides curb-to-curb and door-to-door on-demand service for eligible riders.
In Lake County, OH, Laketran customers can use local route buses or the agency's door-to-door Dial-a-Ride service. If a vaccination appointment is at a drive-thru site, customers will remain on the same bus for the whole trip. Laketran transports residents through
the entire vaccine process and returns them home. "We are here to help in any way we can to get our community through this
pandemic and move forward," said Laketran CEO Ben Capelle. "We've responded with our mobile food pantry bus and now we want to make sure every resident has the opportunity to get vaccinated."
As more and more vaccines become available, public transit agencies will need to be flexible and creative in accommodating riders while at the same time practicing safety protocols such as social distancing.