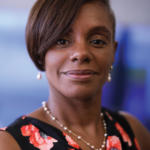 Adelee Marie Le Grand
Vice President of Transit Planning/Chief Mobility Officer-SRTA/ATL
Transdev North America
Member, APTA Executive Committee
First Vice Chair, APTA Diversity and Inclusion Council
February is Black History Month, a time when the nation reflects on the contributions of the Black Community. Public transportation played an important part in Black History, specifically the 1960s Civil Rights Movement. We have all seen images of Rosa Parks on the bus and the Selma to Montgomery March on U.S. Route 80. In a way, public transportation is synonymous with freedom.
Public Transportation has certainly provided freedom for my family. In the 1950s, my grand- parents left Panama and came to the United States to start a new life for themselves and their family. My grand- father rode the train from Brooklyn to Manhattan to work in a bakery in Harlem. He needed to arrive by 4 a.m. every morning, and transit allowed him to do that. My grandmother rode the bus to the garment district to work on the line. My mother and her siblings took public transportation to school and then work after school. My grandparents were able to start a new life in a new country, provide for their family and send my mother to college. Public transportation helped them make this happen. This was the American Dream.
Public transportation also facilitated the next generation of freedom for my family. In the 1970s, my parents moved from Crown Heights, Brooklyn, to Laurelton, Queens. During that time, Laurelton was a Black, working-class community. My next-door neighbors, on both sides, worked for MTA, as well as several neighbors on my block. You see, back then having a job with the MTA meant having the means to provide better opportunities for your family. You could buy a house, take vacations, send your kids to college and retire with a pension. The American Dream.
Public transportation gave me the freedom to move around New York City. As a young person (in hindsight, maybe too young), I was able to move around my city freely with my friends. In elementary school, we would take the bus from Queens out to Long Island to watch the matinee movie on Saturday mornings (can't imagine this happening today!). Since I had great transit access, I was able to attend High School in Manhattan and take the bus and train to school. My transit pass allowed me to visit my friends, who lived in different boroughs, whenever I felt the urge. My American Dream.
Public transportation became my profession and that is when I became aware of the unpleasant history of public transportation and the Black Community. In the 1950s and 1960s, investments in highway systems were used as tools for "urban renewal". Black communities, like the 15th Ward in Syracuse, NY, and Overtown, Miami, were decimated by the construction of the highway projects. In Syracuse, the completion of I-81 displaced many people from the 15th Ward, an established Black Community. In Overtown, the home of D. A. Dorsey, first black millionaire of Miami, 50 percent of the population had to be displaced in order to construct an interchange between I-95, I-395 and State Highway 836. These are just two examples of several public transportation projects negatively impacting the Black Community, forcing people to leave their homes and the communities they built.
Public transportation professionals and others in the public sector realized that the practice—of using public transportation investments to negatively impact a group based on their race—were a problem. "Simple justice requires that public funds, to which all taxpayers of all races [colors, and national origins] contribute, not be spent in any fashion that encourages, entrenches, subsidizes or results in racial [color or national origin] discrimination," said President John F. Kennedy in 1963. In 1964, the passage of Title VI of the Civil Rights Act prohibited discrimination based on race, color or national origin in programs or activities of any entity that received federal assistance. Title VI would ensure that discriminatory practices would no longer be allowed. The Black Community had protection. The American Dream.
Public transportation and its role in the Black Community is still a complicated subject. The industry provides great employment opportunities, the services provide access to all that communities have to offer, and the regulations are in place to protect the community from discriminatory practices. However, the Black Community is still being dis- placed due to the implementation of public transportation investments. Projects of every mode are redeveloping communities and making it nearly impossible for many people to remain in their communities. How did we get here again? In the past, these investments were used deliberately to displace the Black Community from certain areas. Today, the intention is to create a better environment. The Atlanta BeltLine, (a project that I spent a considerable amount of my professional career working on), has proven to be wildly successful, but the unintended consequence of success is becoming a hardship for the Black Community that resided in the neighborhoods surrounding the project. This type of displacement is occurring throughout the United States.
I don't know all the solutions, but I will offer one. We must engage with the people who live in the communities we are planning for or working in. All groups must be actively engaged in the process to help understand the potential problems and identify sustainable solutions. Working together and helping each other is one solution that I offer. My American Dream.
Passenger Transport Commentary: February 10, 2020
[APTA's Diversity and Inclusion Council aims to promote an inclusive culture at APTA that supports and celebrates the unique attributes and perspectives of APTA members. The council, which reports directly to the APTA Board of Directors and is led by APTA's immediate past chair, serves as an advocate for advancing diversity and inclusion practices throughout the association and industry. It is guided by APTA's Diversity and Inclusion Strategic Plan. All APTA members are welcome to join the council. Please contact Petra Mollet at pmollet@apta.com or Darnell Grisby at dgrisby@apta.com for more information.]