Chicago, IL
July 22-24, 2019: The Chicago Transit Authority
The American Public Transportation Association (APTA) is pleased to host its third biennial Passenger Railway Engineering Education Symposium (p-REES), July 22-24, 2019, in Chicago, Illinois at the Chicago Transit Authority. Building on the tremendous success of the 2015 and 2017 programs in Philadelphia and Los Angeles, we continue our partnership with the American Railway Engineering and Maintenance of Way Association (AREMA) to advance rail engineering education. This intensive program is aimed at educating engineering faculty from across North America about the public transportation industry so these faculty can tell our story, including its many career opportunities, through their courses, curricula, and degree programs.
APTA will reimburse up to $750 in travel expenses (hotel and transportation) for professors and faculty who have not participated in previous REES events. Most of the meals during the symposium will be provided.
Your participation in the 2019 p-REES Symposium will give you the unparalleled opportunity to educate and shape the landscape of our nation's transit workforce. This symposium will feature presentations, discussions, and lecture materials that you can use and share, including PowerPoint slides, notes, and other materials. Industry speakers will provide an overview of potential rail and transit research opportunities, and highlight the excitement in the industry about new challenges and industry opportunities available to new graduates entering the rail and transit engineering profession.
The 2019 p-REES program will provide practical hands-on engineering information and materials and an abundance of round table conversations and working sessions led by leading engineering academics, industry experts, and practitioners. Our goal is to encourage engineering faculty's interest to add rail and engineering content to their current courses and curricula. This three-day symposium will include also include technical tours of rail systems. This forum provides attendees with an exceptional opportunity to learn and network with academic peers and leading transit engineering professionals.
Program Topics Include: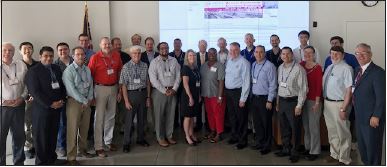 Railroad Operations/ Modal Characteristics
Basic Signals
Track
Starting a Program
National Syllabus for Associates, Bachelors, and Advanced Degrees
Interactive Classroom Demonstrations and Discussions
A formal program will be available soon.