Transit agencies are implementing microtransit solutions that improve the rider's experience by operating small-scale, on-demand public transit services that that can offer fixed routes and schedules, as well as flexible routes and on-demand scheduling.
---
Houston Metro launches app to boost neighborhood shuttle program
September 2020
Houston, TX
Metropolitan Transit Authority plans to debut an app that will allow riders to book trips with its existing on-demand shuttles. Once it goes live Sept. 8 in two areas, the app will bring an Uber-like interaction to shuttle users in Metro's three established Community Connector zones, including the ability to rate the service and the driver.
---
Jacksonville, Fla., Transit Partners with On-Demand Tuk-Tuk Provider
September 2020
Jacksonville, FL
Public transit in Florida's largest city has formed a partnership with a private mobility provider to offer rides in electric, open-air vehicles, providing on-demand service in a number of neighborhoods
---
The Rapid launches six-month pilot program for GO!Bus
July 2020
Grand Rapids, MI
The Rapid has partnered with Kaizen Health, Disability Advocates of Kent County and the city of Grand Rapids to launch a six-month pilot program of GO!Bus Plus service.
---
King County brings back popular Via to Transit program
June 2020
King County, WA
In partnership with City of Seattle and thanks to the voter-approved Seattle Transportation Benefit District (STBD), King County Metro extended the Via to Transit pilot with public mobility provider Via for a second year, from June 22 to April 2021.
---
COTA expands Microtransit Service In Response to COVID-19
May 2020 (Updated from July 2019)
Columbus, OH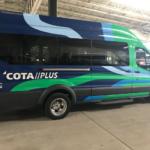 COTA is providing a new COTA//Plus micro-transit service to complement existing transit options during the COVID-19 pandemic. The new COTA//Plus option is an on-demand pilot project to better serve northeast Franklin County customers who are impacted
by recent service reductions. This three-month pilot will provide transit access for customers who are experiencing reduced service or lost fixed-route service in parts of the Columbus metro.
The City of Columbus won the US Department of Transportation's smart city challenge in 2016. One development of this award is the Central Ohio Transit Authority (COTA) recent launch of an on-demand microtransit pilot project in Grove City, Ohio, a rapidly growing area just southwest of Columbus. This first of its kind service integrates technology with a microtransit solution to provide customers with further access to jobs, healthcare and more, while also offering a fast, convenient and comfortable transit solution. COTA, a 2018 APTA Outstanding Public Transportation System Achievement Award winner, has developed the COTA Plus app and this new service. COTA Plus will be powered by Via, a branded application for download that will allow for fare payment, trip planning and operator requests.
---
LA Metro's mobility-on-demand service now running point-to-point trips within service zones
April 2020
Los Angeles, CA
LA Metro has made emergency adjustments to its Mobility on Demand (MOD) program as a result of the COVID-19 crisis in order to ensure there are transportation options for people who need them most during this difficult time.
---
In Response to COVID-19, SMART Replaces Busses to Advanced Reservation Shuttles in Suburban Detroit
April 2020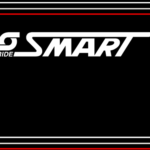 Suburban Detroit
The suburban Detroit bus line, SMART, has taken a major ridership hit during the coronavirus crisis and resulting state lockdown of "non-essential" workplaces. SMART will convert some of its commuter routes from regularly running buses to "advanced reservation" shuttles.
---
Denton County Transportation Authority Expands Microtransit Service in Response to COVID-19
Denton County, Texas
In response to the COVID-19 pandemic, Texas' Denton County Transportation Authority (DCTA) is expanding its on-demand transit to replace fixed-route bus services.
---
St. Louis Looks to MicroTransit for First, Last Mile Journeys and Beyond
St. Louis, MO
March 2020
The St. Louis area has been working to integrate microtransit and other micromobilty options. 
---
CDTA Launches Microtransit
Albany, NY
January 2020
The Capital District Transportation Authority (CDTA) has launched FLEX, an on-demand, curb-to-curb, microtransit pilot program that offers flexible routing and scheduling, extending the accessibility of public transit service in areas throughout the region.
---
4 Questions to Ask Before Investing in Microtransit
The growing interest in microtransit has transportation leaders blending the best of both worlds by leveraging technology to build the public transportation of tomorrow. Before pulling the trigger, however, decision-makers should ask themselves four key questions.
---
Worcester Regional Transit Lands Grant for Microtransit Service
The Massachusetts-based Worcester Regional Transit Authority (WRTA) received $459,430 in Discretionary Funding from MassDOT to pilot an on-demand microtransit service with Via in Westborough, MA. The project will be the first public-private transit partnership in the Central Massachusetts region that will introduce on-demand microtransit.
---
SacRT Microtransit
January 2020 Update
The Sacramento Regional Transit District (SacRT) is expanding its on-demand microtransit service to six additional communities, making SacRT the largest microtransit provider in the country with 42 shuttles, according to SacRT. SacRT has also launched a new app for all SmaRT Rides users.
FEB 2018 – AUG 2018
Sacramento, CA
The Sacramento, CA Regional Transit agency (SacRT) launched a six-month microtransit pilot in its Citrus Heights suburb in February2018. SacRT chose Citrus Heights for a six-month pilot program because the agency already had two local shuttles there that pick up passengers at their doorsteps. But those dial-a-ride buses require phone reservations a day in advance and have proven to be cumbersome to manage. They also don't work for people used to instant service. Working similar to Uber, microtransit buses carry a handful of riders at a time. The driver uses an iPad on the dashboard showing the shortest route to get passengers to their individual destinations. The microtransit service — to be operated by SacRT instead of through a public-private partnership — will cost the city about $25,000 for needed software. Again, SacRT's 2018 budget already allows for the cost of two shuttle buses and drivers.
The pilot, which will enable riders to request specific pick-up and drop-off locations, is being put in place to improve existing "dial-a-ride" bus services. The the on-demand service can be requested via smartphones.
---
The Delicate Balance of Microtransit by Katherine Lewis
With many public transit agencies seeing declining ridership in recent years, and technology advances facilitating scheduling of small-capacity vehicles, many systems are looking to microtransit to improve customer service and expand their service area. This feeds into changing customer expectations—thanks to disruptive technology across a range of industries—for everything at our fingertips, from food through DoorDash to movies on Netflix and rides via Uber and Lyft. Read more in APTA's Passenger Transport.
---
Lane Transit District (LTD) Launches EmGo
August 2019
Eugene, OR
EmGo is a five passenger, all-electric powered vehicle and is free for users. Riders can schedule EmGo by using a mobile app and navigating to one of the many pickup spots in downtown Eugene. EmGo is an on-demand microtransit solution to parking and traffic congestion and aims to improve livability and workability, support local businesses, and give people more mobility options. Built by Polaris, the EmGo is powered by a 48V AC battery. Four EmGo electric vehicles were purchased with Statewide Transportation Improvements Funds (STIF) from the state of Oregon. The city of Eugene, Lane County and the LCOG have each invested additional financial resources to partner with LTD to offer the free EmGo pilot service for one year.
---
The Rapid Launches Rapid on Demand
August 2019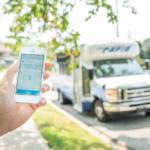 Grand Rapids, MI
The Rapid, in partnership with Via, has deployed Rapid On Demand. This is a six-month, app-based pilot program to test the feasibility of on-demand ridesharing as a public transportation solution for seniors and persons with disabilities
Riders with GO!Bus eligibility can utilize this free app if they live and travel within the pilot project's service area, which spans from downtown Grand Rapids to the southeastern portion Grand Rapids and Kentwood. Rapid On Demand provides same-day rides to individuals with a wait time of 15 minutes or less.
---
Tri Delta Transit Launches Tri MyRide
June 2019
Antioch, CA
Tri Delta Transit has launched of Tri MyRide, a flexible and dynamic on-demand shuttle service operating in neighborhoods near the Antioch BART Station and Pittsburg Bay Point BART Station. This 6 month pilot program began operation June 17, 2019. Tri MyRide operates Monday thru Friday from 5am to 8pm and is just $2 per ride. To use this new ride share program, passengers located within the service area download the free Microtransit by TransLoc app to their smartphone and request a ride.
---
Capital Metro Launches Pickup
June 2019
Austin, TX
Capital Metro has launched a ride-hailing bus service in Manor, TX called Pickup that takes customers from their front step to anywhere within the service zone. Customers can request a ride directly from their phone, either through an app or by calling the Pickup Service Center.
The new service was launched on June 3, replacing MetroBus Route 470. Pickup will come to Austin in late 2019 and serve the four areas included in the MetroLink pilot program.
---
MaaS: A tool for Small Urban and Rural Communities
2018
Tompkins County, NY
Presentation ​on how Tompkins County, NY Department of Social Services implemented Mobility as a Service (MaaS) into their transportation services.
---
Gwinnett County Microtransit Pilot
SEPT 2018 – OCT 2018
Gwinnett County, GA
​The Microtransit pilot is part of a plan for how the County would like to develop its transit networks to serve current and future needs. The plan aims to establish a countywide vision with broad-based support for future dedicated transit funding/implementation as well as to make transit a mode of choice for work and leisure trips.​ Read more about the pilot project.