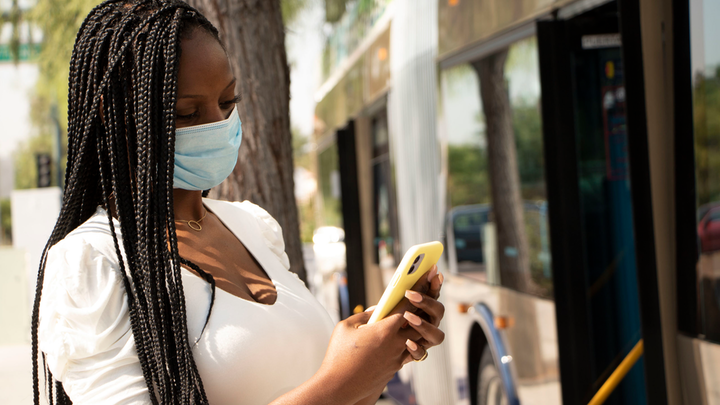 Transit agencies are developing pilots and programs that foster a fluid and linked transportation system incorporating all modes to deliver people to their destination in a seamless fashion, enabling truly complete or point-to-point trips.
---
RTC Southern Nevada launches contactless cash payment option in smartphone app
December 2020
Las Vegas, NV
Customers can now purchase bus passes by cash through the rideRTC smartphone app, giving customers another contactless option to purchase fares for the Regional Transportation Commission (RTC) of Southern Nevada.
---
Central Ohio, Startup Plan Huge Transportation Data Project
December 2020
Columbus, OH
The Central Ohio Transit Authority (COTA) is embarking on a grant-funded project — along with the state Department of Transportation, 12 surrounding counties and others — to set up what could very well be a data fusion effort unprecedented in scope.
---
FTA IMI Grant helps TriMet explore new ways to plan and pay for trips
October 2020
TriMet is exploring new partnerships in trip planning and payment under a cooperative agreement with the Federal Transit Administration's (FTA) Integrated Mobility Innovation (IMI) demonstration program.
Tri-Met's Hop Fastpass – Open Architecture Fare Payment
2017 launch – Present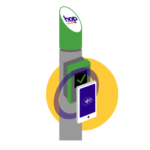 Portland, OR Area
The Tri-County Metropolitan District of Oregon (Tri-Met), the primary public transportation provider in Portland, utilized a novel approach to build the Hop Fastpass, its public transit payment system that first launched in 2017 and has steadily added new features. Instead of building a closed fare payment system with proprietary software and hardware, the agency chose to design the Hop Fastpass through "open architecture" that provides flexibility to adjust individual software and hardware components.
Open-Architecture:  TriMet's Hop Fastpass system provides an open, flexible framework for using multiple technologies and payment systems.  TriMet has transitioned away from the earlier paper-based fare collection system to an account-based system that could offer customers a "virtual wallet," allowing them to pay for trips in a variety of different ways (smartcard, contactless credit card or smartphone) and pay for rides in adjacent transit systems as well.  Hop Fastpass moves away from "technology lock-in" and opens a door to payment integration and Mobility-as-a-Service.    
Multimodal Trip–Planning:  TriMet used an FTA Mobility-on-Demand Sandbox Grant to extend its existing multimodal trip planner to include private mobility service providers.  Thirty-eight private and public partners collaborated to develop a new, mobile-friendly trip planner to enable users to make informed decisions about their travel options and their compete trip, including the first and last parts of their trips where a bus or train alone doesn't provide full access. 
Fare Capping:  TriMet was the first transit agency in the country to offer fare capping, which automatically refunds ticketholders who have already paid the equivalent of an unlimited daily, weekly, or monthly pass. Fare capping is especially helpful for those who cannot pay for an unlimited pass up front due to financial constraints. 
---
Dallas Area Rapid Transit (DART)
DART has been at the center of national conversations regarding Mobility-as-a-Service, app development, and modal integration.   
Expanding GoPass:   DART's GoPass Mobile App provides travelers the ability to plan, book and pay for the mobility solution that works best for their needs. GoPass underpins a system designed to keep DART's multimodal transit system flexible, reliable, affordable, and more available to everyone by developing new technologies and services including fare equity, cash to mobile options.  In addition to services operated directly by DART, GoPass now integrates NextBus, Via, Lyft, Uber, and BCycle bike sharing.  The GoPass mobile app has been extended to Fort Worth's Trinity Metro, and to Tulsa, OK.   
Microtransit:  DART received an FTA Sandbox Grant to pilot test an on-demand microtransit service integrated into DART's GoPass mobile app, to include the use of a TNC.  In May 2020 DART contracted with Uber (Uberpool)to provide rideshare services, supplement DART's GoLink microtransit program.   
Pandemic Response: Interactive smart digital kiosks at DART bus and light rail stations have been upgraded to be contactless to help address COVID-19 concerns.  DART has also installed face mask and hand sanitizer dispensers on all buses, light-rail vehicles, and streetcars. During the pandemic, DART initiated a special grocery pickup and delivery service for ADA paratransit riders and a partnership with the Dallas School District to deliver meals each week to students who are sheltering at home while on-site classes are on hold. 
DART Expands their GoPass Mobile App
January 2020
Dallas, TX
The GoPass mobile app was introduced by DART in 2013. It is an all-in-one travel tool that gives customers real-time travel information, mobile ticketing and on-demand services through their phone for transit throughout North Texas. New features added will include real-time transit integration via NextBus, Via on-demand service, Lyft, Uber, and B-Cycle bike sharing. DART will extend operations of the GoPass® mobile app to Fort Worth's Trinity Metro for at least the next 36 months.
---
FTA grant will allow for integrated RTD – Denver , Colorado DOT mobile ticketing in the Transit app
October 2020
The Accelerating Innovative Mobility (AIM) challenge grant $687,000 award will allow RTD and CDOT to work with their mutual mobile ticketing provider, Masabi, and app partner Transit, to develop a multimodal trip planning and and payment integration feature in the Transit app.
---
Ann Arbor transit system launches contactless ticketing
October 2020
The Ann Arbor Area Transportation Authority (TheRide) has launched a contactless ticketing service to ease the process between passengers and drivers. The EZfare mobile application allows customers to buy tickets anytime to activate in their "ticket wallet." Once riders board, they can show the driver their device screen with the ticket, according to a news release.
---
Los Angeles TAP transit system to support Apple Pay later in 2020
July 2020
When launched, users will be able to add TAP cards to their Wallet apps. From there, they'll be able to quickly pay transit fees by holding an iPhone and Apple Watch near a TAP reader.
The Apple Pay integration is just part of a larger overhaul of the LA Metro system, which also includes upgraded ticketing machines and a new TAP for iOS app. The TAP system itself is currently compatible with 25 individual transit systems across Los Angeles county.
LA Metro Partners with Transit App
May 2020
Los Angeles, CA
LA Metro announced a new partnership with the popular Transit app for smartphones and tablets. Transit now becomes Metro's official app, replacing the agency's own app that will be phased out. This partership will allow LA Metro to better promote multimodal trips, craft personalized service alerts, and include accessibility tools for people with mobility challenges.
LA Metro Unveils Tap Flex Wearables
August 2019
Los Angeles, CA
Riders of LA Metro can now pay for their fare via official LA Metro Tap Flex wristbands, available for purchase at Metro's customer centers. This new technology allows for easier payment for customers, especially customers with disabilities. Tap Flex is available is blue or black silicone bands and there are plans to offer the payment option with elastic fabric wristbands and small keychain size tap cards.
---
CTA and City of Chicago Offer Credits for Transit Passes, $1 Divvy Bikeshare Rides, and More in Light of COVID-19 Crisis
March 2020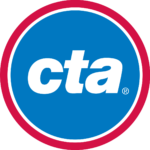 Chicago, IL
The City of Chicago announced several financial breaks on transit including credits for unused Chicago Transit Authority passes and discounted Divvy Bikes rides as city residents endure the COVID-19 Outbreak.
---
NYC MTA Announces OMNY 3 Million Taps, Next Stations to be Upgraded
November 2019
New York, NY
The Metropolitan Transportation Authority (MTA) announced that OMNY, the new contactless fare payment system, surpassed three million taps. The tremendous growth in use comes over the course of just six weeks, a week faster than the system's growth from one million to two million taps and four weeks faster than it took OMNY to reach one million taps. The OMNY system has been built based on global payment standards, and to date has accepted successful taps from bank cards issued in over 112 countries, including the U.S. These countries span six of the world's seven continents, all except Antarctica.
---
Big Blue Bus announces Single Ride passes now available for sale through popular mobile app Transit
November 2019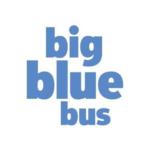 With the debut of integrated ticketing, the result of collaboration between Big Blue Bus, Transit, and Token Transit, riders can now pay for Big Blue Bus where they're already planning trips and tracking rides.
To purchase a ticket with Transit, riders can tap "buy ticket" next to the Big Blue Bus logo at the bottom of their screen inside the app. Transit guides users through a step-by-step process to enter payment information and purchase a Single Ride pass, which activates immediately upon purchase and can then be shown to a bus operator for validation. The ticket remains activated for 30 minutes after purchase.
---
APTA Releases "Being Mobility-as-a-Service (MaaS) Ready" Report
October 2019
In June 2019, APTA hosted an International Study Mission to the  cities of Vienna, Hamburg, and Helsinki to learn more about Mobility as a Service. Read the full report.
---
Transit App launches Transit Accounts: A Universal Solution to Bikeshare and Public Transit Payments
September 2019
US & Canada
Transit App has introduced Transit Accounts, a universal way to pay for Bikeshare and Public Transit. Capitalizing on the GBFS (General Bikeshare Feed Specification) and GTFS (General Transit Feed Specification), Transit Accounts uses ticketing APIs to facilitate single payments through the app. Transit App has partnered with several large and small transit and bikeshare systems to allow app users to use one account and one payment. The new function is continuously expanding.
---
---
Transfort Introduces Mobile Ticketing App
August 2019
Ft. Collins, CO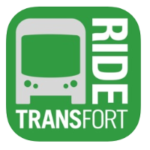 Transfort e-Ticket gives riders the ability to buy tickets via their mobile device before they travel. Single, Round Trip, Day Passes, 7-Day Passes, 31-Day Passes and Annual Adult Passes are available through the app. Passengers who qualify for discounted Senior or Disabled passes may also use the app by purchasing their passes from a customer support representative at one of Transfort's three transit centers. Riders then simply scan their mobile barcode tickets on the new electronic validation devices when boarding the bus.
---
King County Metro's Ride2 Program
December 2018 – ongoing
King County, WA
King County Metro offers on-demand shuttles providing a car-free connection within the designated service area between home, school, or work and transit at Eastgate Park & Ride. Learn more King County Metro's on-demand service.
---
Valley Metro + Waymo announce technology & transit partnership
June 2018
Phoenix, AZ
Valley Metro and Waymo joined forces to introduce a new partnership that will help drive the future of transportation. Using Waymo's self-driving vehicle technology, Valley Metro will participate in an innovative travel solution pilot that can be modeled across the country. Visit their website to learn more about the partnership
---
DART Expands Customer Connectivity Options with Digital Kiosks
June 2018
Dallas, TX
With a continued focus on enhancing customer Mobility as a Service (MaaS) opportunities, Dallas Area Rapid Transit (DART) is contracting with Landmark Infrastructure Partners LP to develop a smart media and communications digital platform which will include the deployment of content-rich kiosks at strategic high-traffic locations throughout the DART network. Learn more here