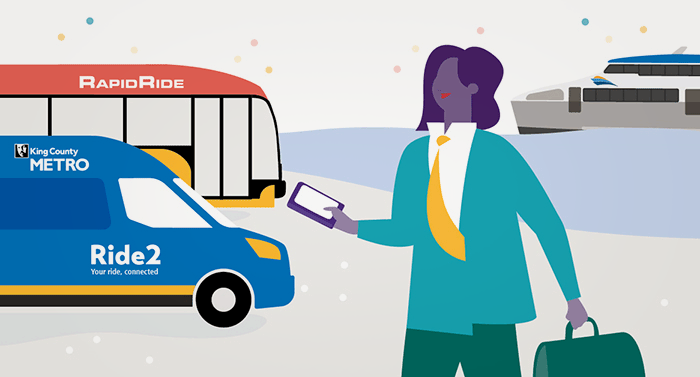 Transit agencies are developing pilots and programs that foster a fluid and linked transportation system incorporating all modes to deliver people to their destination in a seamless fashion, enabling truly complete or point-to-point trips.
King County Metro's Ride2 Program
December 2018 – ongoing
King County, WA
King County Metro offers on-demand shuttles providing a car-free connection within the designated service area between home, school, or work and transit at Eastgate Park & Ride. Learn more about their on-demand service.
---
Valley Metro + Waymo announce technology & transit partnership
June 2018
Phoenix, AZ
Valley Metro and Waymo joined forces to introduce a new partnership that will help drive the future of transportation. Using Waymo's self-driving vehicle technology, Valley Metro will participate in an innovative travel solution pilot that can be modeled across the country. Visit their website to learn more about the partnership
---
DART Expands Customer Connectivity Options with Digital Kiosks
June 2018
Dallas, TX
With a continued focus on enhancing customer Mobility as a Service (MaaS) opportunities, Dallas Area Rapid Transit (DART) is contracting with Landmark Infrastructure Partners LP to develop a smart media and communications digital platform which will include the deployment of content-rich kiosks at strategic high-traffic locations throughout the DART network. Learn more here