NCMM: Mobility for All and One- Call/One-Click Systems
December 2020
Virtual
Regional and state-wide mobility systems currently planning, operating or implementing one- call/one-click (OC/OC) systems convened through a peer exchange related to Mobility for All and One Call/One-Click Systems to discuss challenges and share best practices related to incorporating trip information, trip booking and trip payment. The discussion focused on topics including, collecting and verifying transportation provider information, using GTFS data sets/GIS platforms, garnering community and provider support, marketing the OC/OC systems, and increasing public and specialized transit ridership via new system platforms. This virtual peer exchange was hosted by the Virginia Department of Rail and Public Transportation, which recently received a Mobility for All grant focused on developing and implementing an OC/OC platform.
---
NCMM: Planning and Implementing Microtransit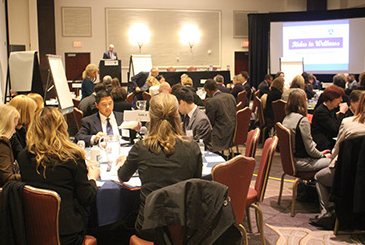 May 2019
Louisville, KY
The National Center for Mobility Management (NCMM) convened over 40 participants from different transit agencies to discuss microtransit in May 2019. Microtransit is a form of transportation provided by a transit agency using their own vehicles and personnel or using a traditional contractor. Microtransit is on demand service available to the general public. Transit agencies are embracing microtransit as part of their mobility management strategies that are designed and delivered to enhance customer service. These pilots provide more transportation options to customers, expand service coverage, and leverage rapidly evolving technology in the transportation industry.
---
NCMM: Lessons Learned from Mobility Summits and Advancing Mobility Management
December 2018
Washington, DC
Many transit agencies are embracing the concept of 'mobility management', which is a strategic approach to designing and delivering transportation services that start and end with the customer. It begins with a community vision in which the entire transportation network – public transit, private operators, cycling and walking, volunteer drivers, and others – works together with customers, planners, and stakeholders to deliver the transportation options that best meet the community's needs. When implemented, mobility management can move transit agencies away from their roles as fixed-route service operators and toward collaboration with other transportation providers. The idea behind this approach is to create a full range of well-integrated mobility services within a community, that meets the needs of all customers better today and in the future.
Hosting a mobility summit is the prime forum for transit agencies to discuss their agency's role and intentions in addressing the future of mobility in their region. As innovative technologies like bike-sharing, microtransit, and TNCs are changing the way people get around, transit agencies and their partners at the city and regional level are taking a proactive approach to plan and anticipate how these evolving trends are creating new and expanded opportunities for public transportation. Read the 2018 Washington, DC Peer Exhange Report..
---
Mobility Summit: King County Metro Futures Cabinet
November 2018
Seattle, WA
New Mobility thought leaders convened in Seattle in November 2018. Leaders across the region gathered to explore how emerging technologies and new mobility options can improve urban transportation and to tackle the tough challenges associated with implementing smart mobility policies and projects.  View Presentations and a video from the summit:
---
Transportation Transformation Summit addresses future of mobility in Denver
SEPT 2018
Denver, CO
On September 13, 2018, RTD hosted Transportation Transformation, a half-day summit to discuss the agency's role and intentions in addressing the future of mobility in the Denver metro region. As innovative technologies like bike-sharing, micromobility, and ride sourcing services are changing the way people get around, RTD is taking a proactive approach to participate in how these evolving trends are creating new and expanded opportunities for public transportation. Over 125 regional transportation mobility partners attended the event to engage in a conversation about mobility trends and the current state of practice, local projects underway in Denver, and RTD's plans to lead a regional initiative to determine how public transportation will integrate with Denver's changing mobility landscape. View highlights from the breakouts and the entire summit (VIDEO)
---
Peer Exchange: The rise of the curb – expanding mobility while protecting space
SEPT 2018
Nashville, TN
Complete Streets are an essential component of mobility management. Transit agencies are increasingly recognizing the value of curb management as new mobility options and travel patterns lead to increased and varied demands for this space. The curbside facilitates access to essential activities such as goods, people, enhanced mobility for seniors and persons with disabilities, and increased community activation. However, there is more competition for the curb as traditional bus service competes with transportation network companies, dockless bikes and electric scooters, pedestrians, and soon, autonomous vehicles that necessitate universal design concepts and other policies that develop new and enhanced priorities for curbside use and expanded mobility hubs.
Improved curbside management and creating more mobility hubs will make it easy to access a wide range of travel options for different trip types. Considering local context, a relative prioritization of travel modes and right-of-way functions can be developed on a corridor-by-corridor or even block-by-block basis. Read the summary notes.
---
Exploring New Institutional and Governance Models for Integrated Mobility
OCT 2017
Atlanta, GA
Public transportation agencies across the country are leveraging improvements in transportation technology and redefining how their agencies manage mobility. The Federal Transit Administration (FTA) is working to ensure that these new mobility services are accessible to all riders and connect them to essential services that include: employment, healthcare, education, and recreation. To support these efforts, The National Center for Mobility Management (NCMM) hosted a peer exchange with transit systems to develop scenarios for governance and institutional models for these integrated mobility concepts. These peer exchanges are intended to be a forum for transit agencies to look at how different mobility management scenarios could evolve, identify opportunities to develop and implement concepts such as Mobility as a Service (MaaS), and to build a framework of strategies and scenarios to guide transit agencies within this new mobility ecosystem. Minutes from the Peer Exchange are available here.