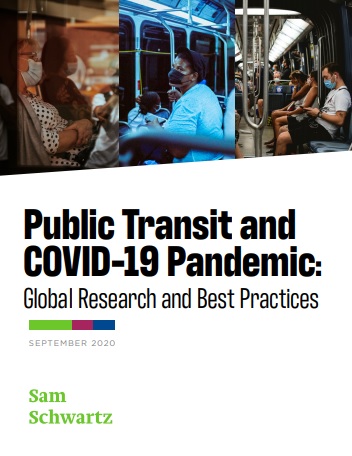 "Public transportation systems around the nation will continue taking extraordinary steps to keep riders and public transit workers safe. As we all know, the world's understanding of COVID-19 continues to evolve, and the latest comprehensive report from Sam Schwartz Consulting documents no direct link between using public transit and contracting the coronavirus. As an industry, we will continue to provide the safest and most sustainable way to move around a city and we will continue to adapt and add measures to safeguard riders and employees – and we thank our riders for sharing this responsibility to health and safety as we work to get through this pandemic." – APTA President and CEO Paul P. Skoutelas
This report is based on a comprehensive review of United States and global research regarding COVID-19 transmission and public transit, interviews with public health experts, and new analysis of various data sources. This September 2020 APTA commissioned study by Sam Schwartz details the following findings:
1- No direct correlation has been found between use of urban public transit and transmission of COVID-19
2- There will be long-term health consequences if people in large numbers switch from public transit to private cars.
3- An analysis of public transit ridership in multiple cities over the past three months shows no correlation with the rise or fall of local COVID-19 cases
4- Mask wearing has been shown to be effective at reducing person-to-person transmission
5- There are several possible explanations for the lack of correlation between the increase in public transit ridership and increasing COVID-19 cases
6- It appears that what you do at the end of a trip affects the probability of contracting the virus far more than the mode of travel.