The Takeaway
Sacramento Regional Transit District (SacRT) has adopted a groundbreaking micromobility strategy to address the "first mile/last mile problem." The agency has partnered with JUMP, an electric micromobility provider, to offer on-demand access to and from light rail stations.
SacRT has worked with JUMP to install charging bays inside light rail stations. These charging bays allow commuters to park an e-bike within the station, where it can charge while docked. On the return trip, the commuter can unlock a charged e-bike at the station and ride it to their final destination. SacRT covers costs for the charging stations by collecting installation and utility fees from the micromobility company.
SacRT installed the first charging bay in September 2018 and has now expanded it to seven stations, where a total of 68 e-bikes can be docked and charged. While the agency is still collecting data to determine the initiative's success, light rail ridership has risen over 18% year-over-year – and outcome SacRT attributes in part to its micromobility charging program.
The Setting
SacRT is the regional transit agency for the Sacramento metro region. The agency provided 1.83 million rides in March 2019 and just over 970,000 on light rail (it also offers bus and paratransit service). SacRT first collaborated with private mobility providers in 2016, when the agency launched its Station Link program that offered $5 off a ride-hail trip taken to or from one of six light rail stations.
After considering a regional docked bikeshare system for several years, in 2018 the Sacramento metropolitan planning organization decided instead to issue a micromobility RFP that was that was ultimately awarded to JUMP (now owned by Uber), a provider of dockless e-bikes. A rider can use her smart phone to unlock a dockless e-bike and then lock it again upon completion of her trip. Some micromobility services like JUMP require that the vehicle be locked to physical infrastructure like a fence or post, while others are designed to be left anywhere with a flat surface.
The first 300 JUMP e-bikes were made available in Davis, Sacramento, and West Sacramento in May 2018, and the service proved popular in the flat, warm city with an average of 269 sunny days per year. In February 2019 Uber, the owner of JUMP, announced that Sacramento was the first American city where more trips were taken on JUMP e-bikes than on Uber's ride-hail service. At the end of Q1 2019 JUMP had around 900 e-bikes and 100 e-scooters deployed in the region. As of August 2019 Lime and Spin had also deployed e-scooters across Sacramento.
The Challenge
As micromobility began to prove popular in Sacramento, SacRT's leaders considered whether they should incorporate this new mode into agency services. In particular, e-bikes and e-scooters could offer personal, on-demand transport to and from light rail lines that provide the majority of SacRT rides. Since light rail stations were among the most popular origins and destinations for micromobility trips, micromobility companies could see value in installing utility-connected docks where their vehicles could be charged while not in use (otherwise employees or contractors must painstakingly collect the scattered vehicles and charge them offsite).
Given the operational benefits to the micromobility providers, it seemed likely that micromobility companies would install charging bays near commuter stations. SacRT faced a choice: Leaders could either allow charging stations to be built in the stations or the charging bays would be built on private property nearby (outside SacRT's jurisdiction). By installing the bays within its stations SacRT believed it could offer smooth transfers for those moving between rail and micromobility devices near SacRT stations that could block access.
The Project
After an initial introduction through the regional metropolitan planning organization, SacRT entered into a contract with JUMP that required the company to provide an up-front payment of $1,000 to install a charging bay – capable of charging up to 10 bikes – within a SacRT station. JUMP would also pay for electricity costs incurred from charging the bikes. In September 2018 the first such charging bay was installed at SacRT's City College Station.
As of August 2019, seven SacRT light rail stations had JUMP charging bays installed, with
capacity to park and charge 68 e-bikes. SacRT deliberately placed the bays in visible locations, ensuring that passengers would walk by them on their way into or out of a station.
SacRT and JUMP plan for the program to expand to 23 total stations. Additional charging bays could be installed in collaboration with other micromobility providers – including e-scooters – on the same terms. However, because charging plugs differ across providers, each company would need its own bay (and agreement of SacRT). The agency is in talks with other micromobility companies interested in codifying a partnership, but none have executed.
In addition to the infrastructure and payment agreement, SacRT also entered into a joint marketing agreement with JUMP that allowed the company to publicize the partnership.
Outcomes
Ridership on SacRT's light rail system is robust, up over 18.5% from July 2018 to July 2019. SacRT officials do not know the extent to which their micromobility program contributed to that growth, but they believe it played a significant role.
Because JUMP and SacRT did not codify a data-sharing agreement, SacRT does not have access to information about utilization rates for the bikes parked at SacRT stations, the number of micromobility trips taken to and from stations, the percent of requested rides that are unfulfilled (due to charging bays being empty, for example), etc. The agency is interested in collaborating with academics to better understand the marginal impact on ridership of its micromobility strategy.
Lessons Learned
Although pleased with the project thus far, SacRT's leaders believe they should have incorporated staff time into the permit fee for charging bays, raising the fee from $1,000 to $2,500 per bay. They also recommend that transit agencies considering such micromobility partnerships require a data-sharing agreement so that the agency can obtain robust ridership data.
Since the installation of JUMP bikes at light rail stations, some passengers have tried to board the train with an e-bike. Which is not allowed in SacRT's agreement with JUMP. SacRT plans to bring a policy to its board clarifying its policies about bringing vehicles on board and recommends that other agencies considering charging bay installations do so as well.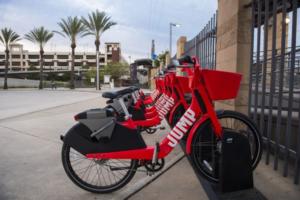 Resources Available:
SacRT- JUMP partnership documents