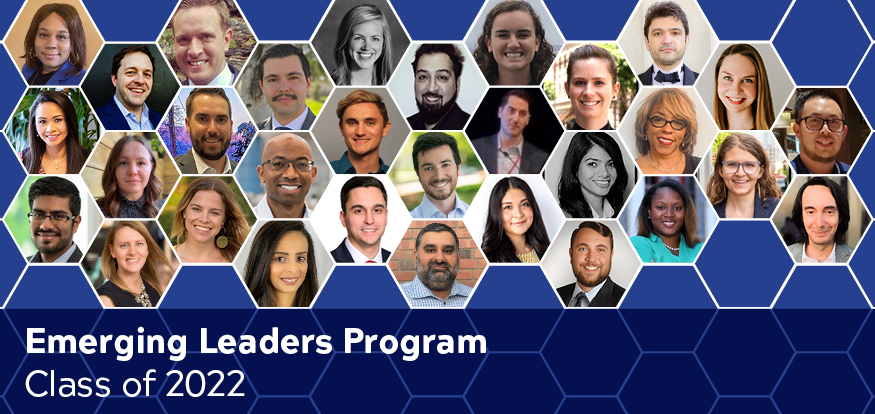 Throughout their program year, the ELP Class of 2022 explored key issues facing public transportation with industry leaders, who served as program mentors and speakers, and their peers. For their capstone projects each ELP team collected data, interviewed industry leaders, and prepared presentations that explore the latest policies and practices that organizations are applying to topical industry issues including ridership recovery, workforce challenges, technological innovations, and zero-emission bus planning.
Please join us for this informative webinar series where the members of the ELP Class of 2022 will present best practices, lessons learned, and considerations for organizations facing these challenges and opportunities, including time to answer your questions.
See below for the capstone project descriptions and links to complete your free registration for the ELP Class of 2022 Capstone Project Webinars. After registering, you will receive a confirmation email containing information about joining the webinar.
If you are unable to attend the webinar dates below, recordings of the presentations and the slides will be posted to the APTAU Learning website after the webinar series concludes.
Ridership Recovery
Wednesday, April 6, 2022 | 11:30 am -12:30 pm ET
The pandemic has revealed just how essential transit is to our communities and those who rely on it. Transit agencies have adapted and become more flexible as a result. Equity has been identified as a key metric for all decisions moving forward about how to allocate and provide service. Our project highlights the different strategies agencies have used to keep service going and build back ridership before and during COVID-19. Through a combination of questionnaires and interviews with transit agencies across North America, combined with existing resources such as white papers, case studies, etc., we will share how the industry can collectively work to transform public transportation into a more equitable resource that will retain existing riders while also attracting former and new riders.
Presenters:
Laurie Brown, Maryland Transit Administration
Tamara Davis, Washington Metropolitan Area Transit Authority
Jerome Horne, TransitCenter
Mehdi Taheri, Raul V. Bravo + Associates, Inc.
---
Transit as a Social Responsibility: How to Keep Equity at the Forefront During Corridor Planning and Implementation
Thursday, April 7, 2022 | 3:00p – 4:00p ET
Transit agencies are constantly planning, designing, and implementing corridor projects and system improvements. This capstone project focuses on how customer engagement and data can be used throughout a project lifecycle (planning and feasibility, preliminary engineering, construction and implementation, and operations) to help inform outcomes that meet the needs and desires of the community. The project explores the importance of understanding your customer base, how to best engage customers, and how to let the needs and priorities of customers drive the outcome and design.
Presenters:
Sonja Burseth, Metro Transit
Kimmy Feldbauer, AECOM
A.J. Nazem, Regional Transportation Authority
Lauren Krutty, Kansas City Streetcar Authority
---
Future of Public Transportation: Urban Air Mobility Using EVTOL Technology
Friday, April 8, 2022 | 11:30a – 12:30p ET
The popularity of Transportation Network Companies (TNC) over the last decade was a disruption that had a profound effect on public transportation. The convenience of using these TNCs led to a decrease in ridership for public transit agencies. TNCs were promoted as a solution to traffic but resulted as a significant contributor to roadway congestion. Traffic congestion is increasing at an alarming rate in urban communities and efforts to reduce this congestion have not yielded any significant results.
A future public transportation and congestion solution lies in elevating mobility to the third dimension, the sky, using Urban Air Mobility (UAM). This new and innovative technology, already advanced by the National Aeronautics and Space Administration (NASA), is in development by companies worldwide and currently progressing through the certification process to ensure safety for public adoption and acceptance.
In this elevated mobility space, Electric Vertical Take Off and Landing Vehicles (eVTOLs) can be designed to accommodate up to eight passengers (similar to helicopters), but are substantially quieter and more energy efficient, with reduced or zero emissions. This technology will revolutionize travel in the future. The time is now for the public transportation industry to be a part of the conversation on this transformative technology to ensure that we are not left out as we were during the TNC disruption.
Presenters:
Sneha George, Santa Clara Valley Transportation Authority
Navraj Padda, Alameda-Contra Costa Transit District
Rubi Sanchez, HDR Engineering, Inc.
Ashlien Savage, Foothill Transit
Calvin Wong, Los Angeles County Metropolitan Transportation Authority
---
Replenishing the Workforce through Innovative Methods
Monday, April 11, 2022 | 11:30a – 12:30p ET
Public transit workforce needs continue to evolve as rider travel habits change and new transportation technologies like transportation network companies, micro-transit, and autonomous vehicles become available. The COVID-19 pandemic has particularly challenged the transit industry to quickly adapt by introducing new practices and technologies to operations. The ability of public transit systems to sustain current service levels and expand service availability will require an industrywide examination of current and future workforce needs. In order to remain a viable utility within American communities, transit authorities will have to reinforce, attract, and replenish talent across all departments while also accounting for the challenges of labor shortages, upcoming employee retirements, and rapidly emerging technologies.
Our presentation outlines the different approaches transit agencies across the country are using to battle this shortage. These techniques cover a range of locations and transit agency size to develop a list of potential solutions and how effective the techniques have been in different situations.
Presenters:
Diana Isaza, Arlington Transit
Jacob Labutka, Pinellas Suncoast Transit Authority
Jeff La Hood, Kimley-Horn and Associates
Kilian Ollivier, EQUANS
Monique Thompson, Jacksonville Transportation Authority
---
Who Feels Safe on Your Transit System: How Transit Agencies Collect and Disaggregate Personal Safety and Security Data
Tuesday, April 12, 2022 | 11:30a – 12:30p ET
Public transit aims to serve people of all identities with safe, accessible mobility options. As a society, we are increasingly aware of the challenges that people who face gender- and race-based violence—including people of color, women, and non-binary people—experience in public spaces like transit. In particular, it is important to investigate and address these shortcomings through a lens that considers the intersection of rider identities. Our capstone project focuses on understanding how transit agencies are collecting harassment data, whether they are disaggregating by identities including gender and race, and what they are doing with their findings. Our goal is to help connect the dots across the various entities and efforts making strides in this space and to help identify current best practices for inclusive and representative information-gathering efforts. You'll walk away from our presentation equipped with an understanding of why and when to collect and disaggregate harassment data, examples from transit agencies doing this work, and resources for implementation at your own agency. Consultants and vendors can learn how to support transit agencies in their efforts.
Presenters:
Ryan Chelski, Sound Transit
Hazel Scher, Swiftly, Inc.
Kirsten Tilleman, WSP USA
Natalie Westberg, King County Metro
---
Zero-Emission Transition Planning & Funding
Monday, April 18, 2022 | 11:30a – 12:30p ET
On November 15, 2021, President Joe Biden signed the $1.2 trillion Infrastructure Investment and Jobs Act into law. This bill seeks to address the United States' most pressing infrastructure projects and guide investments in the transit industry. Nearly $39 billion of the bill is dedicated to modernizing transit including funding dedicated to zero-emission vehicle chargers and to fund the purchase of zero-emission transit and school buses. An influx of funding to that degree has the potential to expedite plans transit agencies already have in place for transitioning conventional fleets to all-electric or seeking funding for pilots where none was available. In addition to the infrastructure bill, the $1.75 trillion Build Back Better legislation, currently undergoing negotiations in Congress, proposes to invest even more funding into bus electrification efforts in the United States.
Our team surveyed public and private stakeholders in the transit industry regarding how a new influx of funding and federal policy will impact their fleet transition plans and other aspects of the industry. For example, will municipalities accelerate existing plans to transition their fleets to zero emissions? Do transit consultants expect to see any significant changes in the industry with an influx of new funding?
Presenters:
Daniel Baker, Connecticut Department of Transportation
Erik Belmont, Consultant
Derek Crone, Gannett Fleming
---
Zero-Emission Bus Infrastructure: Finding the Right Solution for Your Agency
Wednesday, April 20, 2022 | 12:30p – 1:30p ET
As Zero-Emission Bus (ZEB) technology advances it will become a more viable solution for agencies to adopt into their fleets. Some agencies such as those located in California must educate themselves quickly as they adapt to meet the 2040 California Air Resources Board (CARB) ZEB mandate. This presentation will serve as a resource tool to help agencies looking to learn more about ZEB to gain a better understanding of the infrastructure considerations their agencies must make when deciding on a viable ZEB solution. This presentation will also explore the type of ZEB infrastructure solutions currently available, associated costs, construction timelines, service restrictions, maintenance considerations, and challenges associated to each solution.
Presenters:
Mridul Banga, INIT Innovations in Transportation, Inc.
Efren Guzman Magdaleno, Swiftly, Inc.
Katie Persons, North County Transit District
Sam Stevenson, City of Tempe
Kyle Whatley, San Diego Metropolitan Transit System
---