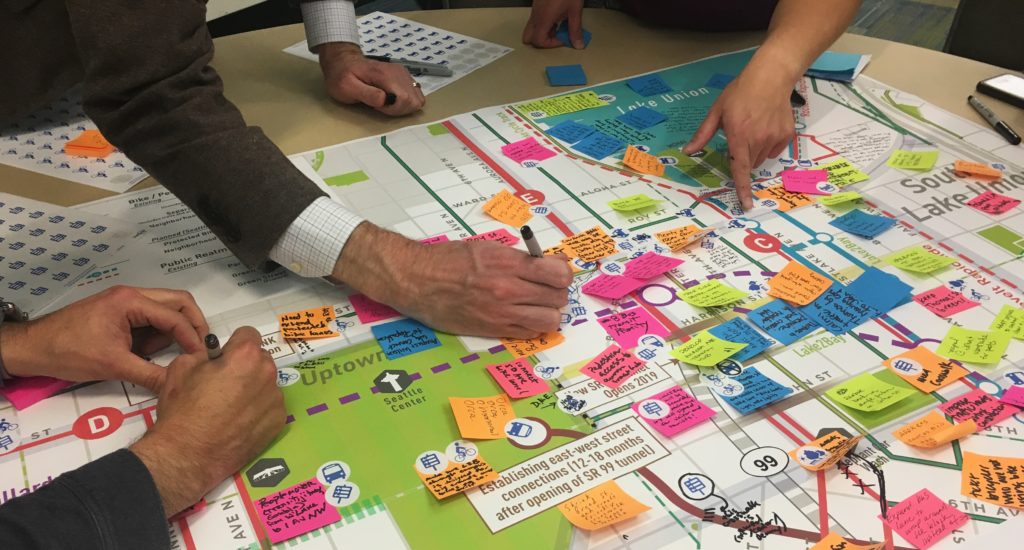 Transit agencies and their counterparts in city governments and at metropolitan planning organizations are developing 'mobility action plans' to support the transportation choices that residents want in order to move more people, more efficiently and more safely.
Mobility Framework: King County Metro
July 2019
King County, WA
Metro is developing a framework for the equitable and sustainable implementation of an integrated, regional network of mobility services and innovations. The goal is to plan for the future and set Metro and the region up to grow, invest, and innovate in a way that advances equity and addresses climate change. View progress on the plan so far.
---
Mobility Summit: King County Metro Futures Cabinet
November 2018
King County, WA
New Mobility thought leaders convened in Seattle in November 2018. Leaders across the region gathered to explore how emerging technologies and new mobility options can improve urban transportation and to tackle the tough challenges associated with implementing smart mobility policies and projects.  View Presentations and a video from the summit:
---
LA Metro Vision 2028
April 2018
Los Angeles County, CA
​The Los Angeles County Metropolitan Transportation Authority (Metro) has released its Metro Vision 2028 plan, which outlines steps to improve local mobility and quality of life over the next decade.​ View the plan​.
---
Denver's Mobility Action Plan
September 2017
Denver, CO
​Denver is ready to reinvent its transportation system with a focus on mobility, safety, equity, sustainability and smart technology to improve connectivity, economic opportunity and quality of life for everyone. Denver's Mobility Action Plan​
---
​Seattle Department of Transportation's New Mobility Playbook
September 2017
Seattle, WA
Seattle generates innovation, but the future of the city will be shaped by shared values. Seattle is committed to equity and racial and social justice. The city acknowledges that misguided decisions and plans in the last century, particularly in transportation policy and infrastructure, often made life harder for residents who were already at a disadvantage. So, as they embrace new transportation technology, they seek to shape it in a way that ensures the city's evolving transportation system works better for all of us. They will ensure new mobility puts people first. ​New Mobility Playbook