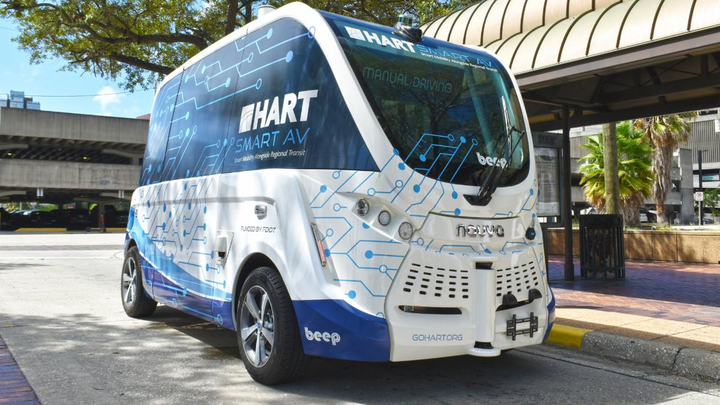 Automated vehicle technologies can range from simple systems, such as driver assistance applications, to fully automated systems that do not require a human driver. Explore how transit agencies and their partners are adopting and deploying different levels of automated technology into their fleets to improve service.
---
JTA, Beep & NAVYA Autonomous Shuttles Help Mayo Clinic Transport COVID-19 Tests
April 2020
Jacksonville, FL
For the first time in the United States, autonomous vehicles are being used to transport medical supplies and COVID-19 tests at Mayo Clinic in Florida. At a time when healthcare resources and personnel are stretched thin, the Jacksonville Transportation Authority (JTA) has partnered with Beep and NAVYA to use autonomous vehicles to facilitate the safe transport of COVID-19 tests collected at a drive-thru testing location at Mayo Clinic in Florida.
JTA Tests First ADA Accessible Autonomous Transit Vehicle In The US
November 2019
Jacksonville, FL
The transit agency is testing what it says is the first Americans with Disabilities Act accessible autonomous vehicle in the U.S. JTA CEO Nathaniel P. Ford Sr. said the transit agency has made ADA accessibility a requirement for the Ultimate Urban Circulator autonomous vehicle program, nicknamed U2C.
Unconventional vehicles:  Beachside buggies provide free, on-demand transit with eight-seat electric carts and 14-passenger vans.  In addition, JTA's open-air, on-demand three-wheeled tuk-tuks are a mobility option during the COVID-19 era. 
Ultimate Urban Circulator:  JTA's Ultimate Urban Circulator is a multi-phased program aimed at converting and expanding Jacksonville's automated people mover into an automated vehicle network.   A test track opened in 2017 to experiment with machine learning, and to assure that technological malfunctions do not pose safety risks to riders. 
Automated deliveries:  JTA is using automated vehicles to facilitate the safe transport of COVID-19 tests collected at Mayo Clinic as an opportunity to use technology to respond to a community need.  JTA is leveraging learnings from three years of testing automated vehicles 
---
HART launches SMART AV pilot for Marion Street Transitway
October 2020
Hillsborough County, Florida
The Hillsborough Area Regional Transit (HART) and partner Beep launched the Tampa Bay region's first fully electric automated vehicle program on Oct. 12. The one-year pilot program, which is funded by the Florida Department of Transportation (FDOT), will see a self-driving shuttle traversing the Marion Street transitway in downtown Tampa.
---
New Flyer, Connecticut Department of Transportation to Deploy First Automated Transit Bus in North America
June 2020
Connecticut
New Flyer of America Inc. will deploy North America's first automated heavy-duty transit bus with the Connecticut Department of Transportation (CTDOT). The automated driving demonstration project will include the deployment of three 40-foot battery-electric, Xcelsior CHARGE™ heavy-duty transit buses.
---
Pinellas Suncoast Transit Authority (PSTA) Officially Opened the First Inductive Wireless Charging Station on the US East Coast
June 2020
Pinellas County, FL
PSTA officially opened the first inductive wireless charging station on the US East Coast in June 2020. This new wireless charging station includes a primary charging plate aimed at reducing the wait time for electric buses to be fully charged. Read more about PSTA's wireless charging initiative.
---
Linden LEAP Level 4 AV Shuttle Launches in Columbus, OH
February 2020
Columbus, OH
As part of the US Smart Cities Challenge Grant, the City of Columbus has launched the Linden LEAP in South Linden neighborhood. For 1-year, this pilot will offer free service and the opportunity to experience level 4 AV, or full autonomy with the ability for an operator on board to control the vehicle if needed. Several Smart Columbus programs are planned to be transferred to the Central Ohio Regional Transit Authority (COTA) and made permanent.
---
CCRTA Introduces Autonomous Shuttle at Texas A&M
January 2020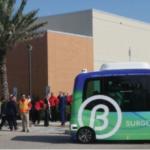 Corpus Christi, TX
The Corpus Christi Regional Transportation Authority introduced the first autonomous shuttle in the region. This service is one of the first AV services in the US to operate on a complex route, exposed to vehicular and pedestrian foot traffic.
---
Livermore Amador Valley Transit Authority (LAVTA) Shared AV Pilot
December 2019
Livermore, CA
UPDATE: LAVTA will partner with Transdev to operate a shared autonomous vehicle (SAV) pilot. This pilot is central to LAVTA's Mobility Lab and will provide first/last mile connections for customers whom are not within walking distance of BART or LAVTA bus lines.
In June 2018, LAVTA, operators of the popular Wheels and Rapid bus services and the Go Dublin partnership with transportation network companies, is exploring an innovative shared autonomous vehicle demonstration project within the City of Dublin in collaboration with the City of Dublin, Contra Costa County Transportation Authority, First Transit and the GoMentum Station in Concord, California.
---
RTD Denver Autonomous Shuttle Partnership
December 2017-August 2019
Denver, CO
​The 61AV project is a partnership between various stakeholders that introduces an autonomous vehicle demonstration on a public roadway in a small defined geographic area. The project goal is to assess the reliability and availability of an AV shuttle service and its applicability to a transit application. The 61 AV demonstration project concluded on August 2, 2019. Read the final report here.
---
METRO to Test Self-Driving Vehicles
June 2019
Houston, TX
​The Metropolitan Transit Authority of Harris County (Metro) board approved up to $250,000 for the first stage of an automated vehicle pilot program. The vehicle is limited to a mile-long path on the Texas Southern University (TSU) campus, driving at 12-miles-per-hour. An operator will be on board the shuttle at all times. Operations began in June 2019. Phase two will incorporate a first mile/last mile service connecting passengers to the TSU campus a nearby rail station and the University of Houston campus.
---
Presentation: Future of Streets by Andres Sevtsuk
April 2019
Presented at the APA National Planning Conference. Presentation by Andres Sevtsuk, Associate Professor of Planning and Director, City Form Lab, Harvard Graduate School of Design.
---
Presentation: Automated Buses: Fantasy or Reality? by Paul Skoutelas
October 2018
Presentation by APTA CEO Paul Skoutelas.
---
Denton County Transportation Authority (DCTA) Drive.ai Announces On-Demand Self-Driving Car Service on Public Roads in Texas
July 2018
Denton County, TX
​This pilot program is a model for the deployment of self-driving vehicles in a public setting, one of the first of its kind in the nation, and a major step forward for the industry. Drive.ai's self-driving on-demand service will be operated in conjunction with Frisco TMA, a public-private partnership dedicated to bringing innovative last-mile transportation options to the growing population of Frisco, Texas. The Frisco TMA includes the City of Frisco, HALL Group, Frisco Station Partners, The Star, and the Denton County Transportation Authority, which will administer the program.​ Read more here
---
JTA's Ultimate Urban Circulator
Forthcoming
Jacksonville, FL
The U2C​ presents a bold new vision for the Skyway that will allow the system to reach existing and planned developments in and near Downtown Jacksonville to improve accessibility to the transit system. The U2C will make at grade extensions into nearby historic neighborhoods that maybe too costly and intrusive if the existing elevated people mover system was extended.
The U2C will convert the elevated Skyway infrastructure by removing the guidebeam, creating a smooth running surface and modifying the station areas to accommodate autonomous transit vehicles. Ramps will be added to allow the vehicles to operate at street level, either in dedicated lanes or mixed traffic, as technology and conditions permit. State of the art technology will oversee the system to ensure safe, efficient, effective and customer-friendly operations.
The U2C will include a larger fleet of smaller vehicles that will allow optimal operational flexibility. The vehicles will be able to operate individually for higher frequency (2-3 minute headways), or in virtual train sets to address peak loads. The ultimate vision for the system includes the ability to provide point-to-point and demand responsive service.
---
Valley Metro + Waymo announce technology & transit partnership
July 2018
Phoenix, AZ
​Valley Metro and Waymo joined forces to introduce a new partnership that will help drive the future of transportation. Using Waymo's self-driving vehicle technology, Valley Metro will participate in an innovative travel solution pilot that can be modeled across the country.​​ Visit their website to learn more about the partnership
---
Capital Metro, City of Austin and RATP Dev USA are Testing Autonomous Transit
June 2018
Austin, TX
Capital Metro, Central Texas' transportation agency, will explore automated vehicle (AV) technology through evaluation demonstrations. If testing goes well, a pilot service is expected to follow. The announcement came by way of a presentation delivered at the agency's monthly board meeting.
---
RTC of Southern Nevada, AAA, and the City of Las Vegas' Self-Driving Shuttle Pilot Program
November 2017 – October 2018
Las Vegas, NV
Overview:
In partnership with AAA and Keolis, the city of Las Vegas and the Regional Transportation Commission of Southern Nevada (RTC) have brought the future of transportation to America, and specifically, to downtown Las Vegas, with the nation's first public self-driving shuttle pilot project.
The pilot project was also the country's first self-driving shuttle to be fully integrated with "smart city" infrastructure by communicating vehicle-to-infrastructure with devices such as traffic signals. Southern Nevada has one of the nation's first truly integrated Intelligent Transportation Systems across all jurisdictions in the region with the RTC Traffic Management Center, making it easier for technology companies to access data and demonstrate products that require connection to traffic signals and monitors. For this pilot, the traffic signal data was communicated to the vehicle via Dedicated Short Range Communication (DSRC) radios as it travels along routes in an area bound by Las Vegas Boulevard and Fremont, Carson and Eighth Streets.
The all-electric, self-driving (Navya ARMA) shuttle offered people free rides so they can experience autonomous transportation in a real-world environment. Covering a 0.6-mile loop in the Fremont East Entertainment District within the Innovation District of downtown Las Vegas, it was the largest self-driving pilot in the country to operate in live traffic and be geared specifically for the public. Over the course of a year, the self-driving shuttle provided over 32,000 people a first-hand experience of autonomous vehicle technology, exposing most riders to the technology for the first time.
The shuttle can achieve a top speed of 28 mph, but operated at roughly 15 mph. It carried up to 8 passengers with seatbelts per trip plus a safety attendant from Keolis to supervise operation and communicate with riders. The shuttle did not have a steering wheel or gas/brake pedals as it was guided by front and rear cameras, light-detecting sensors (including two 360-degree multi-layer LIDARs and six 180-degree mono-layer LIDARs), GPS and other state-of-the-art autonomous vehicle technologies. The vehicle used positional information and sensor data to create a three-dimensional image of its environment and make navigation decisions using its control system. These systems allowed the vehicle to detect unexpected obstacles in its vicinity and come to a safe stop when necessary.
The Pilot:
This was a one-year (November 2017 – October 2018) pilot demonstration. The pilot project, funded by AAA and Keolis, was based in the heart of downtown Las Vegas because the city has developed and promoted progressive policies to further mobility and established an Innovation District to concentrate smart city technology infrastructure investment and testing. The self-driving shuttle was a natural addition to the Las Vegas Innovation District.
Recent surveys have identified that one of residents' key needs is improved mobility choices and equity. Having more demand-driven choices for mobility and reliable transportation choices are challenges the city is addressing to both satisfy our resident demands and reduce the impacts on roadways. Connected and autonomous vehicles (CAV) have been identified as an opportunity to provide as a mobility option while increasing roadway safety and capacity. CAVs were identified as a potential solution through planning efforts included in the city's Multimodal Mobility Master Plan and the city's USDOT's Smart City Challenge Grant Application. The city's Smart City Vision is to be a place where transportation works seamlessly with all other public service entities and improves the quality of life for all by, each year, giving our more than 2.2 million residents, and nearly 42 million tourists and business travelers an experiential demonstration of what it is like to move about and be a part of a Smart City. This project was made possible through the public-private partnership between City of Las Vegas, RTC, AAA, and Keolis with the common goal to introduce the public to autonomous vehicle technology and evaluate how it operates in a real world-environment. It is believed that AV technology has the potential to increase mobility access and improve safety.
Additional Resources:
Agreement between the City of Las Vegas and Keolis
Joanna Wadsworth, City of Las Vegas