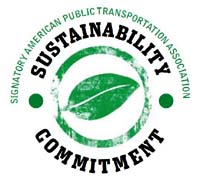 The APTA Sustainability Commitment recognizes members who commit to becoming more sustainable in their operations and practices. Through a series of core sustainability principles, the Commitment provides both agency and business members with a common framework that helps define, initiate, and advance sustainability in the public transportation industry. These principles include:
Making sustainability a part of your organization's strategic objectives
Identifying a sustainability champion within the organization coupled with the proper human and/or financial resources and mandates​
Establishing an employee outreach program that engages staff on:

​how they can help realize the organization's sustainability goals
the organization's progress in meeting those goals

​​​​​U​​ndertaking a sustainability inventory of your organization
Provide the transit industry with products and services that contribute to sustainability (for business members/non-operators)
​There are no prerequisites for members to sign the commitment, and signatories can meet the core principles on their own timing and resource availability.​ Member signatories provide brief annual updates on their intent to fulfill these principles. They receive further recognition by applying for and obtaining higher levels of recognition, which requires a demonstration of increasingly greater numbers of short- and long-term sustainability achievements and targeted improvements across key indicators. Levels of recognition start at Bronze and advance through Silver, Gold and finally Platinum.
The APTA Sustainability Commitment Signatories
Overview of the Sustainability Commitment for:

Transit Agencies
Business Members/Non-Operators​

How to Participate
Members can become signatories by completing and submitting a Co​mmitment Application Form and submit their annual updates using the following template (Excel). They can apply for higher recognition or report on their adherence by using an appropriate application template:
Transit Agencies

Commitment Application Form
Higher-Level Recognition Application Template

Business Members/Non-Operators

Commitment Application Form​​
Higher-level Recognition Application Template
Signatories may also indicate their interest in receiving higher levels of recognition by completing the recognition application form​. Agencies looking to measure baseline and follow-up indicators may use the Transit Emissions Quantifier Tool to calculate their criteria air pollutant emissions, greenhouse gas emissions and greenhouse gas savings:
Transit Emissions Quantifier Tool
User's Guide​
APTA members who have signed the Sustainability Commitment can access the Sustainability Commitment Forum to participate in discussion pertaining to implementation of the commitment.​​​​