Transit agencies are forming partnerships with TNCs in order to make their services more available to a wider audience, to leverage new technology, and to improve mobility choices for their customers.
---
Miami-Dade Transit | Uber & Lyft
April 2020
The Department of Transportation and Public Works (DTPW) for the city of Miami is suspending overnight Metrobus service on Miami-Dade Transit and has partnered with Uber and Lyft on a new Go Nightly on-demand ride option. DTPW says the decision to launch Go Nightly came following drastic ridership decline associated with the COVID-19 pandemic and the department notes partnering with Uber and Lyft on the new program allows for essential service to continue.
MDT has been innovative in filling service gaps with more efficient service options and being among the leaders in developing a clever rider loyalty program.   
Alternative Transportation: Miami-area residents requiring transportation for essential trips between midnight and 5 a.m., can now use Miami-Dade Transit's recently launched Go Nightly on-demand ride option along nine bus routes that normally run overnight.  
On-demand Shuttles:  A new dynamically routed, on-demand, app-based transit service provides first-mile / last-mile connections to certain Metrorail stations. 
Transit Rewards Program:  The GO Miami Dade Transit (MDT) mobile app includes a loyalty rewards platform wherein riders earn loyalty points when they view or interact with ads on MDT's mobile app, or when the use transit.  Further, riders can now get rewards points for answering a daily survey promoting protective face coverings and social distancing measures, and for traveling outside peak demand hours to ensure sufficient seats for essential workers so that they are not left behind by limited capacity buses.  
---
Pinellas Suncoast Transit Authority |Uber, United Taxi and Care Ride
AUG 2016 – Present
Pinellas County, FL
To help low-income residents travel to and from work when bus service is not available, the public transportation authority of Pinellas County, Florida, created the TD Late Shift program with private partners Uber and United Taxi, and Care Ride (wheelchair provider). Launched in 2016, the program provides fully-subsidized ride hail and taxi trips to or from a place of work during nighttime hours. The program has been very popular with riders, and PSTA has continued it for three years. PSTA is currently exploring ways to extend it to serve additional Pinellas County residents.
The Partnership:
PSTA launched the TD Late Shift program in August. 2016 to provide no-cost transportation to low income passengers commuting to or from work at night. Participating residents can take up to 25 free trips to or from work in a month. Each ride must occur between 10:00 p.m. and 6:00 a.m. and must begin and end within Pinellas County.
Ninety percent of the program's funding (around $500,000 per year) comes from the statewide Florida Commission for the Transportation Disadvantaged, with PSTA providing a 10 percent local match.
Any private mobility provider can be a part of TD Late Shift by entering into a contract with PSTA. United Taxi, a local taxi service, Care Ride, a local wheelchair provider, and Uber all signed up in 2016 and continue to provide service in partnership with the city. The cost of participating in TD Late Shift is $9/month for a qualifying Pinellas County resident, which is added to the $11/month cost of the monthly TD bus pass. According to Uber, the average cost of a trip within Pinellas County at night is between $11 and $16, meaning that the monthly value of the 25 free trips could be more than $300.
To participate in TD Late Shift, a Pinellas County resident must first be part of the TD program, which verifies income- and residence-based eligibility. Once approved for TD Late Shift, a commuter must choose whether to use United Taxi or Uber for his or her commutes. Each company reports rides to PSTA regularly for reimbursement, with the agency kicking out any participant who abuses the rules (i.e., taking a trip outside of Pinellas County or to and from locations that are clearly not work-related).
PSTA evaluates the success of the program by the number of participating residents. Because the agency verifies that every participant in TD Late Shift has a limited income and does not have reliable access to a personal vehicle, the agency assumes that most participants would not be able to hold a nighttime job in the absence of the program.
Additional Resources:
Contract with Uber
Amendment signed by Uber to provide origin and destination information for riders:
Monthly Rider Data Aggregation by PTSA
PSTA internal training materials
Contact: Bonnie Epstein
Pinellas Suncoast Transit Authority (PSTA):  PSTA has been a trailblazer in contracting with TNCs to fill service gaps, and to provide essential mobility in a more cost-effective way.     
Shared-Ride Programs:  PSTA's TD Lateshift program helps low-income residents travel to and from work when bus service is not available.  This program is in partnership with Uber, United Taxi, and Care Ride (wheelchair provider).  During the pandemic, PSTA has offered shared-ride services to help essential workers who can no longer rely on buses because of capacity limits or reduced service. 
Fast-Charge:  To reduce wait time for electric buses to be fully charged, PSTA opened a wireless charging station in June 2020. 
Automated Shuttle:  In July, PSTA launched an automated shuttle pilot in downtown St. Petersburg. 
---
MARTA launches pilot program with Uber
Uber and the Metropolitan Atlanta Rapid Transit Authority (MARTA) are partnering for a one-year pilot program to provide customers greater flexibility and more options for their transportation needs when normal service is disrupted.
MARTAConnect will offer on-demand app-based rides for customers during specific planned and unplanned rail service disruptions that require supplemental bus transportation.
---
St. Louis Metro and Via
July 2020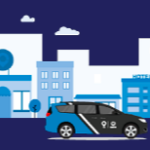 The new service, called Via Metro STL, will be introduced in two areas — in southwest St. Louis County including Fenton and Valley Park, and in North St. Louis County.
---
Marin Transit Awards Uber Contract for Marin Connect
June 2020
Uber and Marin Transit are teaming up to provide residents a new, on-demand public transit option up and around the Highway 101 corridor in Marin County. With a population of diverse needs, and a desire for increased flexibility in these times, this partnership will offer residents expanded mobility options to and from doctor's appointments, grocery stores, SMART transit stations, and more.
---
DART Awards Uber Contract for GoLink Service
May 2020
Uber Technologies, Inc., has been awarded a three-year contract by the Dallas Area Rapid Transit (DART) Board for rideshare services to supplement the agency's GoLink program. Uber will provide additional capacity across the agency's 13 GoLink service zones.
---
Depaul University's Chaddick Institute Indicates an Projected Increase in Transit-TNC Partnerships
April 2020
Targeted partnerships with rideshare providers for on-demand service can be an effective tool as public agencies begin to look at ways to recover from the current health crisis. The study, 21 Key Takeaways from Partnerships between Public Transit Providers and Transportation Network Companies in the United States, explores the risk and rewards of partnerships involving rideshare providers such as Lyft, Uber and Via to provide on-demand service.
---
LA Metro | Lyft
March 2020
Lyft riders can now take shared rides to and from select Metro rail stations during weekday rush hour for a $3 flat fare. Once Lyft riders take three shared rides, they will receive an email with a link and information to redeem ten dollars of credit on their TAP accounts. This promotion is available through April 30, 2020.
---
Metrolink | Lyft
December 2019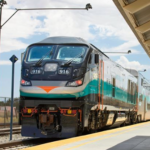 Metrolink riders traveling to Ontario International Airport (ONT) now have a new mobility option with sponsored Lyft rides from four Metrolink stations and Omnitrans transit centers thanks to a partnership with the San Bernardino County Transportation Authority (SBCTA). The program covers up to $35 off each Lyft ride connecting ONT with one of the Metrolink stations at Montclair, Upland, Rancho Cucamonga and Ontario-East. SBCTA is funding the $396,000 pilot program to increase public transportation ridership servicing ONT.
---
Pace | Rideshare
November 2019
Pace's Board of Directors approved two intergovernmental agreements for grant funding from the Regional Transportation Authority (RTA) and Cook County, each valued at $125,000. The grants will support two pilot projects, one at the Pace Harvey Transportation Center and the other between the O'Hare Airport South Cargo Area and the CTA Blue Line Rosemont Station.
These pilots aim to test the viability of using ridesharing services, otherwise known as Transportation Network Companies (TNCs), to provide critical first mile/last mile connections in areas where conventional fixed-route bus service is not always available. The pilot projects will test service during overnight hours to help third-shift employees get to work. They will last for one year, or until funding has been depleted. The projects' cost is expected to be funded entirely by the two external grants. The agency hopes to launch the pilots early next year.
---
Des Moines Regional Transit Authority (DART) | Uber | Yellowcab
November 2019
Flex Connect is a new on-demand service DART is testing that connects riders in the Flex Connect zone to DART buses. With Flex Connect, riders in the zone can book an Uber, YellowCabCo. taxi or a DART accessible vehicle to take them to and from one of three transfer points. Flex Connect is free for the duration of the pilot program (October 14, 2019 through mid-October 2020)! Riders pay regular fare when they connect to a DART route.
---
MetroLink St. Louis | Lyft
October 2019
Metro has partnered with Lyft on a new pilot program to make it easier to access the Metro Transit system. Residents in one of eight neighborhoods in the St. Louis region can ride Lyft to a nearby Metro Transit center or MetroBus stop for just $1.
To be eligible, residents must start or end their $1 Lyft trip within 500 feet of selected streets in St. Louis County and the City of St. Louis. These corridors were selected for the pilot program based on customer feedback and because of their distance from current Metro transit options.
---
Presentation: Partnerships with TNCs: Considerations and Steps for Successful Partnerships
August 2019
Transit agencies have a lot to consider when entering into a partnership with a TNC. View the presentation here.
---
RTD Denver | Uber
May 2019 – Present
Denver, CO
RTD is uniquely positioned to be the regional mobility integrator for metro Denver, notes CEO and General Manager Dave Genova. Establishing partnerships with providers such as Uber enables the transit agency to best meet the needs, demands and expectations of a growing population, at a time when the industry is in a state of change. With Uber Transit ticketing now available to all riders in Denver, growth of ticket sales on the app has climbed roughly 28% per month. Uber Transit ticketing was launched to a small cohort of users in May, and became available to 100 percent of Uber users in Denver on June 25, 2019
---
Big Blue Bus (BBB) | Lyft
July 2018 – Present
Santa Monica, CA
In 2017, Big Blue Bus (BBB) overhauled its dial-a-ride (DAR) program by rebranding to Mobility on Demand Everyday (MODE) and providing on-demand DAR service. The previous DAR service was costly to operate, highly subsidized and oversubscribed during weekday mornings, yet undersubscribed at all other times. The purpose of MODE was to replace the existing service, improve customer experience, provide same-day mobility options for DAR customers, and reduce the cost of DAR service for the transit industry.
The partnership:
In order to ease the onboarding process and transition for DAR customers, BBB provided a temporary overlap of service between the new and the old program. Price, eligibility, and service area requirements through MODE are consistent with the previous DAR program. All trips cost $0.50, however customers may travel with up to three companions at an additional cost of $.50 each, or one personal car attendant for $0.25. Customers must be age 60 or older, or age 18 or older with a disability, registered through MODE, and certified by WISE and Healthy Aging. Existing DAR customers are required to reregister with BBB to participate in MODE. Non-smartphone customers can request a LYFT ride by phone, while unbanked customers can also request a Lyft ride by phone by depositing funds in an account held by BBB. ADA customers can reserve a BBB-operated vehicle by phone.
The service area consists of the Santa Monica city limits, select shopping destinations in Venice, and three nearby major medical facilities. Trips are limited to the following hours of service:
Monday to Friday: 8:00 a.m. to 6:00 p.m.
Saturday: 8:30 a.m. to 3:30 p.m.
Sunday: 8:00 a.m. to 1:30 p.m.
---
Capital Metro (CapMetro) | RideAustin
June 2018 – December 2018
Austin, TX
In June 2014, CapMetro completed a service change plan that eliminated and rerouted several fixed bus routes that did not meet productivity thresholds. In 2017, a subsequent transit study focused on reorganizing bus routes and substituting low-performing service with six "Mobility Innovation Zones." These innovation zones were envisioned to serve as testing grounds for alternative transportation pilots. The Exposition Innovation Zone was chosen as the first pilot due to the elimination of a bus route that left a one-mile stretch of Exposition Boulevard without transit service. As a result, CapMetro developed a first mile/last mile pilot to provide service between the Exposition Innovation Zone and two of the nearest bus stops.
The partnership:
RideAustin provides unlimited, fully subsidized rides between the Exposition Innovation Zone and two of the closest bus stops. The subsidy is automatically applied to weekday rides between 7 a.m. and 7 p.m. that begin and end in a geofenced service area. The service area consists of a one-square mile area in the innovation zone, and a quarter-mile radius surrounding each bus stop.
---
Presentation: First/Last Mile: Partnerships & Innovation| Lyft
April 2018
---
Central Pennsylvania Transportation Authority (Rabbittransit) | Lyft and Uber
May 2017 – Present
Central Pennsylvania, PA
The Partnership:
The transit agency schedules Lyft and Uber trips directly on behalf of customers when the TNC trip is cost effective and the customer is ambulatory. The transit agency provides capacity in its scheduling software for Lyft and Uber. When the transit agency determines that a particular trip meets the requirements for a TNC trip, the dispatcher requests the trip for the customer, using a computer or a smartphone app. When a TNC driver accepts the trip, the dispatcher contacts the customer with trip information.
Contact Information: Rich Farr
---
Denton County Transportation Authority (DCTA) | Lyft and Uber
October 2016 – Present
Denton County Region, TX
In 2016, the Denton County Transportation Authority completed a comprehensive operational analysis of its two fixed-route bus networks. These networks served two of DCTA's three-member cities (Denton and Lewisville), but provided limited access to Highland Village – a lower-density suburb with less demand for public transit. The DCTA board directed staff to explore additional mobility options for Highland Village residents, including a potential TNC partnership.
The Partnership:
DCTA's initial Uber partnership program provided a $2 discount for all trips within Highland Village, as well as trips between Highland Village and a nearby hospital in Lewisville. Customers could use the service to connect with A-train regional rail service to Dallas and Denton or local bus service to Lewisville. Trip requests and payment were completed directly through the Uber app, which displayed a DCTA menu option when customers were within the Highland Village pilot area. DCTA also continued to provide a directly-operated on-demand service, which customers could request by phone at least two hours in advance, as well as ADA paratransit service. Lyft replaced Uber as the program vendor after being selected through the on-call RFP process.
Contact information: Kristina Holcomb
---
Los Angeles County Metropolitan Transportation (LA Metro) | Via
January 2018 – January 2019
Los Angeles County, CA
In October 2016, LA Metro was awarded, jointly with Sound Transit and King County Metro a Mobility on Demand (MOD) Sandbox grant of $1.35 million from FTA to provide first mile/last mile access to select transit stations. The partnership aims to improve mobility by increasing ridership for the agencies and to test a new business model.
The Partnership:
In a one-year pilot starting in early 2018, Metro will use its MOD funding to provide subsidized Via rides to customers whose origin or destination is one of three selected rail/BRT stations: North Hollywood, Artesia, or El Monte. Customers will book shared rides in vehicles operated by independent contractors that pool customers who are going the same direction to each station.
Contact Information: Nadine Lee and Tham Nguyen
---
Livermore Amador Valley Transit Authority (LAVTA) | Go Dublin!
January 2017 – June 2019
Livermore, CA
The Partnership:
GoDublin! Uses geofencing technology to provide a 50% discount (up to $5.00) for trips that start and end within Dublin city limits (a six-square mile region). Only shared rides booked through UberPOOL, Lyft Line, or DeSoto Share are eligible for the promotion. Customers who do not have access to a smartphone, wish to pay in cash, or are in need of a wheelchair-accessible vehicle can request rides by calling the DeSoto Cab Company.
---
Metropolitan Atlanta Rapid Transit Authority (MARTA) | Lyft and Uber
July 2015 – Present
Atlanta, GA
In a region experiencing high population growth but a decline in ridership, MARTA began exploring innovative ways to market their services and provide access to destinations out of reach by transit. MARTA initially wanted to leverage TNCs to provide customers with access to MARTA rail stations so they could complete their trips to the airport by transit.
The Partnership:
MARTA's partnerships with Uber and Lyft included discounts, ranging from 20 to 50%, for trips that began or ended at MARTA rail stations. The discounts were intended to encourage transit use to destinations such as the Hartsfield-Jackson Atlanta International Airport. The "MARTA on the Go" app also provides access to the Uber platform.
---
Massachusetts Bay Transportation Authority (MBTA) | Lyft and Uber
September 2016 – Present
Boston, MA
In September 2016, the MBTA initiated a pilot through Lyft and Uber to provide an alternative to its traditional ADA paratransit service known as The RIDE. The pilot was intended to reduce the overall cost of providing paratransit, while alsoproviding an on-demand transportation option. The MBTA has experimented with various co-pay amounts, subsidy caps, and trip caps – with the intention of understanding how program design affects overall cost and customer mobility.
The partnership:
Customers who opted into the pilot could choose to use either Uber or Lyft for on-demand trips, providing an alternative to The RIDE's one to seven day advanced reservation service. Customers sign up for thee pilot via Uber or Lyft's website. Applications are verified by the MBTA, and then the pilot program is activitated to the Customer's account by either Lyft or Uber. Customers can make any trip within The RIDE service area during The RIDE service hours, with certain restrictions (discussed below), and the customer's copays are automatically adjusted with the app. Both Uber and Lyft have worked with the MBTA and/or third-party vendors to provide trip request, service and payment options that ADA and Title VI compliant.
Additional Resources:
View the RFP
---
Omnitrans | Lyft and RIDE Taxi
July 2016 – Present
San Bernardino, CA
Omnitrans provides a range of specialized transportation services for seniors and people with disabilities. As the transit agency is responsible for coordinating human services transportation with designation as the region's Consolidated Transportation Services Agency, its goal is to give seniors and people with disabilities service options beyond ADA paratransit.
Other objectives include providing a same-day trip option and helping to reduce the cost for ADA paratransit.
The Partnership:
Seniors age 62 and above and people with disabilities who livie within the Omnitrans service area are eligible for transit agency's several specialized programs, which include RIDE Taxi and Lyft. Interested indiviuals complete a written application form to determine eligibility, which includes signing a "hold harmless" form.
Trips through Lyft require the individual to have a smartphone and Lyft account. For those who need accessible service or do not have a smartphone (or bank account), the taxi service is available.
To use Lyft, an eligible individual can purchase a code for $40 that gives $80 worth of Lyft transportation. The individual inputs the code into their personal Lyft account. Each month, the individual can purchase the same amount of Lyft service for $40 by calling the transit agency. Originally, the code had no expiration date but, with changes by Lyft as of April 2018, a code is valid only for the calendar quarter it is purchased. Customers are informed of the expiration date before they decide to purchase a code.
To use the taxi service, an eligible new individual can buy $80 worth of taxi transportation loaded onto a debit card for $40. The card is issued by the transit agency. Each month thereafter, the individual can "reload" the card for $80 worth of taxi service for $40 by contacting the transit agency.  Eligible users can obtain the subsidy only once per month.
---
Pierce County Transit |Lyft
May 2018 – May 2019
Pierce County, WA
In 2016, Pierce Transit was awarded a grant for $205,922 through the MOD Sandbox Demonstration Program to implement a yearlong pilot partnership entitled "Limited Access Connections." The overarching goal was to increase transit connections by addressing challenges such as limited transit access to less dense areas, early service termination, long wait times, and highly utilized park-and-ride lots.
The Partnership:
Pierce Transit provided free rides to customers in four specific zones with the transit agency's service area. Each zone was issued a different code and could only be used at certain times and days of the week. Customers were limited to a maximum of 48 rides per month.
Agreement between Lyft and Pierce County Transit
---
Sacramento Regional Transit (SacRT) | Lyft, Uber and Yellow Cab Company
MAY 2018 – MAY 2019
Pierce County, WA
In 2016, Pierce Transit was awarded a grant for $205,922 through the MOD Sandbox Demonstration Program to implement a yearlong pilot partnership entitled "Limited Access Connections." The overarching goal was to increase transit connections by addressing challenges such as limited transit access to less dense areas, early service termination, long wait times, and highly utilized park-and-ride lots.
The Partnership:
Pierce Transit provided free rides to customers in four specific zones with the transit agency's service area. Each zone was issued a different code and could only be used at certain times and days of the week. Customers were limited to a maximum of 48 rides per month.