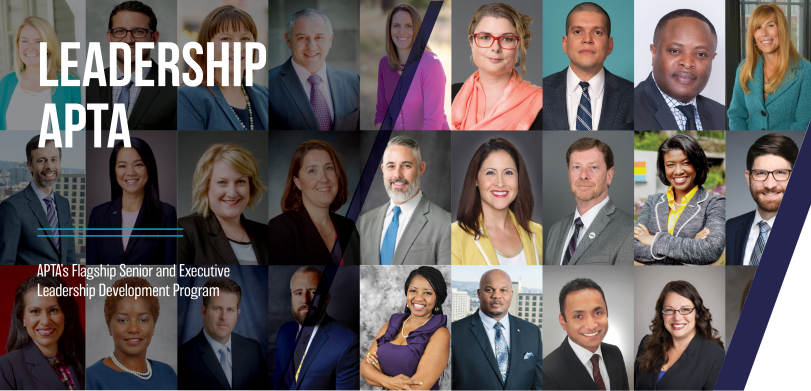 The application process for the Leadership APTA Class of 2024 is closed.
Stay tuned early in 2024 for information on applying for the Class of 2025.
Letter from Ms. Lauren Skiver, Chair, Leadership APTA Committee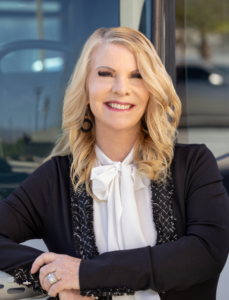 Dear Colleagues,
We are pleased to announce that the Leadership APTA program is now accepting applications for the Leadership APTA Class of 2024. APTA and the industry are enormously proud of the program's history and its over 630 graduates since the first Class of 1998.
Leadership APTA is about developing and supporting exceptional senior and executive leaders for APTA and the transit industry. Over the years, program alumni have made outstanding and visionary contributions to APTA, the industry, and their own organizations and communities.
Program graduates have served as APTA Chair, members of APTA's Executive Committee, and Board of Directors. Alumni have chaired numerous committees, special projects and initiatives, and mentored future leaders.
Alumni have risen to senior and executive leadership positions in the public, private, federal, and state sectors. They have led a wide spectrum of organizations and provided countless examples of remarkable leadership.
Incoming members of the Leadership APTA Class of 2024 will define a new vision for the future and develop leadership attributes needed to navigate our ever-changing operational paradigms. They will develop new skills, insights, and practices. Class members will demonstrate and embrace diversity, equity, inclusion and social justice in new ways.
We will present incoming class members with a rich and varied program carefully designed to expand their knowledge of transit and more importantly, themselves. Through their capstone projects, they will address pressing industry challenges and give back to the industry. During the year, class members will have first-hand access to highly respected executive leaders and benefit from their wisdom, knowledge, and experiences. We will provide the tools, resources, and connections to support their growth and development.
Their year in the program becomes a time for personal transformation and enrichment. Class members will build new relationships, alliances, and partnerships, and propose new and better ways to advance our industry and to serve our communities.
The Leadership APTA Class of 2024 application deadline is Friday, May 19, 2023. Please visit this website which provides additional information. Be sure to take careful note of the application elements and objectives.
We look forward to receiving your application and welcome your questions. If you need assistance regarding the program or the application process, please contact APTA's Joe Niegoski at jniegoski@apta.com
Sincerely,
Lauren Skiver
Chief Operating Officer
Maintenance, Rail, NEMT, Safety and Security
Transdev North America
---
Program Overview
Leadership APTA is committed to identifying and selecting a diverse, engaged,  and committed group of dedicated and highly motivated industry professionals from among APTA's membership to participate in the transit industry's premier senior and executive leadership program. Leadership APTA has become a highly recognized and respected program  to prepare the next generation of visionary senior and executive leaders of APTA and the public transportation industry​.
This summer, the Leadership APTA Committee will select the program's 26th class since the program's founding. They will invite up to 35 individuals from among APTA member applicants to participate in an intensive year-long program including in-person executive roundtables, skill-building workshops, conferences, team-driven capstone leadership projects along with, virtual sessions, meetings, featured workshops and events.
Why apply to Leadership APTA?
Commit to a life-changing experience
Transform how you listen, learn, and lead
Give back to your organizations, APTA and the industry
Step out of your comfort zones
Learn from exceptional leaders, risk-takers, and role models
Envision and create a new future for the public transportation industry
Lead and engage in challenging conversations
Be recognized as a respected change agent
Grow your network and personal kitchen cabinet
---